Clonmacnoise Castle:  So Much More Than a Rock on a Hill!

Right in the heart of Central Ireland is Clonmacnoise Castle, found in Offaly County and Province of Leinster. The drive to Clonmacnoise Castle from the Dublin Airport is typically under 90 minutes, depending on traffic, and it is a straight shot heading west.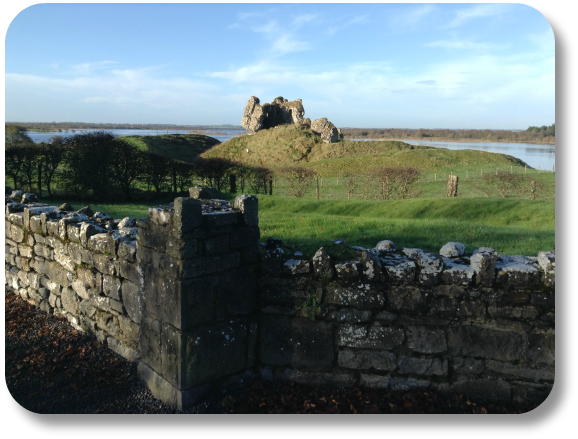 Follow the road signs directing you to the M6, and stay on the highway until you spot the exit signs for the R446 and Clonmacnoise. Frequent signs point the way to the castle and show you where to park to tour the ruins.  
Things to Know About Clonmacnoise Castle

When the Anglo-Normans colonized Ireland in the 12th century, they build a wooden castle in the area now known as Clonmacnoise, in County Offaly.
Although the wooden castle burned down, it was replaced by a stone version in the following century.
Today, Clonmacnoise Castle is merely a collection of ruins, but they are unique because they are so precariously balanced at the top of a hill that they appear to be falling.
It is breathtaking to see this ruined castle among green fields filled with local dairy cows.
And don't miss the ancient monastery, just down the road!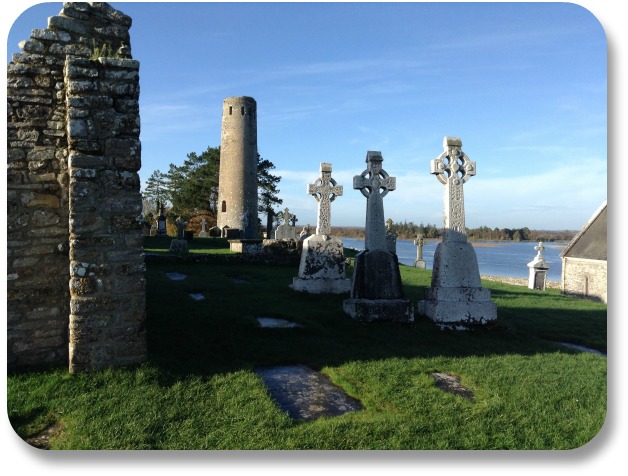 Want More?

It is probably obvious - at Irish Expressions, we love Irish castles!  The Emerald Isle is dotted with hundreds of these incredible structures.  
Sharing pictures and stories about them gives us a deeper sense of connection with Ireland, wherever in the world we happen to be!
We have captured the most amazing pictures and descriptions of Irish castles in an e-book we call "An Illustrated Guide to Irish Castles and Abbeys."
This fun, free guide is available to you to download.  Answer two quick questions below to get instant access!
Then please send us a note or connect with us on Facebook, and let us know what you think!

Want Even More? :-)
For more information of this kind, you might pay a visit to our section on Ireland Castle Vacations here!
And for travel ideas in general, check out our section on Ireland Travel Destinations.

In the meantime, if you enjoyed this page in particular, please take a moment to share your feedback about it, or any other part of our site, using our contact form here.
And once again - thanks for visiting!  We hope you will continue to explore Irish culture and traditions, and to share your Irish side with the growing community at Irish Expressions.com!
PLEASE SHARE US WITH YOUR FRIENDS

YOU CAN FIND US ANYTIME ON ...