Irish Christmas Pudding Recipe: Try This Most Tasty of Irish Holiday Expressions!

The name of this delicious Irish Christmas Pudding recipe may be a bit misleading - it's really more of a cake than a pudding.
Another name for Irish Christmas pudding is plum pudding, which can also be a bit confusing. There are no plums in Irish Christmas pudding! 
The term plum comes from the original creators of the pudding, back in Victorian times, when the word plum meant raisins.
This Irish Christmas pudding recipe is one of the quickest and easiest to make - the perfect choice for our impatient Irish family!  We hope you enjoy it as well.
Did You Know...

Christmas pudding has many customs associated with it. Traditionally, it's made on "Stir-up Sunday," which occurs on the Sunday before the start of Advent, approximately five weeks before Christmas.
One custom has each member of the household stirring the pudding mix, turning from east to west, while making a wish.
Another custom is to put coins, thimbles, wishbones and small gifts symbolizing everything from wealth to thriftiness in the cake as gifts and omens for the coming year.
(While that's a charming tradition, there's no way we can scrub a quarter clean enough to feel comfortable putting it in the pudding.  Or a wishbone either, for that matter.  But that's just us.)

Every family has their own special recipe. Ours is very simple and you serve it immediately, unlike some Christmas puddings that age for days.
We like to use suet in the mix to add an old-fashioned home cooked flavor, but many find they prefer substituting butter instead.
You can also adjust the recipe by adding more fruit, nuts or letting it cure. 
Ready?  Let's get started!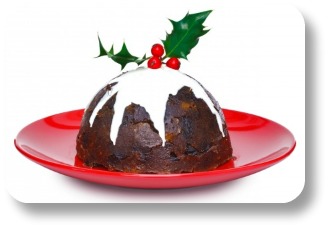 Irish Christmas Pudding Recipe: Ingredients

1 cup of finely chopped suet or two sticks of butter
1 cup dark corn syrup (You can use ¾ C. light corn syrup and ¼ C molasses as a substitute)
One-cup mixed raisins: use some Sultana raisins, dark sundried, golden and etc.
Optional but yummy: When it comes to extra fruit, the more you have the tastier
1 cup of mixed candied or dried fruit
¼ cup of almonds, walnuts or pecans
2 bottles of Guinness—one for the cook and the other for the recipe!
Irish whiskey or more brandy
Irish Christmas Pudding Recipe:  Preparation

Optional: Pre-soak the fruit for several days in a glass jar with the half cup of brandy.  Then take the following steps:

1. Mix all the dry ingredients and add the fruit, dusting it evenly
2. Combine the rest of the ingredients, mix and add to the flour. Mix well. If it's too stiff, add a little Guinness!
3. Line a heat-resistant bowl with parchment
4. Fill the the bowl with the pudding mixture and stretch aluminum foil tightly over he top, sealing the bowl.
5. Put the bowl in a Dutch oven on a rack so the bowl doesn't touch the bottom. Fill with water half way up the bowl and allow it to steam for 2 to 2 ½ hours. The pudding will be done when you insert a toothpick or skewer in the center and it comes out clean. Some people use a slow cooker for this step, it works just as well but increases the cooking time.
6a. Serve warm with the Sauce below drizzled on top, OR
6b. Allow the pudding to cure. You cure it by drizzling it liberally with brandy or Irish whiskey, wrapping it tightly in plastic wrap after each addition and then aluminum foil. Open it occasionally to add more.
We usually serve ours right away, with the sauce below.
Irish Christmas Pudding Recipe:  The SAUCE

Ingredients:
Preparation

1. Put all ingredients, except vanilla, into a medium saucepan. Cook over medium heat, stirring constantly until the mixture begins to thicken. Add the vanilla extract and mix well.
2. Drizzle over the pudding and serve warm to your guests.
Delicious!  Where Can I Find More?

One of the easiest and most enjoyable ways to live your Irish side is to serve Irish food.  And guess what?
We have many, many more Irish recipes for you to explore in our section on Irish food recipes!  If you would like to focus on Irish desserts, visit our main section on dessert recipes here!

Meanwhile, if you enjoyed our Irish Christmas Pudding recipe, please take a moment to share your feedback about it, using our contact form here. 
In the meantime, thank you so much for visiting! 
Now, choose another topic to continue your exploration of Irish culture and traditions, and to share your Irish side with your growing community of friends at Irish Expressions.com!
PLEASE SHARE US WITH YOUR FRIENDS

YOU CAN FIND US ANYTIME ON ...