Irish Cream Whiskey: So Many Ways it can be Used to Express Your Irish Side!

Even people that don't drink often confess to enjoying a little Irish Cream whiskey in their coffee or on the rocks.
The delightful flavor that's reminiscent of the Irish Coffee served in the pubs of both large and small cities in Ireland, is today enjoyed around the world.
Many different companies produce this Irish beverage, but perhaps the best known is the original, Bailey's, who first brought their famous product to market in 1974.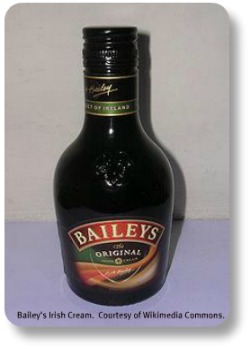 The inspiration for Bailey's Irish Cream came from one of the key staff at Gilbeys of Ireland, the original producers of Bailey's, who wanted to create a new drink that would be distinctively Irish yet capture the hearts of people around the world.
Today, through many changes in corporations, mergers and acquisitions, Diageo holds the Bailey's trademark.
The History of Irish Cream Whiskey

While the origination of Irish cream dates back only to the early 1970s, the history of Irish Whiskey is far older.
Even before the Scots thought of brewing whiskey, the Irish already had a distillery pumping out this potent potable.
One myth holds that Bailey's was originally conceived as a home remedy for a stomachache caused by drinking too much Irish coffee! 

Whatever the original reason, it took years to create Bailey's, primarily because no matter how you mix cream and whiskey, it only stayed mixed for a short time.
The company eventually solved that pesky little problem, and Irish cream was born.
Irish Cream is a Hit!

It didn't take long for this delightful beverage to make an impact.
Within the first five years, the company sold one million cases and then doubled that the next five years.
Today, over 50 percent of the spirits exported from Ireland is Bailey's Irish Cream.
The company manufactures the product in Dublin, using milk from Irish dairy farms.
The milk is particularly unique in that the cows spend most of the time outside grazing, something that puts extra nutrients in the milk and delivered within 36 hours of processing.
From that point, the process is hush-hush but the way it's blended makes the alcohol content preserve the cream and gives the Bailey's a 24-month shelf life.
Other Brands and Flavors

You now have more choices than just the original Irish Cream whiskey from Bailey's.
Carolan's is another Ireland based company that makes Irish cream but uses a slightly different recipe, adding honey and not sugar.
Some people like it because it doesn't have as strong a whiskey flavor.
Bushmill Distillery produces the beverage and long known for their excellent Irish Whiskey. Their product is "grown up" version since it has a robust flavor and lots of punch.
St. Brendan's, Merry's Liqueur and Ashbourne are just a few more Irish companies making that delectable drink.
One twist to add to the mix is O'Reillys, another contender from Ireland, uses wine as the base, not whiskey. Some believe it gives their version a smoother taste.
Yummy!  Where Can I Find More?

As we have said many times before, one of the easiest and most enjoyable ways to live your Irish side is to serve Irish food and drink. 
Irish cream whiskey can be consumed on its own, or it can be mixed into many other delectable Irish dishes, particularly desserts!

We have many, many more Irish recipes for you to explore in our section on Irish food recipes.  If you would like to focus on Irish desserts, visit our main section on dessert recipes here!

Meanwhile, if you enjoyed this discussion of Irish Cream Whiskey, please take a moment to share your feedback about it, or any other part of our site, using our comment section below. 
Or send us an email using our contact form here. 
And don't forget to register for our monthly newsletter (upper right corner of this page) to get regular updates and great ideas sent directly to you!  Just enter your email address - we'll do the rest!

In the meantime, thank you so much for visiting! 
Now, choose another topic to continue your exploration of Irish culture and traditions, and to share your Irish side with your growing community of friends at Irish Expressions.com!
PLEASE SHARE US WITH YOUR FRIENDS

YOU CAN FIND US ANYTIME ON ...