Irish Recipes: A Delicious and Heartwarming Way to Express your Irish Side!

Preparing and sharing Irish recipes is one of the best ways to express our love of Irish culture. Irish food is noted for its simplicity and heartiness, a product of the country's unique cultural heritage.
In this section we will share three of our favorite, classic recipes with Irish roots.  At the bottom of the page you will find links to many, many more recipes.  Try them out, see which ones are your favorites, and let us know!

A Bit O'Background

Grain was a staple for the early inhabitants of the Emerald Isle. Around 500 BC the Celts came along bringing with them such foods as lamb, pork, and seafood.
In the 1500s the Spanish brought the potato to Ireland, which because an essential part of the Irish diet, especially in the rural part of the country. Traditional Irish stew was a product of those two staples of the Irish diet.
This article and the links below provide many examples of Irish foods, along with their recipes. Here are a few of our favorites!
Recipe #1: Irish Soda Bread

This is a very popular Irish recipe, and is very easy to make. It is served often as a breakfast food.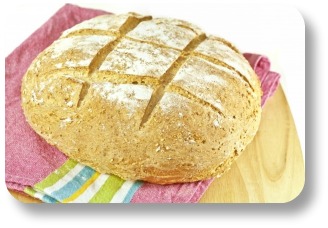 Irish Soda Bread Ingredients
Irish Soda Bread Preparation
Sift the salt, sugar (if used), and baking soda and flour together and place in a large bowl. Add more air to the mixture by lifting up handfuls and gently letting it flow into the bowl. Add just enough of the buttermilk to form a soft dough.
Knead this dough lightly and not for too long or it will be tough. If you do it too little though, it won't rise correctly.
Shape in a round loaf to about 2 1/2 inches in height. Lay the dough on a baking sheet that has been floured lightly and scored across the top of it with a knife that has been floured.
Place immediately on the top rack of an oven pre-heated to 450°F and bake 30 to 45 minutes.
When it is done, it will have a hollow sound when tapped on its bottom using your knuckles. Take a clean towel and wrap the loaf immediately, this stops the crust from getting too hard.
For more ideas, visit our page dedicated to Irish Soda Bread
Recipe #2: Irish Coffee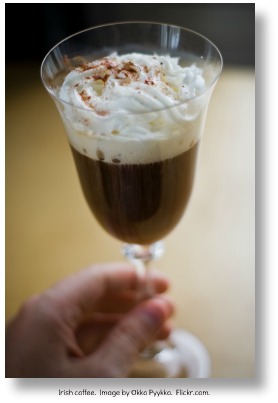 Irish coffee is a forerunner of the hot totty we know today. One of the more popular Irish recipes for it is below:
Irish Coffee Ingredients
Irish Coffee Preparation
Pour enough hot water into a glass then empty and fill it with some boiling water. Empty this out and then add coffee, filling about 2/3 of the glass. Add sugar. Mix until dissolved, and pour in the whiskey.
Pour the cream over a utensil to make it float on top. You can use whipped cream from single cream if you cannot find the double cream.
Recipe #3: Dublin Coddle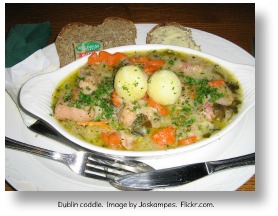 This is good dish on a cold night. It is very affordable to make and has been popular for years in Dublin. Start with a good stock to make this Irish recipe correctly.
Dublin Coddle Ingredients

Dublin Coddle Preparation
Slice bacon into 1-inch pieces. Heat up stock to a boil using a medium saucepan that has a lid that fits tightly. Add the bacon and sausages and turn to simmer for approximately 5 minutes.
Take the bacon and sausages and save any liquid. Slice the sausages into four maybe five pieces each. Peel the 6 potatoes and slice them into thick pieces. Skin and slice the onions.
In a saucepan place one layer of potatoes, one layers of onions, and half of the bacon and sausages on the next layer. Do this one more time and make the very top layer another layer of potatoes.
Add the stock, then salt and pepper to taste. Place the cover on the pan and turn down to simmer for approximately one hour.
Back to Home: Irish Expressions
---
Are you enjoying Irish Expressions.com? Please share it with your friends!