Irish Sausages (Bangers) and Mash:  A Traditional and Delicious Irish Expression!

Irish sausages are a favorite found on pub menus throughout Ireland and around the world.
Many years ago they received their popular nickname - 'bangers' - from the sound they made if they burst. 
This could occur if the sausage was cooked too fast, if it contained too much bread (sometimes used as filler if meat was in short supply) or both! 
The expansion of the bread caused an explosion in the pan; hence the word 'banger,' and its fame as the key ingredient in the popular meal 'bangers and mash.'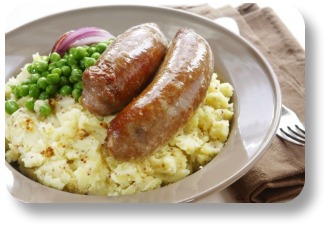 The secret to authentic taste is in the way you cook it, whether homemade or purchased from the market. Oh, and the onion gravy you make to go with it!

Irish Sausages: Ingredients

1 cup of powdery ground rusk (or dry breadcrumbs)
1 ½ cups of chicken stock
1 crushed clove of garlic
¾ tsp dried sage or 1 ½ tsp fresh sage
Preparation

1. Grind the meat on a medium grind. The colder the meat is, the easier it is to work with, so putting the meat in the freezer is a good idea. We did, for approximately 15 to 20 minutes.
2. Chill the ground meat. The freezer is still a great way to get the mission accomplished. A half hour makes the meat easier to use.
3. Grind the meat again, but on now use a smaller die on the grinder, grinding it finer.
4. Mix all the dry ingredients, and then put them and the chicken stock in the bowl with the pork. You can mix by hand or use a mixer to blend the ingredients thoroughly. It will be sticky.
5. Stuff the casings.

Cooking Them

Cooking the sausages is easier than we made it sound at the beginning. Simmer first for 20 minutes, then brown the outside in a skillet or oven broiler.
By cooking the bangers slowly, they won't burst and lose their juices.
Add the 'Mash'

I simply quarter potatoes and boil them until soft. Rice them. Add a bit of milk and butter, mix and add more milk and butter, whip until fluffy. 
And presto!  Sausages (bangers) and mash!
So what is YOUR Favorite Irish Recipe?
Do you have a favorite Irish recipe, or a story to share involving Irish food?

Share it with us! We would love to publish it on our site and give you credit.

It's easy! Just follow the instructions below. And please include a picture or two with your story!
Delicious!  Where Can I Find More?

One of the easiest and most enjoyable ways to live your Irish side is to serve Irish food.  And guess what?
We have many, many more Irish recipes for you to explore in our section on Irish food recipes! 

Meanwhile, if you enjoyed our Irish sausages (Bangers and Mash) recipe, please take a moment to share your feedback about it, or any other part of our site, using our comment section below. 
Or send us an email using our contact form here. 
And don't forget to register for our monthly newsletter (upper right corner of this page) to get regular updates and great ideas sent directly to you!  Just enter your email address - we'll do the rest!

In the meantime, thank you so much for visiting! 
Now, choose another topic to continue your exploration of Irish culture and traditions, and to share your Irish side with your growing community of friends at Irish Expressions.com!
PLEASE SHARE US WITH YOUR FRIENDS

YOU CAN FIND US ANYTIME ON ...