Irish Sayings: Simple Irish Humor and Words of Wisdom to Share With Family and Friends!

The best place to start, when expressing your Irish side, is with Irish sayings. We love to use Irish words of wisdom, humor and devotion in so many different places and occasions.
For example, sayings from Ireland make great wedding blessings, retirement jokes, birthday toasts, party invitations… you get the idea.
Here we will point you to many sayings of all types, and give you great ideas on how to use them. If you like what you see here, please LIKE us - and then make sure you visit one of the links at the page for many many more sayings from Ireland.
Irish Jokes

Like any other style of jokes, the Irish variety ranges from 'ho-hum' to side-splittingly funny. We prefer the second type!, and that is the type we will focus on at Irish Expressions.com
Irish jokes, 'clean' or otherwise, often follow the same themes as other Irish expressions (Irish music for example) - they find humor in simple matters, in hardships, and in double meanings.
I'm guessing you want to see a bunch of these. Here is one of our favorites, just to get you started. For much, much more, visit our section on Irish Jokes.

In the meantime, enjoy this example, courtesy of the
500 Best Irish Jokes and Limericks
O'Gorman jumped up from the card table white with rage
'Stop this game!' he shouted. 'Fitzgerald is cheating!'
'How do you know?' his partners asked with concern.
'He's not playing the hand I dealt him!'
Irish Limericks

Probably the most truly 'Irish' of all Irish humor is the Irish limerick. Presumably named after the Irish city with the same name, these catchy little poems are both historical and modern.
We like to share the clean ones with our children (click here for great limericks for kids) – in fact, they are so easy to write, we have contests in our family to see who can come up with the best Irish limerick.
The same kinds of contests often take place in pubs and at St Patricks Day parties. These always seem funnier in the moment than they do the next day – but hey, greatness takes practice!
Again, we have many, many Irish limericks to share with you. Here is one to get you started. It is a touch on the bawdy side, which is part of the tradition of the Irish Limerick. If you want more, please visit our section on Irish Limericks.
There was a young woman from Stroud,
Whose artistic skills did her proud,
She thought it not rude,
To paint in the nude,
And soon drew a sizeable crowd.
Irish Proverbs

These Irish sayings are usually, but not always, less humorous and more thoughtful.
Irish proverbs – like any proverbs – are typically short phrases about core Irish values and life lessons.
They often reflect the work ethic and independent spirit of the traditional Irish farmer.
Why do we love Irish proverbs? Because they bring us closer to Ireland, they remind us where we came from, and they teach what is most important.
We use them as birthday blessings, 'teachable moments' for our kids, and signatures for our emails and forum posts.
Want to see a whole bunch more Irish proverbs? Check them out here! In the meantime, here is one typical example of an Irish Proverb.
A handful of skill is worth a bagful of gold.
- Irish Proverb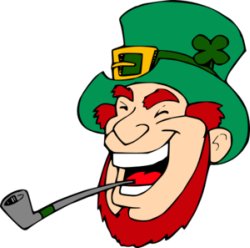 Irish Toasts

Take a pinch of Irish humor, a dash of the Irish gift 'o the gab, mix them together with the love of Irish spirits, and what do you get?
Aw c'mon that was too easy. You get the most versatile and hilarious form of Irish Sayings – the Irish toast.
As our section on this topics says, you can find Irish toasts for almost any moment, from rolling out of bed, to shaving in the morning, to toasts themselves.
And yes, you can even find toasts about toasting toasts.
What on earth do we mean? Find out here. In the meantime, here is an example we enjoy:
If you're lucky enough to be Irish, you're lucky enough.
Irish Quotes

For some reason, people who are not Irish love to make catchy comments about the Irish. Many of these have 'stuck,' in part because … well… they are true.
Not to be outdone, the Irish love to make pithy observations about themselves. This witty, funny, sometimes cynical self-awareness is part of what makes Irish humor so appealing.
Here's an example (below). And if you want more, have a look at our section on Irish Quotes.
"We have always found the Irish a bit odd. They refuse to be English." – Winston Churchill
Irish Blessings

Sharing Irish blessings is one of the easiest and most memorable ways to express our Irish sides!  Whether truth or legend, the Irish are known for the 'gift of gab,' and for expressing ourselves beautifully through the written or spoken word.
Want to learn a few Irish blessings, and add them to your repertoire of Irish expressions?  Visit our Irish Blessings page here!

Had enough? No? Great!

Ok… I think you get the idea. Irish Sayings are a great way to express your Irish side. There are many, many more kinds of sayings that we did not cover here, but you will find them on other sections of our site.
Learn some important Irish Phrases, to prepare you for a visit to the Emerald Isle, or simply to impress your friends and mates on your next Irish pub crawl.
Brush up on your Irish Slang here – and draw a confused stare or a friendly laugh depending on who you are with! Finally, check out Irish craic to master a very important form of Irish expression.
We hope you enjoyed this fast overview of Irish Sayings …and there are many more discoveries ahead! Choose a link on this page to continue your journey with Irish Expressions.com.
Here Is a Fun, Free Way to Enjoy Irish Sayings!

Download our Irish Sayings Trivia Quiz!  It's free and it's a great, simple addition to any Irish-themed occasion.  Have a look! 

"There are only two kinds of people in the world. The Irish, and those who wish they were." - author unknown
Back to Home: Irish Expressions
---
Are you enjoying Irish Expressions.com? Please share it with your friends!