Irish Cream Whiskey: So Many Ways it can be Used to Express Your Irish Side!

Even people that don't drink often confess to enjoying a little Irish Cream whiskey in their coffee or on the rocks.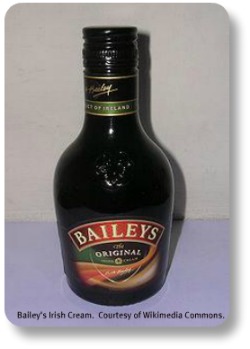 The delightful flavor that's reminiscent of the Irish Coffee served in the pubs of both large and small cities in Ireland, is today enjoyed around the world.
Many different companies produce this Irish beverage, but perhaps the best known is the original, Bailey's, who first brought their famous product to market in 1974.
The inspiration for Bailey's Irish Cream came from one of the key staff at Gilbeys of Ireland, the original producers of Bailey's, who wanted to create a new drink that would be distinctively Irish yet capture the hearts of people around the world.
Today, through many changes in corporations, mergers and acquisitions, Diageo holds the Bailey's trademark.
The History of Irish Cream Whiskey

While the origination of Irish cream dates back only to the early 1970s, the history of Irish Whiskey is far older.
Even before the Scots thought of brewing whiskey, the Irish already had a distillery pumping out this potent potable.
One myth holds that Bailey's was originally conceived as a home remedy for a stomachache caused by drinking too much Irish coffee! 

Whatever the original reason, it took years to create Bailey's, primarily because no matter how you mix cream and whiskey, it only stayed mixed for a short time.
The company eventually solved that pesky little problem, and Irish cream was born.
Irish Cream is a Hit!

It didn't take long for this delightful beverage to make an impact.
Within the first five years, the company sold one million cases and then doubled that the next five years.
Today, over 50 percent of the spirits exported from Ireland is Bailey's Irish Cream.
The company manufactures the product in Dublin, using milk from Irish dairy farms.
The milk is particularly unique in that the cows spend most of the time outside grazing, something that puts extra nutrients in the milk and delivered within 36 hours of processing.
From that point, the process is hush-hush but the way it's blended makes the alcohol content preserve the cream and gives the Bailey's a 24-month shelf life.
Other Brands and Flavors

You now have more choices than just the original Irish Cream whiskey from Bailey's.
Carolan's is another Ireland based company that makes Irish cream but uses a slightly different recipe, adding honey and not sugar.
Some people like it because it doesn't have as strong a whiskey flavor.
Bushmill Distillery produces the beverage and long known for their excellent Irish Whiskey. Their product is "grown up" version since it has a robust flavor and lots of punch.
St. Brendan's, Merry's Liqueur and Ashbourne are just a few more Irish companies making that delectable drink.
One twist to add to the mix is O'Reillys, another contender from Ireland, uses wine as the base, not whiskey. Some believe it gives their version a smoother taste.
Hungry for More Irish Recipes?

Sharing Irish food is one of our favorite ways to enjoy an Irish experience, wherever in the world we happen to be!  
The flavors of an Irish meal, and the stories that come along with many Irish recipes, gives us a sense of connection with the Emerald Isle.
Yummy!  Where Can I Find More?

At Irish Expressions, our our goal is simple: to provide you with a unique Irish experience, on demand, wherever you are in the world.
If you have enjoyed our section on Irish Food Recipes, you have probably been exposed to many of the most delicious flavors that Ireland has to offer!
Will that entice you to visit Ireland - or to return if you have already been? 
We hope so!  
But even if that is not possible, you can still enjoy the magic of Ireland in these pages.  Check out the links at the top of the page for simple instructions on how to explore Irish landmarks, enjoy Irish food, practice Irish customs, and much more!
You can also visit us on Facebook, Twitter or Pinterest to see amazing pictures and interact with amazing people who share a love of Ireland.
We would love to hear from you - please send us a note here and let us know how we are doing. 
Until then - thanks for visiting our page on Irish cream whiskey!  Please continue exploring your Irish side at Irish-Expressions.com.
Want to Feel More Connected to Ireland?  Here's How!
At Irish Expressions we believe everybody – well almost everybody! - has an "Irish side."  So how nice would it be to have access to a fun, free Irish experience, on demand, wherever in the world you happen to be?
Over the years we have compiled many free, downloadable resources including lyrics, recipes, games, jokes, blessings and much, much more.  
Would you like to receive them all for free?  Simply share your email for instant access!
ENJOYING IRISH EXPRESSIONS?  PLEASE SHARE!