Irish Jokes:   A Bit of Irish Humor to Tickle Your Funny Bone!

Having a good supply of Irish jokes to tell is one of the most entertaining ways to express your Irish side. We like to tell jokes from Ireland during pub crawls, dinner parties, wedding toasts and other special occasions.

All jokes from Ireland are funnier when told with a passable Irish accent! Work on that! It will be worth your time.
And if you are not a good joke teller, never fear - you have many other kinds of funny Irish sayings to choose from.
But if you're looking for jokes, have a look at these!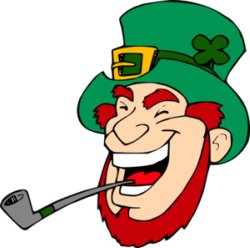 Paddy and The Doctor

We heard this one on a City Bus Tour…
Paddy visited the doctor and received disturbing news.
"I'm sorry lad," the doctor said. "I can't be certain about the problem. It must be the drink."
"That's ok Doc," said Paddy. "I'll come back when you've sobered up."
How Bad Do You Want It?

Here's one we heard from a friend we made in the Temple District in Dublin.
Paddy O'Ryan walks up to the bar, sits gingerly on a stool and orders a whiskey.
When the bartender brings his drink he says "I've been drinking whiskey all week to cure my sciatica.
The bartender looks concerned and says "I can give you a better cure Mr. O'Ryan."
"Sshhh! I don't want to hear it!"
I Just Have a Few Questions...

This one came from a cab driver when we asked about a local cathedral…
The phone rings and Father O'Reilly answers. An official voice on the other end of the line says:
"Is this Father O'Reilly?"
"It Is."
"This is the Revenue Service. Will you please help us?"
"I'll try."
"Do you know a Seamus O'Doul?"
"I do."
"Does he attend your service?"
"He does."
"Did he make a large donation to your Church?"
"He will."
Good Choice!
And here is one from the classic 500 Best Irish Jokes and Riddles.
(We find these short ones work best with a few empty pints in front of us. Easy to remember, and if the timing is right, they'll get the laugh you're looking for!)
Liam had just stood trial and was awaiting the verdict. The news was much better than he expected!
"That will be five pounds or a month in jail!" the judge ordered harshly.
After a moment's thought, Liam respectfully replied "very well Sir. I'll take the five pounds."
NEVER MIND

Have you ever prayed to God to help you with life's minor annoyances? 

An Irishman was flustered not being able to find a parking space in a large mall's parking lot.
"Lord,"he prayed,"I can't stand this.  If you open a space up for me,I swear I'll give up drinking me whiskey, and I promise to go to church every Sunday."
Suddenly, the clouds parted and the sun shone on an empty parking spot. Without hesitation, the man said,"Never mind,I found one."
Short Irish Jokes

Some of us simply don't have a good head for remembering stuff.  But we like to tell jokes! 
It's a little problematic.
Never fear, the solution is here! Visit our section on Short Irish Jokes.
Yes, it will go quick... but it will leave you wanting more.
And the good news is, we have more.  Lots of 'em.

Best Irish Jokes

Trust me, it wasn't easy. But we did our best - to find the top 10 Irish jokes as judged by the Irish Expressions team.
(If you disagree with any of them, or have one that you would like to see on the list, we would love to hear it!)
Prepare yourself for a breathless few minutes, then visit us at Best Irish Jokes.
I think you will be glad you did!

Funny Irish Jokes

Waitasecond...  Hang on...

If these are the funny ones, what's wrong with all the other ones???
Just work with us.  They're ALL funny.  These are just...
Super-duper funny.
Want to see if we know what we're talking about? 
Visit our section on Funny Irish Jokes!

Clean Irish Jokes

I know what you're thinking.
If they're 'clean' they must not be very good, right?
Wrong!
Visit our section on Clean Jokes from Ireland to prove once and for all that it is possible to tell a hilarious Irish joke...
...to your Mom.  And make her laugh.
Don't believe me?  Have a look at our section on Clean Irish Jokes.

Irish Golf Jokes

The thing about golf is - for many people, it's not a laughing matter.
If you are a golfer, and you are ok with poking fun at yourself, other golfers, and this wonderful game ... then keep on reading!
If any of that sounds offensive to you, it's probably best to move on!  (Quickly now, nothing to see here...)

Because in our section on golf jokes from Ireland, there is no holding back!
Well!  After that buildup... :-)

Please enjoy our page on Irish golf jokes!

St Patricks Day Jokes

Don't ask us for the difference between a St Patrick's Day joke and a joke for any other day...
Just work with us here people!
While any of these jokes would work on St Patricks Day, this is a collection of favorites as determined by our frequent visitors.
Please enjoy our section on St Patricks Day Jokes!

Want More?

You're in luck!  You'll find Irish humor almost every section of this website, especially in our pages on funny Irish quotes, funny Irish sayings and funny Irish limericks.
For the broadest overview of Irish wit and wisdom, check out our main section on Irish Sayings. 
There you will laughter and inspiration, through hundreds of jokes, toasts, proverbs, quotes, etc., organized by category to make it easy to find what you are looking for.
Most importantly, these articles will help you find fun ways to express your Irish side using Irish wit and wisdom - wherever you happen to be!

So ... What' s Next?

We recommend our section on Irish Sayings, to give you the widest view of Irish wit and wisdom.
Please join the conversation on Facebook @shareyouririshside and get connected to others who love Ireland!

We look forward to hearing from you!
In the meantime, click on another topic above to continue your discovery of Irish culture on Irish Expressions.com.

PLEASE SHARE US WITH YOUR FRIENDS

YOU CAN FIND US ANYTIME ON ...