Irish Toasts: An Entertaining Way to Share Your Irish Side With Others!

It should be no surprise that Irish toasts are popular, both on the Emerald Isle and around the world. In a culture that loves its drink, and believes deeply in the power of the spoken word, you will find a toast for just about everything.
In Irish culture you can find toasts for shaving in the morning
May your hair never fall out and may your beard be ever bushy
toasts for rolling out of bed
May the floor be toasty and your toasty floory
and even toasts to toast a toast
May your toasts be funny and your mug be frothy
Experts have studied Irish toasts over the years, and they have all come to two conclusions: 1) the Irish are always thirsty and 2) they are rarely at a loss for words!
Let's take a look at a few toasts and blessings for some special Irish occasions.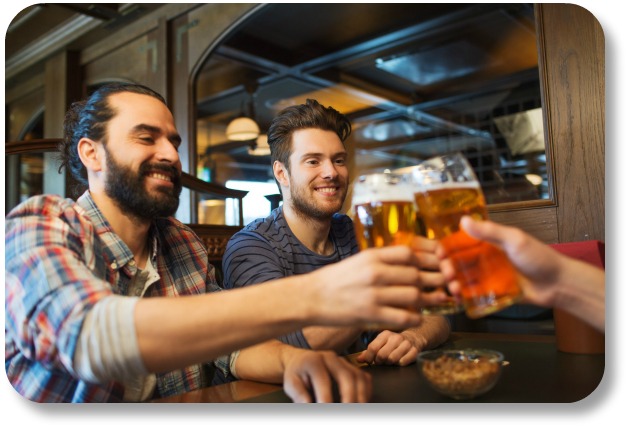 A St Patricks Day Irish Toast

Beannachtam na Feile Padraig!

The toast above means "Happy St. Patrick's Day", and it is dished up along with the traditional corned beef and cabbage (and plenty of beer).
A Toast to an Irish Bachelor

May there be prettier legs under your table table before the new crop is up
Being a bachelor in Ireland is considered bad luck, so this toast is for those bachelors who are hoping to end up hitched or hooked up before the next celebration. You may need the luck of the Irish, but it could happen!
A Toast to Irish Luck

If you're enough lucky to be Irish...You're lucky enough!
A Toast to Irish Good Fortune

May you have food and rainment
A soft pillow for your head
May you be many years in heaven
Before the devil knows your dead!
An Irish Wedding Toast

"May your troubles be less and your blessings be more.
And nothing but happiness come through your door."
We love this blessing for weddings and other special occasions.  Click here for many more ideas on Irish wedding toasts.
A Toast to ... Having Another Drink

A bird with one wing can't fly
As depressing as this toast may sound at first, it's actually an example of Irish wit and double meaning; use it to encourage your companions to have a second drink!
For Even More Irish Toasts!

There are some occasions that are just so toast-able, we just had to build pages on those occasions in particular.

This section will grow over time, but for now we have to elaborate on two special occasions:  pub crawls and weddings!

Now I'm no expert, but I would guess that the majority of the worlds Irish toasts happen between groups of friends in pubs and restaurants.
That is why we had to build a page dedicated to ... wait for it ... Irish drinking toasts.  Have a look!

And while we're on the subject, I would bet that another main source of Irish toasts ... and a spectacular example of Irish people getting toasted ... is the Irish wedding.

Click on one of these links and enjoy an extra dose of Irish toasts.  Hey, that almost rhymed!
And if you would like to submit a favorite toast of your own, or request for us to create a new page about a different toasting occasion, here's what to do ...

Thank You For Visiting Irish Toasts!  Here's What to do Next...

Creative Irish toasts make some of the best Irish sayings, and the wit and wisdom contained in those sayings are a key part of Irish culture.
This site is all about sharing your love for that culture by expressing your Irish side.  A great way to do that is to connect with us!
I would love to see your feedback about this page, or any part of our site.  We respond in person to all input from our readers.  Please use our contact form here.
Then click on another link above and let's continue expressing your Irish side at Irish Expressions.com.
PLEASE SHARE US WITH YOUR FRIENDS

YOU CAN FIND US ANYTIME ON ...