Saint Patrick Day Traditions:  Bring your Irish Side to the Most Famous Irish Holiday of All!

Saint Patrick Day traditions are some of the most famous (and the most fun!) opportunities to express our Irish sides. 
St Patricks Day is one of the public holidays observed in Ireland, and while it doesn't quite reach that status in other parts of the world, many of us act as if it does!

Fortunately, you don't have to live on the Emerald Isle to make the day a memorable one! St Patricks Day at the Grady house always includes, at least:
Irish food and drink (think lamb stew, shepherd's pie or - yes - corned beef and cabbage) with Guinness, Harp, or Smithwick's beer.
Irish-themed activities (think St Patrick's Day parade, listening to live music at a local Irish pub, playing Irish-themed games at home)
Shamrocks, harps and the color green ... everywhere.
But that's just us!  Let's look at a many more ways to bring St Patricks Day to life wherever you are in the world.
Here's a Fun Video to Get us Started...


So ... What Exactly are We Celebrating?

The purpose of this famous Irish holiday is to commemorate the death of St. Patrick, Ireland's patron saint.
His 4th-century arrival on the shores of the Emerald Isle changed the culture of the land forever.
The Irish Celts had always been pagan, but St. Patrick's arrival introduced a gradual conversion to Christianity. 
Now, of course, the Irish Republic is predominantly Roman Catholic.
How Do They Celebrate Saint Patrick Day in Ireland?

Because of its religious origins and continuing status as a Roman Catholic holy day, many Irish families attend church services on St. Patricks Day.
But there is certainly another side to this most famous of Irish holidays.
March 17 is the day when green beer flows freely from the taps of bars throughout the world, and Saint Patrick Day parties are in full swing.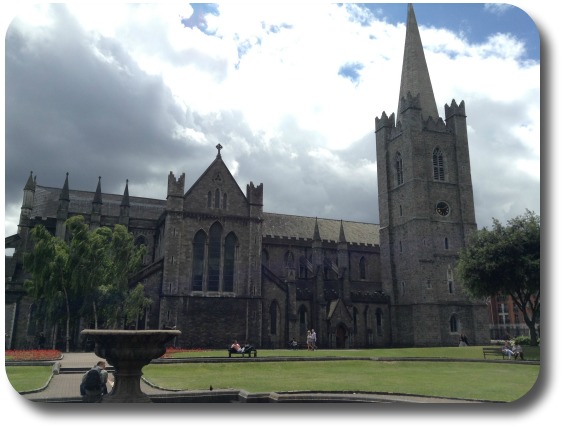 And in fairness, the religious restrictions on drinking alcohol during Lent that are normally in place are lifted for the day. 
So, many Irish lift a pint of Guinness Stout or Harp Lager before or after dinner, in honor of Ireland's patron saint.
Many Irish cities and towns are known for their wonderful St. Patrick's Day traditions.
Dublin, for example, holds an annual Saint Patrick Day Festival. It features several days of free entertainment, including fireworks, street theater and music.
What's Up with All The Green?

There are many reasons to associate green with Ireland, and by extension with its Saint Patrick Day traditions.

Green is one of the colors in Ireland's tri-color flag. It is also the color most typically associated with the classic Irish symbol, the shamrock, and of course Ireland herself is frequently referred to by her nickname, the "Emerald Isle."
So naturally, you'd see a lot of green being worn around the world on St. Patrick's Day – just as it is in Ireland.
More Saint Patrick Day Traditions

Here are some of our favorite ways to express our Irish sides on St Patricks Day:

Saint Patrick Day Trivia

We love to impress our friends and family by sharing little-known Irish facts over the St Patricks Day dinner table!
But that gets boring before too long... Irish games and contests based on St Patrick Day trivia are much more fun.
Reading this section will guarantee victory! (I have my fingers crossed as I write this... :-).

Visit our St Patricks Day Trivia page for more information.

Saint Patrick Day Activities

From parades to trivia games to crafts to limerick-writing contests...  A good St Patricks Day celebration has it all!
Visit our section on St Patricks Day Activities to get fresh ideas on how to enjoy a memorable St Patricks Day year after year!
And better yet, use our simple form below to show off and tell others about your own St Patrick's Day adventures...

St Patricks Day Recipes

Well, personally I could eat corned beef and cabbage every... single ... year. 
Boom!  Mic drop.
But if you would like a bit more variety, visit our sections on St Patricks Day recipes, covering appetizers dinners, desserts and drinks.
St Patrick's Day Jokes

St Patricks Day Jokes
I don't know why, but there are many, many hilarious Irish jokes out there. 
In fact this site originally started as a collection of jokes and other funny Irish sayings.
We have collected a few that are most relevant to St Patricks Day, but trust me you will find links to all the Irish jokes you could possibly want.
Some short, some long, some bawdy, some clean - but all hilarious.
We hope to see you in our St Patricks Day Jokes section right here.

Saint Patrick Day Poems

Anybody remember the bartender who doubled as a poet in the movie Cocktail, starring Tom Cruise?
St Patrick Day Poems and Dreams baby.  You're a poet and you know it.  Now is your time to rhyme.

Find some fun examples of St Patricks Day Poems right here.

Saint Patrick Day Crafts

One of the best ways to give any holiday a personal twist is to MAKE something related to that holiday.
And St Patricks Day is no exception.
Please enjoy our articles on St Patricks Day crafts.  And as always we would love to hear about your favorite Irish craft projects as well!
Find our articles on St. Patricks Day Crafts here!

So What's Next?

Saint Patrick Day is one of the most important and engaging holidays in Irish culture.  Celebrating this holiday is a wonderful way to express your Irish side.

If you enjoyed this page, please take a moment to share your feedback about it, or any other part of our site. 
We respond in person to all input from our readers, whether on social media, or by using our contact form here.
In the meantime, thank you so much for visiting!  We hope you will continue to explore Irish culture and traditions, and to share your Irish side with the growing community at Irish Expressions.com!
PLEASE SHARE US WITH YOUR FRIENDS

YOU CAN FIND US ANYTIME ON ...