Irish Baby Gifts:  Wee Ones Have Irish Sides Too! Find The Cutest Gift Ideas Here!

If your idea of cute Irish baby gifts includes a sippy cup of Guinness Stout, you really, really need to keep reading! The perfect (and age-appropriate) gift idea awaits!
Showering little lads and lasses with Irish-themed gifts is a very thoughtful way to express one's Irish side.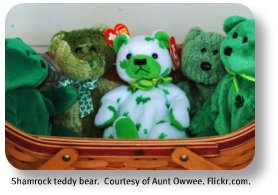 And while shamrock-adorned bibs and binkies, booties and blankies will always be at the top of baby's Irish gift list, there are many more Irish-themed gift ideas to choose from.
Shopping for baby gifts (especially the Irish kind) is fun! And one of the best ways to help the youngster express his or her Irish side is through the clothes they wear.
You'll find our personal favorites below.
Each image links to a site where that specific product can be purchased.  Each image is the property of its respective owner.  Irish Expressions receives no compensation of any kind from these terrific online stores - we just want you to know about them!

The Irish Baby Gift:  A Few Great Ideas

| | |
| --- | --- |
| | An Irish-themed bib will display baby's passion for the Emerald Isle as she chugs down her pureed corned beef and cabbage. (Ok maybe that was a bit much.) |
What is YOUR Favorite Creative Irish Gift?
What was it? Did you give or receive it? What special meaning does it have?

Share your story with others by publishing it on Irish-Expressions.com. It's easy! Just follow the instructions below.

And if you would like to include a picture or two, that's simple to do!
Where Can I Find More?

Well, you won't have to look far!  Irish baby gifts are everywhere.  For more information on Irish gifts in general, visit our section on Creative Irish Gifts here!
As you can probably tell by now, we recommend theirishstore.com and aransweatermarket.com as our favorite Irish online stores. 
There are many great ones, but these two are where I personally go for most of my own Irish expressions.

So ... visit one those places (or visit Ireland!) for great Irish products.  Then come back here to share your story with Irish-Expressions.com!
Meanwhile, if you enjoyed this page, please take a moment to tell us so, using our comment section below.  Or send us an email using our contact form here. 
Make sure you register for our monthly newsletter (upper right corner of this page) to get regular updates and great ideas sent directly to you!  It's as simple as entering your email address - we'll do the rest!
But most of all, please continue to grow your love of Ireland, by exploring Irish culture and traditions, and sharing your Irish side with the growing community at Irish Expressions.com!
PLEASE SHARE US WITH YOUR FRIENDS

YOU CAN FIND US ANYTIME ON ...