Creative Irish Gifts: Share Your Favorite Irish Expressions with Others!

Here are our top creative Irish gifts ideas that offer unique perspectives on Irish culture and customs.  They will serve as a welcome reminder of the Emerald Isle for any recipient who loves Ireland as much as we do!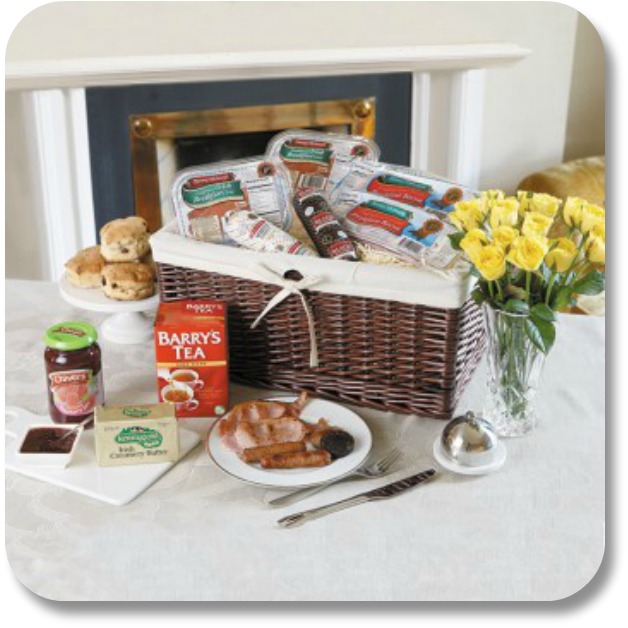 Please enjoy - and if you should find yourself wanting to know more about Irish customs in general, please visit our Irish trivia and Traditions section here...
Meanwhile please enjoy Creative Irish Gifts! 
All gifts are offered through our partnership with The Irish Store.  Each purchase you make helps us continue our work on all parts of the Community, including Irish-Expressions.com.
Simply click on the images to learn more about each item.
Creative Irish Gift Idea #1:  Irish Breakfast Basket

Whether it's St. Patrick's Day or just a relaxing weekend morning, there are few things better than starting the day with a proper fry-up featuring Irish flavors.
An Irish breakfast basket means you can skip a trip to the grocery store and instead take a trip down memory lane, reliving your favorite meals and destinations in Ireland.
Roast some of the Irish sausages and serve with thick, delicious rashers of bacon, a slice of black pudding and a slice of white pudding.
Warm up the sweet scones and slather with Kerrygold butter and jam. Wash it down with - what else? - a warm mug of Barry's Irish tea.
Creative Irish Gift Idea #2:  Ladies Trellis Aran Sweater

Aran sweaters are synonymous with Irish fisherman's culture, each unique stitch representing a different part of the Aran Islands and their history.
A ladies Trellis Aran sweater is designed to be completely warm, keeping you toasty no matter what the weather.
The wool stretches with you, ensuring a classic fit that is never uncomfortable.
Aran sweaters were designed to be water-repellent, and that is true to this day.
The wool protects you from rain and helps regulate body temperature.
Go for the classic off-white color to stay in keeping with the traditional Aran style.
Creative Irish Gift Idea #3:  Personalized Belleek Celtic Mug

When you give a gift of Irish pottery, it has to be Belleek, a company from County Fermanagh that has been crafting high-quality porcelain pieces since the 19th century.
The porcelain is typically white, thin and delicate, and its iridescent sheen marks it as a genuine Belleek piece.
Gift a pair of personalized Belleek Celtic mugs for a touch of the past that can be enjoyed every morning over a cup of tea or coffee.
It may be a throwback to the 19th century, but these Belleek mugs can handle modern environments like the dishwasher without a problem.
Creative Irish Gift Idea #4:  Diamond Wool Throw Blanket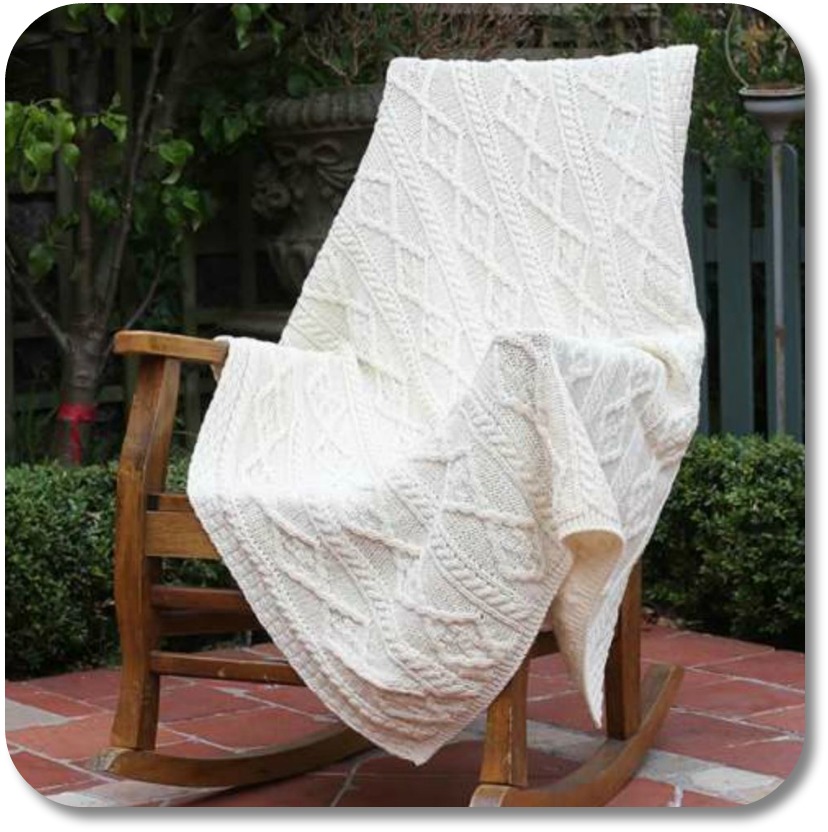 Snuggle up in front of the fire and protect against chilly days with the warmth of an Aran diamond throw.
This is the ultimate gift for that sophisticated Irish friend or family member who always keeps an immaculate house.
The throw is made from 100 percent wool, so the texture is lush and comfortable.
The throw looks great displayed on the sofa, the bed or right on your lap, which is my personal favorite spot for it!
Creative Irish Gift Idea #5:  Trinity Knot Pendant

Irish jewelry showing an ancient Celtic symbol is a powerful way to share our cherished Irish side!

A simple, sleek and elegant trinity knot pendant is the ideal way to show somebody important in your life, just how much you care.
Fashioned after the Triquetra knot, the design represents earth, air and water as well as the three phases of existence: life, death and rebirth.
We love the Connemara Marble inlay, and the piece is simple enough to be worn everyday if desired.
Want More Irish Fun?
It is probably obvious - at Irish Expressions, we love Irish traditions!
Expressing ourselves through Irish-themed activities gives us a deeper sense of connection with Ireland, wherever in the world we happen to be!
Over the years, we have created many free, downloadable Irish games, puzzles, recipes, songbooks, travel guides, party plans, and much, much more.
These are immediately available to you - completely free of charge.
Just answer two quick questions below to get instant access!

What's Next?
At Irish Expressions, our our goal is simple: to provide you with a unique Irish experience, on demand, wherever you are in the world.
If you have enjoyed our section on fun Irish trivia and customs, you have probably been exposed to many of the most exciting traditions that Ireland has to offer!
Will that entice you to visit Ireland - or to return if you have already been? 
We hope so!  
But even if that is not possible, you can still enjoy the magic of Ireland in these pages.  Check out the links at the top of the page for simple instructions on how to explore Irish landmarks, sing Irish songs, enjoy Irish food, and much more!
You can also visit us on Facebook, Twitter or Pinterest to see amazing pictures and interact with amazing people who share a love of Ireland.
We would love to hear from you - please send us a note here and let us know how we are doing. 
Until then - thanks for visiting Creative Irish Gifts!  Please continue exploring your Irish side at Irish-Expressions.com.
REMEMBER - YOU CAN FIND US ANYTIME ON ...