Irish Food Recipes: Share your Irish Side Through Delicious, Hearty Irish Meals!

Is there any better way to express your Irish side than serving Irish food recipes to friends and family? We can't think of one!
In this section, we would like to share some of our favorite Irish recipes with you!
We'll start with some quick information about the traditional Irish diet and then describe some of our favorite Irish meals.
The Traditional Irish Diet

Much like her people, Ireland's traditional foods are straightforward, hearty and thrifty.

Grains such as oats and barley have always been a staple on the island. A vegetable garden was part of many Irish households, and thanks to the Celts' arrival around 500 B.C., sheep and pigs became common throughout the island.
And fish were always available along the long Irish coastline.
The Spanish conquered much of South America in the 1500s, and they brought the potato back with them when they returned to Europe.
The potato quickly made its way to Ireland, where it became a crucial part of the Irish diet – especially in the Irish countryside.
Because these were the foods that were readily available and relatively inexpensive, many traditional Irish food recipes use grains, potatoes, vegetables, dairy, and lamb, pork or fish as their core ingredients.
Enough History - Let's Talk About Irish Food Recipes!

Want to see how much you already know?  Take our fun, free Irish Food Quiz below!  See how your scores compare to others across the Irish Expressions Community!
Then come back and brush up on the Irish food recipes you would like to know more about, using the links below!
Every answer is in the form of a picture, so you get to 'see' a little bit of Ireland as you enjoy the quiz...

So ... How Did You Do?

If you got 8 or more of the questions correct - congratulations!  You are a pro at expressing your Irish side through food!
If you answered 6-7 questions correctly, you are well on your way!  Brush up on your knowledge below, and then take the quiz again if you like (you can enjoy it as often as you want).
If you answered 5 or fewer questions correctly - well, you have definitely come to the right place! :-)

Let's See Some Recipes!

Serving Irish food is a perfect way to express our love for Irish culture.
We'll start by describing appetizers and sides, main courses, desserts, drinks and holiday foods. We'll offer links inside each section, to take you to specific Irish food recipes.
Irish Appetizers and Side Dishes

Breakfast is my personal favorite meal of the day - and that's why I know that  potato pancakes and black pudding make lovely additions to the morning meal.

Breads also play a pivotal role in the Irish diet.  The granddaddy of Irish breads, and one of my favorite foods, Irish soda bread, is versatile and delicious enough to be served at any meal (or by itself for that matter!)

Other popular Irish breads are Irish potato bread, Irish brown bread, and Guinness bread.  These recipes are not to be missed!

As we start to move into sides that can also sere as main courses, we find Irish potato soup, with all its delicious variations. 
Also in this category are the quintessentially Irish Colcannon, and Irish boxty (another personal fav).
Irish Main Courses

Don't miss Dublin coddle, a delicious, authentic collection of Irish flavors, named after the town where it was born!

Finally, homemade Irish sausages are the key ingredient in another one of my favorite Irish meals: Bangers and Mash.
Irish Desserts

Irish Drinks
A discussion of Irish food recipes would not be complete without a selection of  Irish drinks.
Among the best is the classic Irish coffee, with its tot of Irish whiskey and dollop of whipped cream.
Ireland sports a number of excellent beer brands as well, including such recognizable names as Guinness Stout and Harp lager.
Whiskey has been a part of life on the Emerald Isle for at least 1,000 years, and serves as the cornerstone for many more Irish drink recipes.
Irish Holiday Recipes

Where Can I Get Even More Ideas?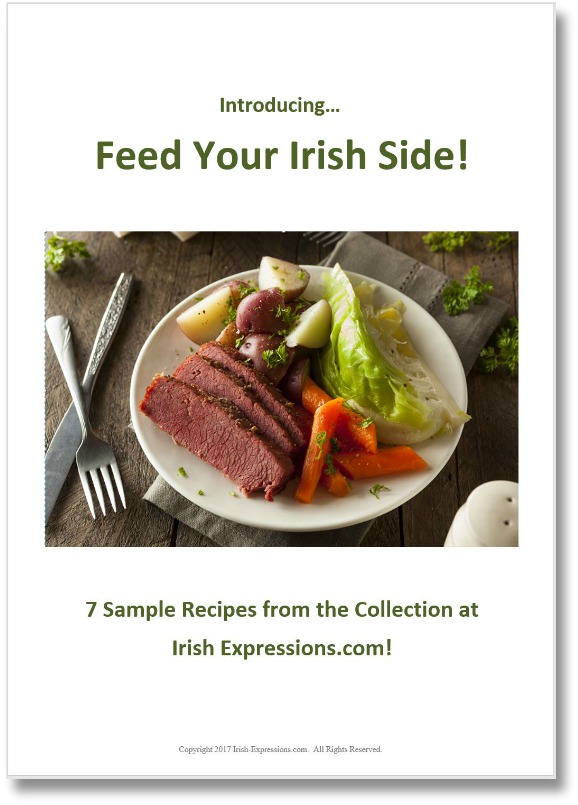 If you would like to skip all the links and simply download our most delicious recipes, you may do so here.
The title of our cookbook is Feed Your Irish Side - and it is the only collection of recipes written by and for the Irish Expressions Community!
This version of our cookbook is completely FREE.  Please enjoy it, and then be sure to  let us know what you think using our contact form here.
That Was Delicious!  What's Next?

We have enjoyed sharing some of our favorite Irish food recipes with you. 
But don't stop with food... There are many more exciting elements of Irish culture that you can use to express your Irish side!
As you continue to explore Irish-Expressions.com, we hope you will pause from time to time, and tell us what you think!
Give us feedback using our contact form. When you do reach out to us, you will get a personal response, and - if you like - we will publish your comments and stories here at Irish Expressions.
Then choose another topic to continue your journey with Irish-Expressions.com.
PLEASE SHARE US WITH YOUR FRIENDS

YOU CAN FIND US ANYTIME ON ...