Famous Irish Sayings: Show Your Irish Side With the Best-Known Sayings about Ireland!

On this page we'll continue our 'Ten Best' series with 'Ten Best Famous Irish Sayings.' As always, the ranking will be determined by YOU, our visitors.
So make sure to come back often, to see the latest and greatest Irish Sayings.
And make sure your voice is heard! Use the 'comments' box below to tell us which sayings you like, or to contribute one of your own! Vote or submit as often as you like!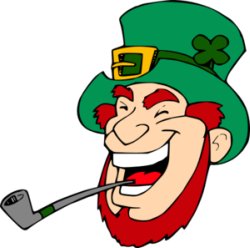 Our Top 10 Famous Irish Sayings

Famous Saying #1:
"We have always found the Irish to be a bit odd. They refuse to be English!"
- Winston Churchill
Famous Saying #2:

"The Irish are one people for whom psychoanalysis is of no use whatsoever."
- Sigmund Freud.
Famous Saying #3:
God invented whiskey to keep the Irish from ruling the world!" 
- Anonymous

Famous Saying #4: 
"A trout in the pot is better than a salmon in the sea!"
- Anonymous

Famous Saying #5:
"If you're lucky enough to be Irish, you're lucky enough!"
- Anonymous

Famous Saying #6:
"The branch lives on the hedge, tho' the hand that planted it be dead."
- An old Gaelic saying, reminding us that our deeds live on after we're gone.

Famous Saying #7:
"All great truths begin as blasphemies."
- George Bernard Shaw

Famous Saying #8:
"A good man loves his sweetheart most, his wife best, and his mother longest."
- Irish proverb

Famous Saying #9:
May your pockets be heavy and your heart be light.  May good luck pursue you each morning and night!"
- Irish Proverb

Famous Saying #10:
"Work is the curse of the drinking class."
- Oscar Wilde

... and there you have it. Our Top 10 famous sayings from or about Ireland.
Have a favorite from the list above, or another Irish Saying to share? Please let us know using the comment box below, or send us a note using our contact form...
Thank you for Visiting Famous Irish Sayings!

For much more information on Irish wit and wisdom, check out our Irish Sayings page right here.  You might also enjoy more ideas and examples from our section on Irish culture and traditions.

Meanwhile, if you enjoyed this page, please take a moment to share your feedback about it, or any other part of our site. Visit us on facebook, or use our contact form here. 
Don't forget to register for our monthly newsletter... (upper right corner).

Then ... click another topic, and continue to share your Irish side with the growing community at Irish Expressions.com!
PLEASE SHARE US WITH YOUR FRIENDS

YOU CAN FIND US ANYTIME ON ...