An Irish Lace Review:  Like Many Irish Expressions, Beauty Emerges from Hardship!

A quick Irish Lace review:  What do Irish Lace and the Irish Potato Famine of the 1840s have in common?
One tragic result of the famous Famine was that Irish farmers were unable to grow crops to pay their landlords or feed their families.
To help provide an income, many churches and organizations taught local Irish farmers other skills.
One of these skills was to create delicate handcrafted lace.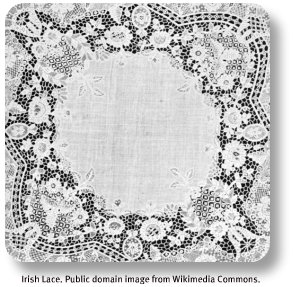 Because local convents and churches started the industry, Irish lace typically differs by location, with the name of the lace often containing the town or area that produced it.
Irish Lace Review:  Many Different Types

Some of the more popular laces produced at that time included Irish Crochet lace, Kenmare lace, Youghal needlelace, Irishmacsaint needlace, Carrickmacross, Bobbin lace, Clones lace, Limerick lace and Irish whitework.
Each style is distinctive, either in the method used to produce it or the designs created in the lace.
While crochet lace from Ireland may be the best known, other types of lace are often highly valued for their intricate stitchery and fine artisanship.
Today, some more inexpensive Irish lace is machine created. However, many of these types of lace are inferior to the handcrafted designs.
You often can tell a machine piece from the handmade lace because the heavy backing material leaves fuzzy edges from bits of fabric left when cut away or chemically removed.
There are also folds or wrinkles on some of the machine made laces. Fine handmade lace has neither of these features.
Irish Lace Review:  More Popular Than Ever

There has been a resurgence of interest in the art of lace making with museums and shops springing up throughout Ireland.
One resurgence occurred because of the Royal wedding of Kate Middleton and Prince William. Kate's wedding gown used Carrickmacross lace.
Its name comes from the town Carrickmacross in County Monaghan, Ireland.
In the Kenmare area, the renewed interest in lace making prompted the start up of the Kenmare Lace and Design Centre, complete with classes and a museum.
Lace As An Irish Expression

If you go to Ireland, be sure to do your own Irish lace review.  You'll find many locations that have museums, classes or shops for homemade lace.
It's a bit of history and at the same time it is valued for its beauty and quality.
No matter which style of Irish lace you select, you'll cherish the pieces for years to come. In fact, you can probably chronicle a trip across Ireland by purchasing a bit of lace from each area. 
While lace is simply fabric and stitches, it's also a work of art you could wear or frame.
What is YOUR Favorite Creative Irish Gift?
What was it? Did you give or receive it? What special meaning does it have?

Share your story with others by publishing it on Irish-Expressions.com. It's easy! Just follow the instructions below.

And if you would like to include a picture or two, that's simple to do!
Very Interesting!  What's Next?

One of the things I love most about Irish culture is the 'backstory' behind many of our cultural artifacts - food, music, clothes, sayings ... and yes, Irish lace!

A great way to express your Irish side is to give Irish lace as a gift.  Click here for more creative Irish gift ideas.

Meanwhile, if you enjoyed our brief Irish lace review, please take a moment to share your feedback about it, or any other part of our site, using our comment section below. 
Or send us an email using our contact form here. 
And don't forget to register for our monthly newsletter (upper right corner of this page) to get regular updates and great ideas sent directly to you!  Just enter your email address - we'll do the rest!

In the meantime, thank you so much for visiting! 
Now, choose another topic to continue your exploration of Irish culture and traditions, and to share your Irish side with your growing community of friends at Irish Expressions.com!
PLEASE SHARE US WITH YOUR FRIENDS

YOU CAN FIND US ANYTIME ON ...