Irish Last Names (Surnames): They Give Us Clues About Our Family's History and Heritage!

Our favorite of all Irish last names - the name 'Grady' - derives from the ancient Irish name Ó Grádaigh, meaning 'son of Gradaigh.
The word Gradaigh itself means 'noble' in the Gaelic language.
Originating in Ireland the O Gradaigh (O'Grady) family name migrated to England, and eventually to the US as well, becoming 'Grady.'
Knowing a bit about the meaning and history of our name opens up many new ways to express our Irish side.
Great ways to do this include displaying a framed Irish family crest, creating customized clothing, purchasing custom tableware (coffee mugs), jewelry and so on.
What's in a Name?

Irish last names are common throughout the world. However, in traditional Irish society surnames were rarely used and single names were actually more common.
This changed around the eleventh century as the population grew and it became necessary to have a second name, a surname.
It was at this time that the very traditional surnames that we associate with the Emerald Isle began to emerge.
Often these names had one of two prefixes at the beginning - an 'O' meaning 'grandson of', or 'Mac' meaning 'son of'.
The importance of ancestry in Irish society is demonstrated by the fact that surnames were used as a way of identifying that you were descended from your forefathers.
How Did it All Start?

The first Irish last name in recorded history is O' Cleirigh (pronounced O' Clear Ee). The Anglican version which is more commonly used today is actually Mc Clery or O' Clery.
This surname is likely associated with the occupation of a person's ancestors as the word comes from the word for Church Clerks.
Other professions are also often associated with surnames. These include the surname McGowan, which is an anglicised version of Mac Gabhainn (pronounced Mc Gow An) meaning a smith.
In many ways the genesis of Irish last names is quite similar as in other countries such as England where they often represented a profession.
Another Source of Irish Last Names...

Another common background for Irish surnames is Irish history or mythology.
O'Brian was one of the most common surnames of the eleventh century and this derived from the importance of Brian Boru, a famous High King who defeated the Vikings after almost 200 years of intermittent Viking attacks.
This is one of Ireland's most famous heroes and the name Brian, meaning noble or strong, is reflected in both Irish Christian names and also Irish last names.
Like Irish first names, surnames were also influenced by English rule in Ireland.
The penal laws demanded that every baby be given an Anglican name. In many ways therefore the most common Irish surnames throughout the world today are actually the anglicised versions as opposed to the traditional Gaelic versions of the name.
Irish surnames are common in countries such as the USA or England where many immigrants moved to after the Great Famine of the 1840s and subsequent immigration throughout the 19th and 20th Centuries.
Some of the most common Irish last names include:

O' Connor
Pronounced /O Con' er/.  This Irish last name is the anglicised version of ó Conchobhair which means the patron of warriors, a clear reference to the Irish mythology of warriors such as the famed Brian Boru.
Perhaps the most famous Irish person with this surname is Sinead O'Connor, an Irish singer whose song 'Nothing Compares to You' was extremely successful. She is also well known for her somewhat controversial opinions on issues such as religion.

Murphy
Pronounced /Mer' fee/. This surname is from the traditional Gaelic name ó Murchadha which means sea battler.
Irish history also includes over two hundred years of ongoing Viking invasions from the sea and therefore the idea of sea battles is extremely important historically.
Not only is Murphy one of the most common surnames in Ireland but it is also amongst the top 60 most common names in the US demonstrating the significance of Irish ancestry in the United States.
O'Brien
Pronounced /o BRI' en/.  Brian Boru was one of the most famous heroes in Irish history. It was he who defeated the Vikings once and for all.
The name actually comes from the Gaelic ó Briain which means noble.
Walsh
The surname Walsh is also extremely common in Ireland and comes from the Gaelic word Breathnach meaning Welshman.
Gaelic history is linked to other nations such as Wales and Scotland. These countries have a shared Gaelic heritage and therefore many Welsh would have travelled to Ireland during Ireland's history.
The most famous Welsh man ever to set foot on Irish soil is most likely St Patrick, the patron saint of Ireland. He is celebrated around the world for being synonymous with Ireland and yet he was actually from Wales originally.
Doyle
Pronounced /Doil/. This surname comes from the Gaelic surname ó Dubhghaill meaning "dark foreigner."
Areas of West Ireland received a number of Spanish into their communities, and towns such as Spanish Point on the West Coast are a reference to these dark haired foreigners.
Perhaps the most famous Doyle is Roddy Doyle whose novels on life in Ireland such as The Commitments have been successfully made into films.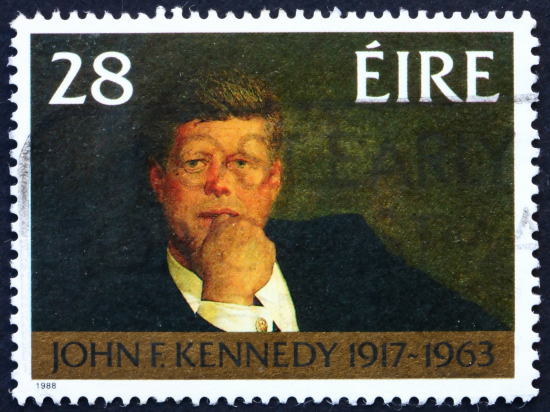 Kennedy
This name needs little pronunciation and is famous across the world for the Kennedy family, an Irish American dynasty who are practically royalty in American history.
As a family they have had their share of fortune, romance and also tragedy. The most famous example, of course, is the assassination of President John F. Kennedy in 1963.

The surname is an Anglicisation of the Gaelic name ó Cinnéide meaning helmet-headed, once again a reference to the legends of battles in Irish history.
Connolly
This surname comes from the Gaelic surname ó Conghaile which means "fierce as a hound."
James Connolly was certainly fierce in his determination to free Ireland from English rule and is considered a hero for his participation in the 1916 Easter Rising in Ireland although he was executed for his role in the rebellion.
O'Donnell
This surname comes from the Gaelic ó Domhnaill meaning world-mighty.
Although he might not be world-mighty as his name would suggest, Daniel O'Donnell is still one of the most famous crooners in Ireland today and his concerts have people travelling from all over to attend, especially the grannies who love this blue-eyed boy's songs.
Keane

Who could forget Ireland's participation in the 2002 World Cup? Perhaps the most memorable part of the World Cup was the early exit of the Irish Captain Roy Keane due to his disgust at the state of the team's accommodation and practise pitches.
The other Keane, Robbie, stayed on however and scored a goal in the last few minutes of Ireland's final game before their quarter final exit from the tournament.
Keane comes from the Gaelic surname Mac Catháin.
So what is YOUR Favorite Irish Name?
Tell us the name of course, but then spice it up! What is the meaning of the name? How did you come across it? What famous person has this same name?

Tell us why this name is important or memorable to you.

Then share your experience with others, by publishing your story on Irish-Expressions.com! It's easy! Just follow the instructions below.
Interesting!  Where Can I Find More?

Irish names are a very visible and interesting expression of our Irish sides.  Giving an Irish name to a child or a pet, or displaying your own Irish last name in the form of a framed Irish crest are just a couple of possibilities.
If you enjoyed this page, please take a moment to share your feedback about it, or any other part of our site, using our comment section below.  Or send us an email using our contact form here. 
Hopefully at this point you have signed up for our monthly newsletter (upper right corner of this page).  That is the way to get regular updates and great ideas sent directly to you! 
It's as simple as entering your email address - we'll do the rest!

And please continue to explore our beloved Irish culture and heritage, here at Irish expressions, and with a few more excellent websites and blogs about Ireland.
One of our favorites is:
We can't say enough good things about this beautiful website, designed by a husband / wife team in Ireland who are completely dedicated to helping you trace your Irish ancestry. 
Along the way, they share wonderful history and facts about the Emerald Isle.

Please explore their lovely site... then come back!  Tell us what you learned and what you want to know more about.
In the meantime, thank you so much for visiting!  Choose another topic to continue exploring Irish culture and traditions, and to share your Irish side with the growing community of friends at Irish Expressions.com!
PLEASE SHARE US WITH YOUR FRIENDS

YOU CAN FIND US ANYTIME ON ...