Irish Slang Words: A Fun, Printable Word-Match Game For Any Irish-Themed Occasion!

Now you can put your knowledge of Irish slang words to the test, while entertaining family and friends on St Patricks Day, an Irish-Themed birthday or wedding, or any other day! 
Our fun, printable word-match game can add Irish flavor to any fun occasion!
Try your hand at mastering our fun quiz below.  You can 'study up' in our sections on Irish Words and Irish Slang.

Simply match the Irish words on the left with their meanings on the right.
You can download the game, and the answers, using the form below.  Create a simple contest with your party guests - the most correct matches wins an Irish prize!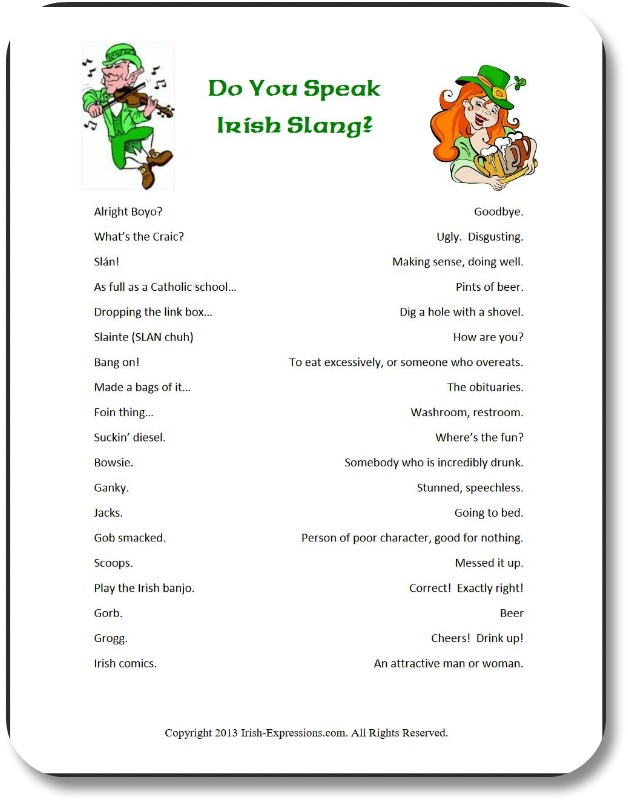 That Was Fun!  What's Next?

A bit 'o knowledge about Irish words and phrases goes a long way to expressing your Irish side!
Drop us a note using our contact form, or use the comments section below, and let us know what you thought of the Irish Slang Words game! 
Would you like to see more Irish games on Irish Expressions.com?  We would love to hear your feedback!

In the meantime, click on another topic above, and let's continue our journey of discovery into Irish culture and traditions, with Irish-Expressions.com!

Want to Receive Updates from Irish Expressions? 
It's Simple ... and Free!

One of the best ways to stay connected with us is Irish Expressions Weekly, our regular summary of what's new and delightful at Irish-Expressions.com.
Next Sunday, and every Sunday after that, you will receive a fun, informative summary the last week's best community posts, most entertaining free puzzles and games, most beautiful pictures, most delicious recipes, funniest jokes, and much more.
In short you will get loads of ideas about how to express your Irish side, wherever you are in the world!

Simply share your email address with us below, and we'll do the rest!
And never fear... we hate spam too, and we will never share your information with anybody else.  Period.
Please share us with your friends!
You Can Find Irish Expressions Anytime On...