Adare Castle: A Source of Pride in Ireland and a Treasure Trove of Irish Expressions

Adare Castle is found in Southwest Ireland in a small town called - you guessed it - Adare. The castle is a major attraction in County Limerick and a source of pride for all those who live in Munster Province.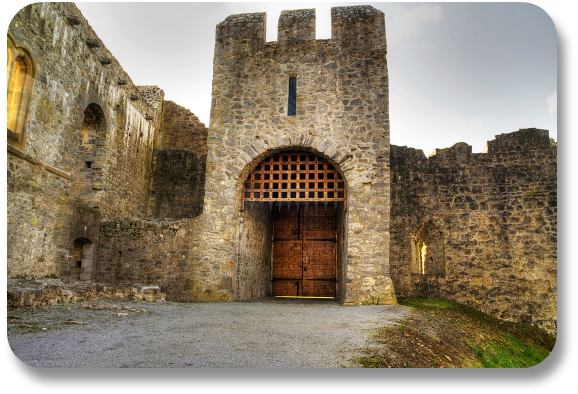 If you want to reach Adare Castle from Dublin Airport, expect the journey to take just over two hours. The drive is a breeze and stays almost entirely on the M7 until you switch to the M21 after passing Limerick.
Things to Know About Adare Castle

On the banks of the Maigue River is the Adare Castle, an incredible manor house that dates back to the 18th century.
Located in the town of Adare in County Limerick, Adare Castle is a sprawling estate that takes up over 800 acres.
The castle boasts nearly 400 stained glass windows, and there are gargoyles scattered throughout the estate.
Perhaps best of all, Adare Castle is now a golf resort, which means that you can live out your fantasy and spend a night in an Irish castle.
Fun fact: the word Adare derives from the Irish Áth Dara, meaning "ford of [the] oak" (source: Wikipedia).

Want Much More Information on Irish Castles?

We have written an e-Book on the subject, and it is available to you for free!  Just enter your first name and email address, and you will have it in the next few minutes.

Irish Castles offer numerous opportunities to enjoy Irish experiences and share your Irish side with others.
Visiting them in person is obviously a once-in-a-lifetime opportunity, not to be missed!  But travel is not required to enjoy these magnificent treasures.
The options are limited only by your imagination!  Here are some fun things you can try out...
Fun Irish Experiences to Try (No Travel Required)

Here are some fun ideas for creating an Irish experience, wherever you are in the world.  Some we have enjoyed ourselves, some have been submitted by our readers!
Try one - or send us an idea of your own, using our contact form here!  We would love to hear from you!

Choose a favorite image or two, then transform it into a framed photograph or canvas wall display.  We have these all over our home.  For photo prints, we like to work with www.shutterfly.com.  For canvas wall art (it ends up looking like an oil painting – very nice), we recommend www.easycanvasprints.com.
We also like to make use of quizzes, puzzles and games, to entertain our readers and guests, and to spice up our St Patricks Day parties and other Irish-themed occasions.  If you would like to build your own quiz using information about Irish Castles, we recommend a visit to www.onlinequizcreator.com.
One great idea submitted by an Irish Expressions member, is to have one of your favorite Irish Castle images turned into an electronic jigsaw puzzle, wall calendar, or deck of playing cards.  While we have not yet done this, there are many online resources to help you create your Irish Castles masterpiece.  If you try this yourself, please drop us a note and let us know how it goes!
Another idea – electronic greeting cards.  Once again, Irish Castles, and other images of Ireland, make terrific themed backgrounds for party invitations, wedding invitations, holiday greetings, and many other uses.  We love www.smilebox.com as a resource for building our own custom greeting cards.
Finally, if you do have the opportunity to visit Ireland, we recommend checking in with our friends at www.myirelandtour.com.  They have been designing custom Irish vacations for more than 25 years, and would be delighted to help you with your Ireland travel plans.
Ask for Eric and tell them Bruce at Irish Expressions sent you!  Tell them you want to include Irish Castles in your Ireland adventure.
And even if you are not looking for travel help, a visit to their lovely site - including a wonderful blog - is highly recommended.

That Was Fun!  Where Can I Learn More?

Great question! As you can see, lovely Adare Castle - and hundreds more castles on the Emerald Isle by the way - offer many opportunities for enjoying an Irish experience and expressing your personal Irish side!

For more information of this kind, you might pay a visit to our section on Ireland Castle Vacations here!
And for travel ideas in general, check out our section on Ireland Travel Destinations.

In the meantime, if you enjoyed this page in particular, please take a moment to share your feedback about it, or any other part of our site, using our comment section below.  Or send us an email using our contact form here. 
Make sure you register for our monthly newsletter (bottom of this page) to get regular updates and great ideas sent directly to you!  It's as simple as entering your email address - we'll do the rest!
And once again - thanks for visiting!  We hope you will continue to explore Irish culture and traditions, and to share your Irish side with the growing community at Irish Expressions.com!
PLEASE SHARE US WITH YOUR FRIENDS

YOU CAN FIND US ANYTIME ON ...

Have an Irish-Themed Product to Sell? 
We are looking for great Irish Expressions to share with our members.