83 Best Ireland Sightseeing Tips:
Take a Virtual Tour!
Ireland sightseeing is one of the best ways to develop your Irish side.  Here we will share some of our favorite sights to see on the Emerald Isle, from the magnificent Cliffs of Moher to the rich history of Blarney Castle to the natural beauty of the Giant's Causeway and more.  The good news is – travel is NOT required (although it is very highly recommended :-)!
Top Sights in Ireland
Here is a partial list of the 83 Ireland attractions you will learn about here!
Read on to learn about these - plus 33 more - must-see sights in Ireland.  In addition you will find our opinion on the 43 Best Irish Castles!
In a hurry?  Tap here to jump to the full list of Ireland sightseeing destinations.
Not in a hurry?  Take fun, free quiz to find out how much you already know about Ireland landmarks and attractions.
Ireland Sightseeing:  Find Out How Much You
Already Know About Famous Irish Landmarks...
Take our fun, free quiz to find out how much you already know about our best sights in Ireland...
So - How Did You Do?
A score of 8 or higher is a sign of a well-developed Irish side!
A score of 6-7 is pretty good!  You are probably the life of the party on St Patricks Day!

A score of 0-5 means you should brush up on your knowledge of the Emerald Isle! 
Keep exploring Irish-expressions.com to discover exciting images and facts, and to learn about the many ways to express your Irish side, wherever you happen to be.
Express Your Love of Ireland
Before we begin, let's take a moment to set the stage. 
You can get all the information you could possibly want about Ireland sightseeing just by searching the internet.  So rather than sharing the same information you can find anywhere, we will instead share ideas for expressing your personal Irish side through these amazing Irish attractions, wherever in the world you happen to be.  
Then we will, of course, point you to where you can find more detailed information if you want it.  I'll be your virtual tour guide.  Sound interesting? Let's go!
1. The Cliffs of Moher
This stunning natural attraction in County Clare is one of the most photographed locations in Ireland and one of the best things to see on an Ireland sightseeing tour. Show the Cliffs with a picture like this one facing northward along the coastline with O'Brien's Tower in the distance. Tell how the Cliffs of Moher were hilariously re-dubbed the "Cliffs of Insanity" in the American film, The Princess Bride.  
Click on the image for more information, pictures and tips on the best ways to enjoy this lovely Irish landmark.

2. Blarney Castle
Another iconic stop on any Ireland sightseeing tour, Blarney Castle in County Cork offers beautiful scenery, magical history, and - of course - the world famous Blarney Stone, otherwise known as the Stone of Eloquence .  Show picture of the lovely Castle grounds. Tell about what happens when you actually kiss the Blarney Stone (hint:  you aren't standing up when you do it).   
Click on the image for pictures, information, and tips on how to enjoy Blarney Castle.

3. Giant's Causeway
Pictures definitely DO  justice to these amazing basalt columns in County Atrim, which stretch mysteriously toward Scotland from the coast of Northern Ireland. Show a picture of perfectly formed columns fading into the distance.  Tell the story of Finn MacCool and his epic effort to build a stone bridge to Scotland.
Click on the image for more information on the incredible Giant's Causeway!
4. Book of Kells
Proudly displayed in the Old Library at Trinity College in Dublin, this Book is 680 pages long (and unfinished) and over 1200 years old.  Show a beautiful picture of the Long Hall in the Old Library where it is housed (photos of the Book itself are not permitted). Tell how (and why) most important stories were told in pictures (most people at the time were not able to read the written word). 
Do not miss the amazing book of Kells.  Click the picture for more information and tips on how to enjoy it!
5. Newgrange
Older than the pyramids in Egypt, this amazing passage tomb in County Meath is world heritage site and a testament to the ingenuity of ancient times.  Show a picture of its massive facade.  Tell how the best time to visit is Winter Solstice, when the main chamber is illuminated by the sun through a perfectly designed roof-box.
I KNOW - hard to believe.  If you would like to know more, click on the image.
6. Clonmacnoise Monastery
This ancient monastery ruin is marked by a simple sign on the M6 traveling west from Dublin in County Offaly and was once a center of religious learning, culture and trade.  Show pictures of numerous beautiful arches and High Crosses.  Tell the story of how the young founder of the monastery met Diarmait Ui Cerbaill who assisted in its construction and eventually became the first Christian king of Ireland.
Click on the image to add this fascinating landmark to your Ireland sightseeing tour.
7.  The Brazen Head Pub
Billed as the oldest pub in Dublin City, Brazen Head is an easy choice (at least for us) as one of the must-see locations on any Ireland tour (virtual or otherwise :-).  Share pictures of its beautiful facade or (with permission of course) its patrons enjoying Irish meals and live music.  Tell how the Pub's innumerable famous patrons include James Joyce and Garth Brooks.  
Want to know more?  Click on the image!
8. Rock of Cashel
This famous fortress in County Tipperary was the traditional home of the Kings of Munster for hundreds of years and is now one of the top sights in Ireland. Show pictures of its 13th century cathedral, visible on the scenic route from Dublin to Cork.  Tell of the famous legend which holds the Rock was created when the Devil heaved a gigantic stone at his adversaries.
Click on the image for pictures and interesting facts about the imposing Rock of Cashel.
9. Skellig Michael
This small island off the coast in County Kerry is famous for its well-preserved Christian Monestary and for the puffins that breed on the island in the summer.  Show a picture of the steps carved into the hillside leading up to the monastery.  Tell your friends how it was featured in the 2017 movie Star Wars: The Last Jedi.
Click on the image to learn much more about this famous island.
10. Dingle Peninsula
The northernmost tip of County Kerry makes our list of Ireland sights to see, because it is one of the best places on the island to experience 'traditional' Ireland.  Show a picture of the crucifix that marks the tip of the peninsula.  Tell how Dingle has been featured in multiple Hollywood films including Far and Away starring Tom Cruise and Nicole Kidman.
Most of all, the Peninsula is beautiful.   Click the image to find out why!
11. Aran Islands
There are three Aran Islands located off the beaten path in Galway Bay, County Galway, off the west coast of Ireland.  Show pictures of the vast network of stone walls presumably constructed to contain livestock and define property lines. Tell how the famous Aran sweater is perfectly constructed for coastal weather and contains patterns rich in cultural symbolism.
One of the best ways to experience this popular attraction is by ferry, tap here for one of the best services.
12. Ring of Kerry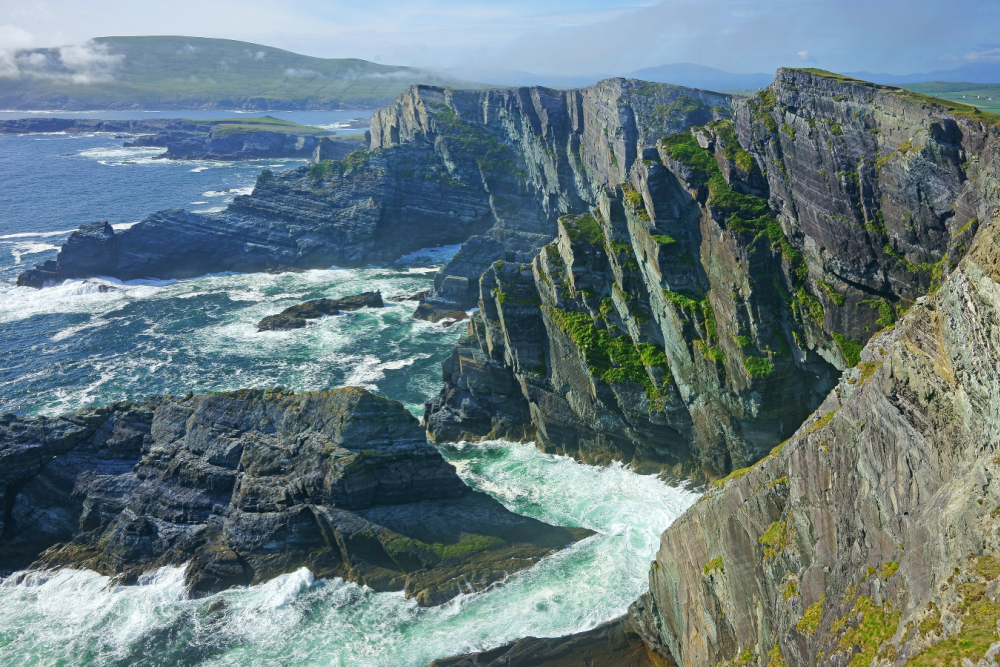 The Ring of Kerry is a scenic drive around the Iveragh Peninsula in County Kerry in Southwest Ireland. Show a picture of the incredible Cliffs of Kerry.  Tell the story of Ross Castle, a historic 15th-century structure in the middle of Ring, where it is said an Irish Chieftan rises from his underwater slumber every seven years astride a magnificent white steed.
Check out this terrific piece for more on one of the top sights in Ireland!
13. Galway City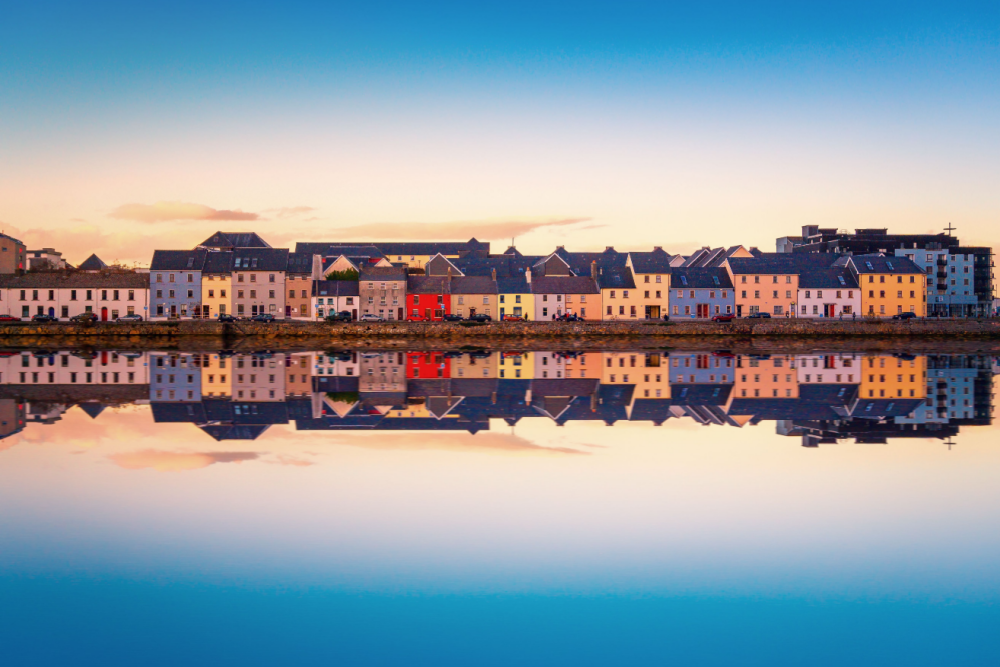 This harbor city sits where the River Corrib meets the Atlantic Ocean in County Galway and is famous for its friendly locals and many festivals which frequently include traditional Irish music.  Show a photo of the Claddagh Ring Statue located at the entrance to the colorful Claddagh neighborhood.  Tell the heartwarming love story of how the Claddagh symbol originated. 
You can find much more Galway City information here.
14. Kilmainham Gaol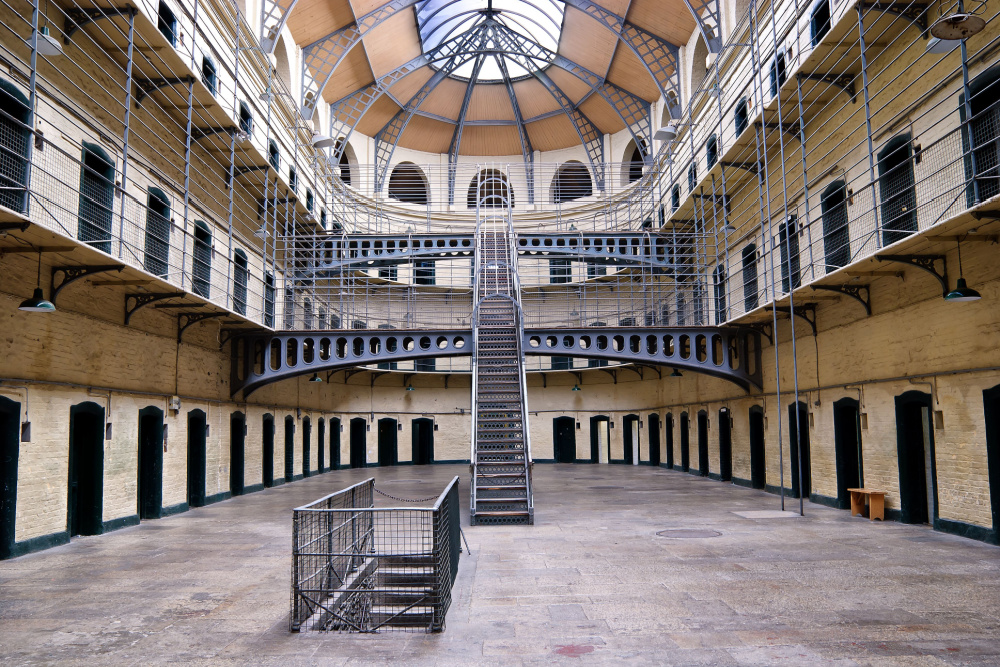 This old prison on the west side of Dublin was constructed in 1796 and is famous for housing some of the most notorious criminals in Irish history.  Show pictures of the impressive staircases in the Gaol.  Tell the story of the executions that took place there during the Easter Uprising in 1916.
15. Guinness Storehouse
This Dublin brewery experience is famous for many things, including certifying its patrons as 'pouring experts' during their visit!  Show panoramic views of Dublin taken from the vantage point of Gravity Bar where you can enjoy a pint of the black stuff.  Tell friends how the glass atrium (shaped like a giant pint of Guinness) would actually hold 14 million pints if filled!
Go here for more information about the amazing Guinness Storehouse, one of the top sights to see in Ireland.
16. Killarney National Park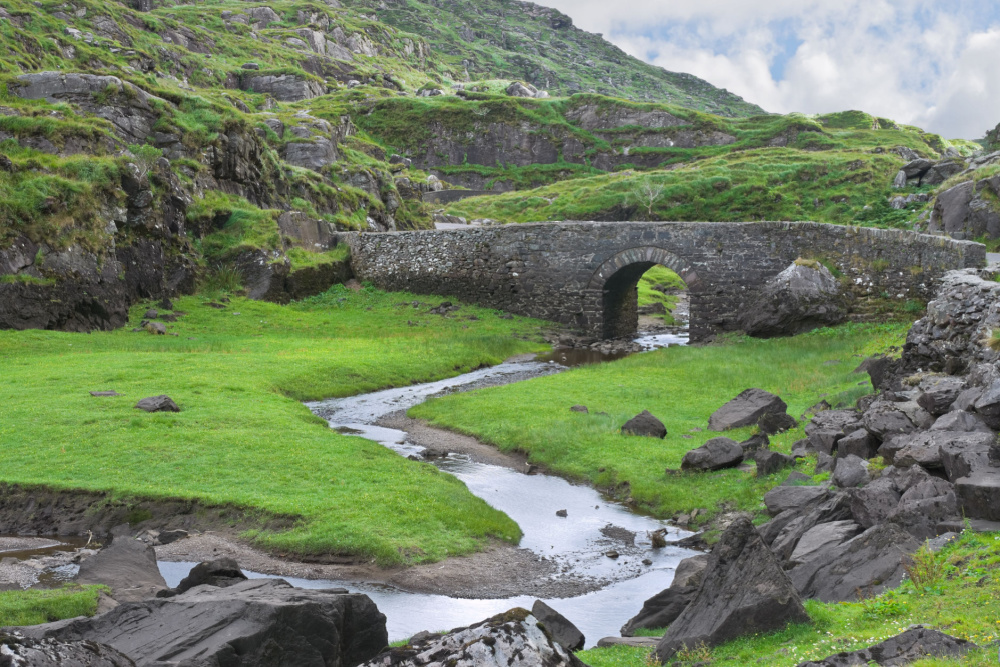 This amazing park in the southwest part of the Island in County Kerry is famous for its picturesque mountains, waterfalls and lakes.  Show pictures of the rugged Gap of Dunloe including (if you're lucky) the horse-drawn carriages that serve as transportation through the Gap.  Tell the story of the Banshee of Muckross House, the Tudor-style mansion at the heart of the national park.
Go here for more information about one of the best sights in Ireland.
17. Mourne Mountains
This granite mountain range is located in County Down in southeast Northern Ireland and is famous for the Mourne Wall which spans 22 miles of mountain peaks.  Show pictures of the amazing Wall, which took over 18 years to build.  Tell friends and family that these mountains inspired the Chronicles of Narnia and were a filming location for Game of Thrones.
Find more information at the official website here.
18. Iveragh Peninsula
Located in southwest Ireland, County Kerry, the Iveragh Peninsula is the land mass encircled by the famous Ring of Kerry.  Show pictures of the Ladies View (Kilarney's beautiful lakes). Tell anyone who will listen that the highest point in Ireland is on the Peninsula, in a mountain range with the wonderful name of MacGillycuddy's Reeks (yep, it's a thing).
Find more information about the Iveragh Peninsula here.
19. Dublin Castle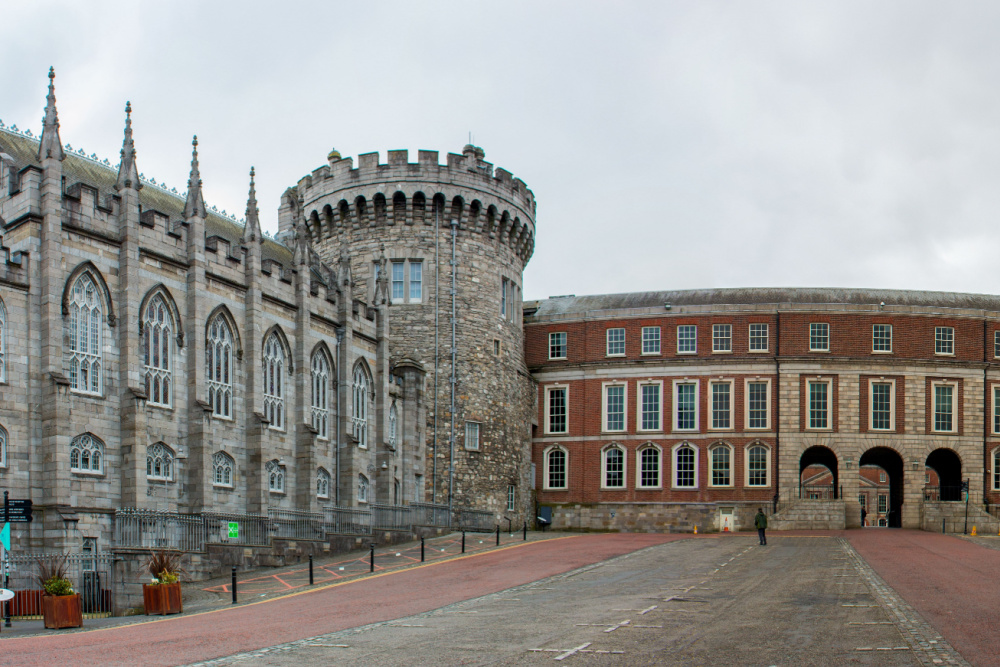 This historic castle is located in Dublin's city center, County Dublin, and was constructed on the site of an early Viking settlement.  Show a picture contrasting the medieval look of the Castle with the modern city in which it resides.  Tell the story of how it was captured by 25 Irish Citizen Army members during the Easter Uprising.
Learn more interesting facts about Dublin Castle here.  
20. Muckross House
Located at the center of Killarney National Park in County Kerry, this beautiful building is famous for hosting Queen Victoria in 1861.  Show an image of the stately Muckross Abbey Cloister.  Tell about the resident craftsmen and women who demonstrate weaving, bookbinding, pottery and other traditional crafts.
Find much more information about the Muckross House here.
21. Grafton Street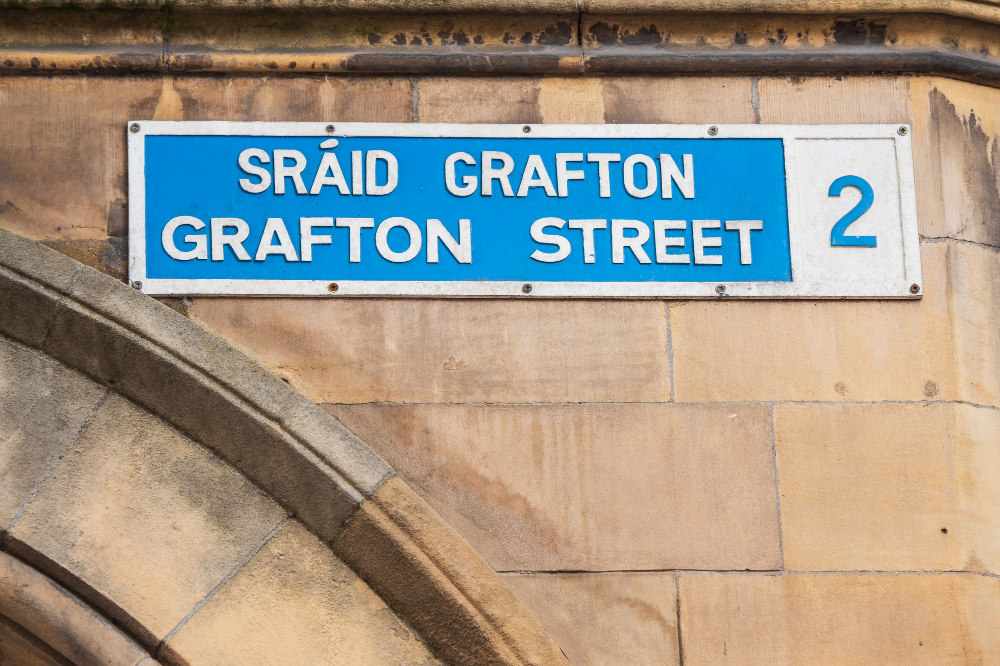 A boisterous pedestrian street and a fixture on most Ireland tours, Grafton Street is one of Dublin's premier shopping districts and a key stop on any Ireland sightseeing tour.  Show an image of the Street and its traditional pubs bathed in lights during the holiday season.  Tell about the excellent restaurants and street performers, which are sure to be a hit with traditional music fans.
Want more information about Grafton Street?  Here you go!
22. Phoenix Park
This public park in west Dublin is largest city park in Europe and the official home of the President of Ireland.  Show pictures of the deer that freely roam the park year-round.  Tell the story of Leo the Lion (the mascot of MGM studios) who was born Cairbhe the Lion in Phoenix Park before becoming a global icon.
There is so much more fascinating information to share about historical Phoenix Park.  You can find much of it here.
23. Kilkenney Castle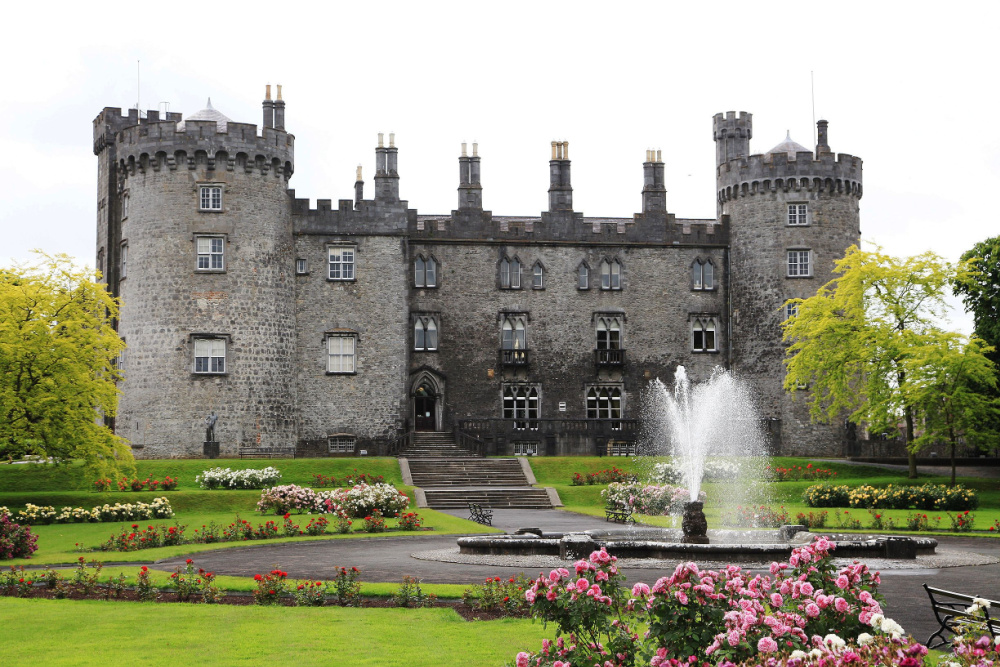 This 11th century fortress in county Kilkenny was one of the earliest castles built following the Norman conquest of Ireland.  Show pictures of its lovely and historic tapestry room (you'll have to download them, photography is not allowed inside the castle).  Tell the story Cromwell's cannon attack on the castle in 1652, widely believed to be the reason for the castle's missing south wall and tower.
Check out this article for more facts and information about one of the must-see sights in Ireland.
24. Slea Head Drive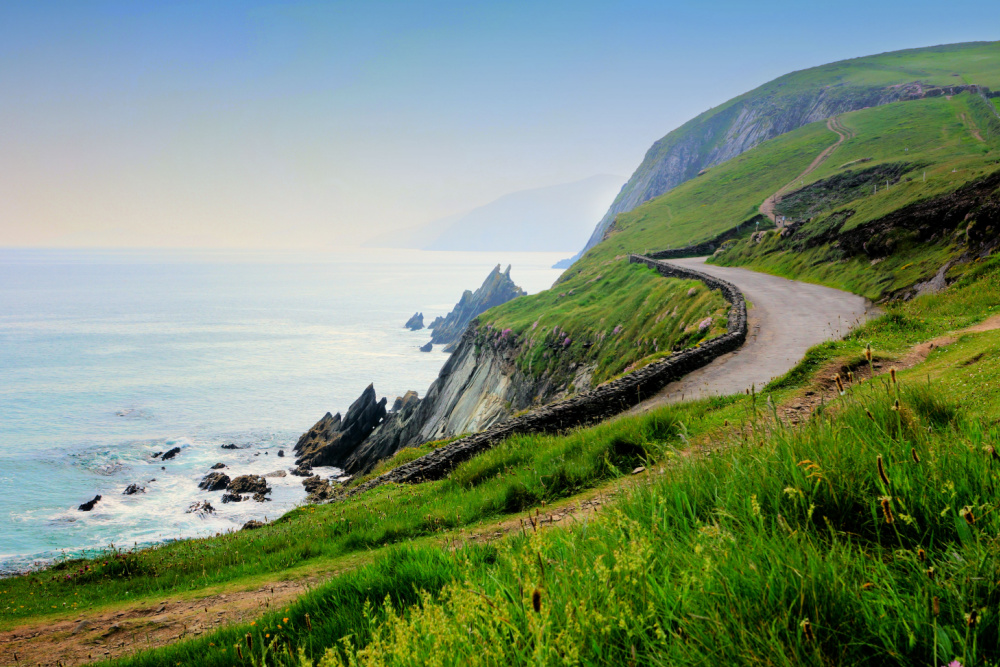 This 30 mile drive on the Dingle peninsula is like a journey back in time with historic sights, traditional Irish villages and famous movie locations.  Show a sunset view of the Blasket Islands from the edge of the Dingle Peninsula.  Tell your friends about the mysterious beehive huts that dot the landscape, built by monks to protect against the wet weather.
Learn more about one of the top sights to see in Ireland, here:
25. Dublin City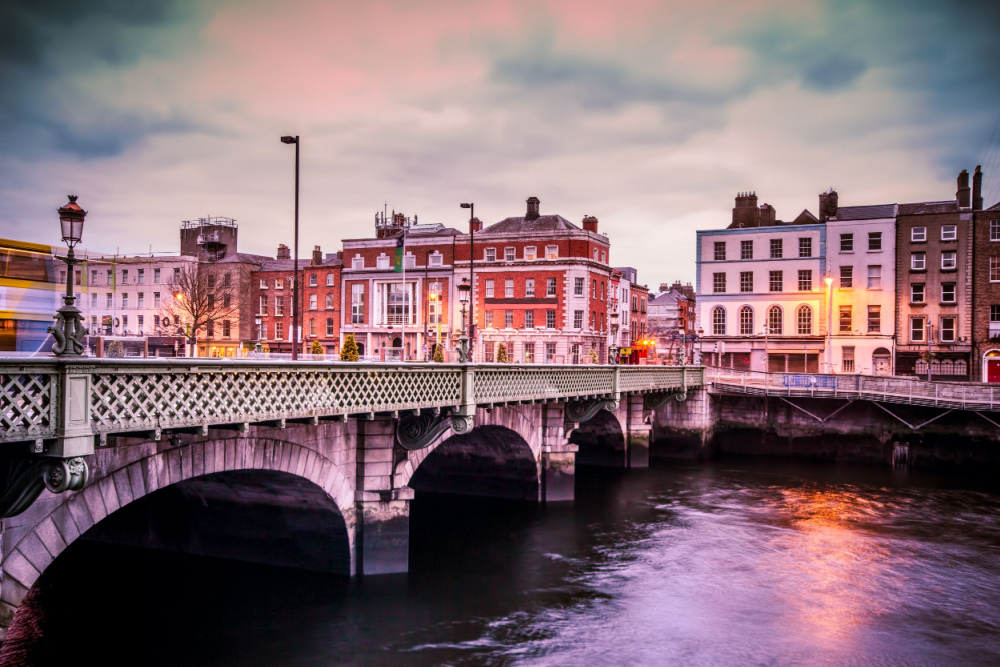 Dublin is the capital city of Ireland and is famous for many things including its designation as a UNESCO city of literature. Show images of the iconic Temple Bar district.  Tell your history buff friends that Dublin is home to the largest Viking cemetery outside of Scandanavia.
Many more interesting facts about Ireland's capital city can be found here!
26. Carrick-a-Rede Rope Bridge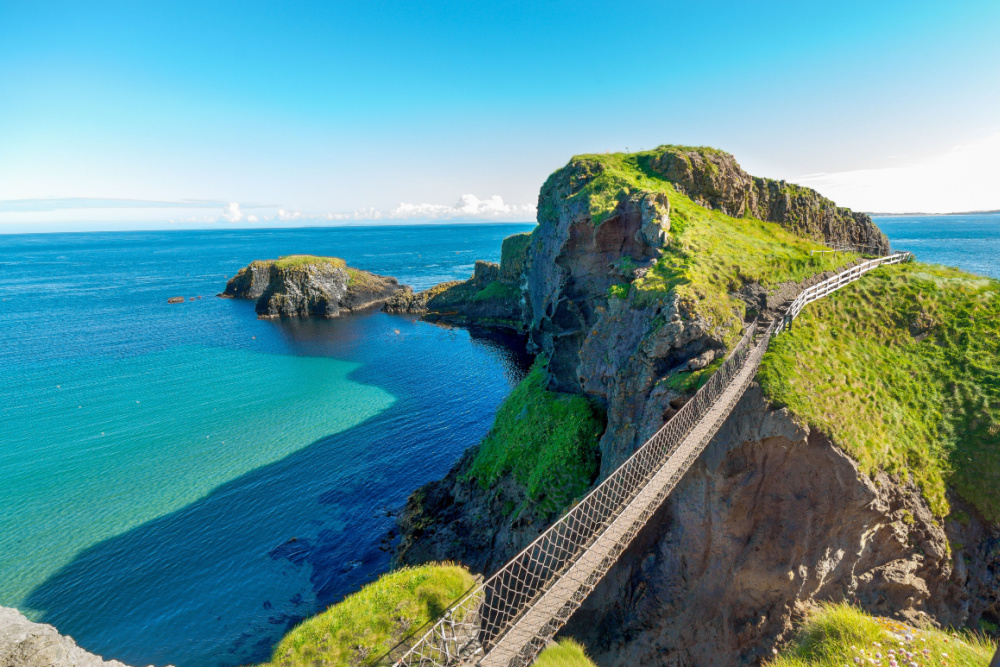 This iconic stop on our virtual Ireland tour is located in County Antrim, Northern Ireland and delights approximately half a million visitors per year.  Show images of the crystal-clear blue water dotted with fishing boats along the coastline beneath the bridge. Tell your friends to walk quickly and don't look down (just kidding, looking down is the whole point!)
Find much more information about one of the top sights in Ireland here: 
27. O'Brien's Tower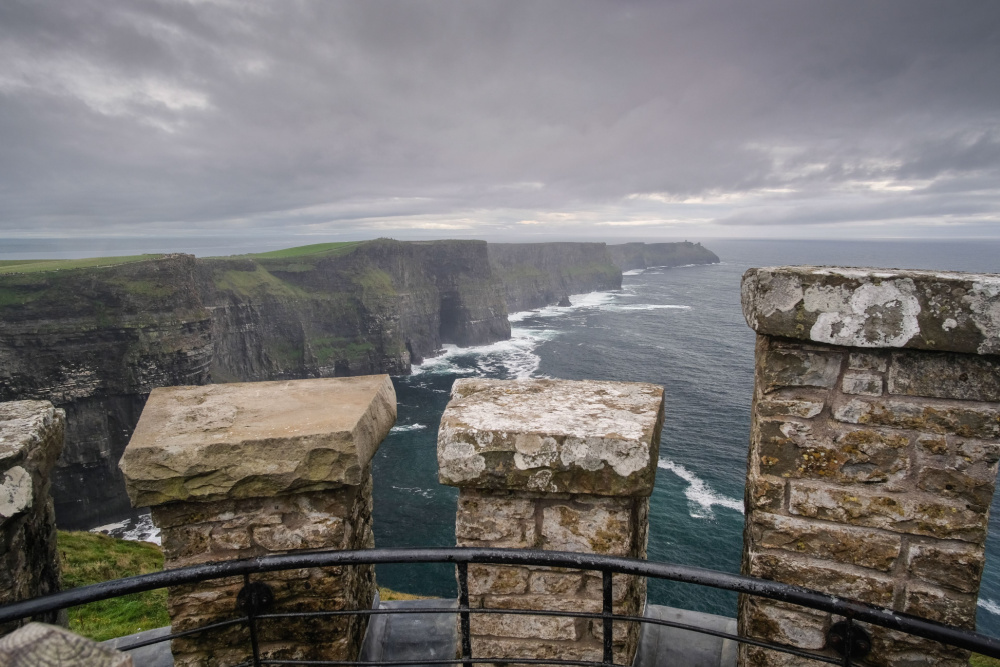 This picturesque structure is located on the Cliffs of Moher in County Clare and is famous for it's unequaled views of the Irish coastline.  Show panoramic images of the Cliffs and coastline taken from the Tower.  Tell how the tower was allegedly built as a place for the owner to bring the women he was courting (we're working diligently to verify this story).
28. Trinity College Dublin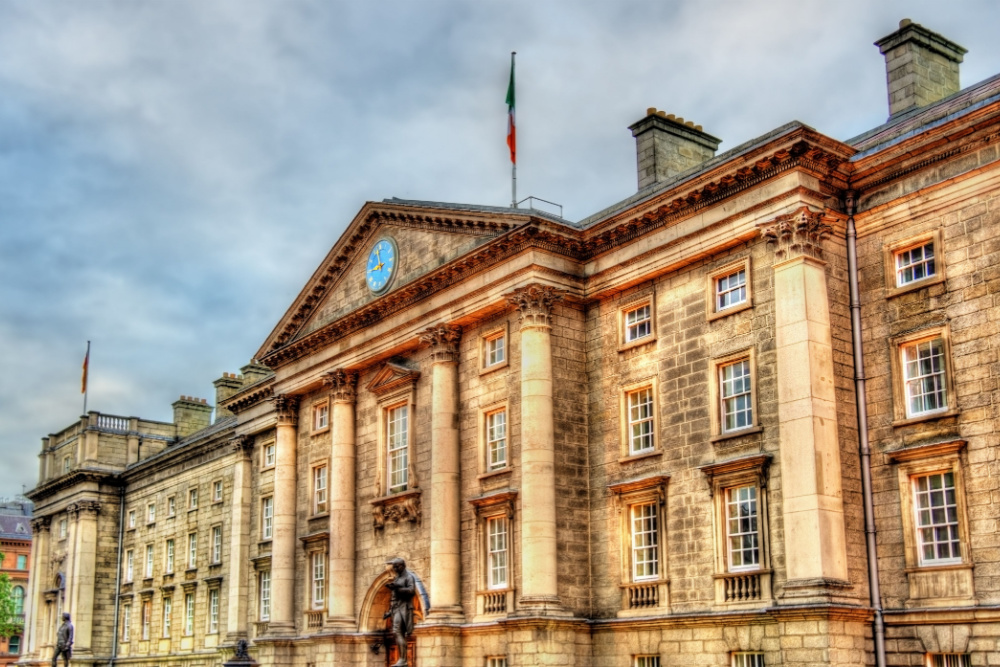 This prestigious university located in Dublin City, County Dublin is famous for having educated many of Ireland's literary figures, among them Oscar Wilde, Bram Stoker and Jonathan Swift.  Show the flag of the Trinity College Dublin. Tell how the Long Room includes many important artifacts including a 15-century wooden harp after which the emblem of Ireland is modeled.
Want to know more about Trinity College Dublin?  Find it here!
29. Irish Emigration Museum
This famous museum in Dublin chronicles the Irish Diaspora, and has been voted Europe's Leading Tourist Attraction over multiple years.  Show images of the whispering library, celebrating Irelands many famous authors and poets. Tell how EPIC is a wonderfully unique experience as the world's first fully digital museum.
Want more info about one of the top sights to see in Ireland?  Go here!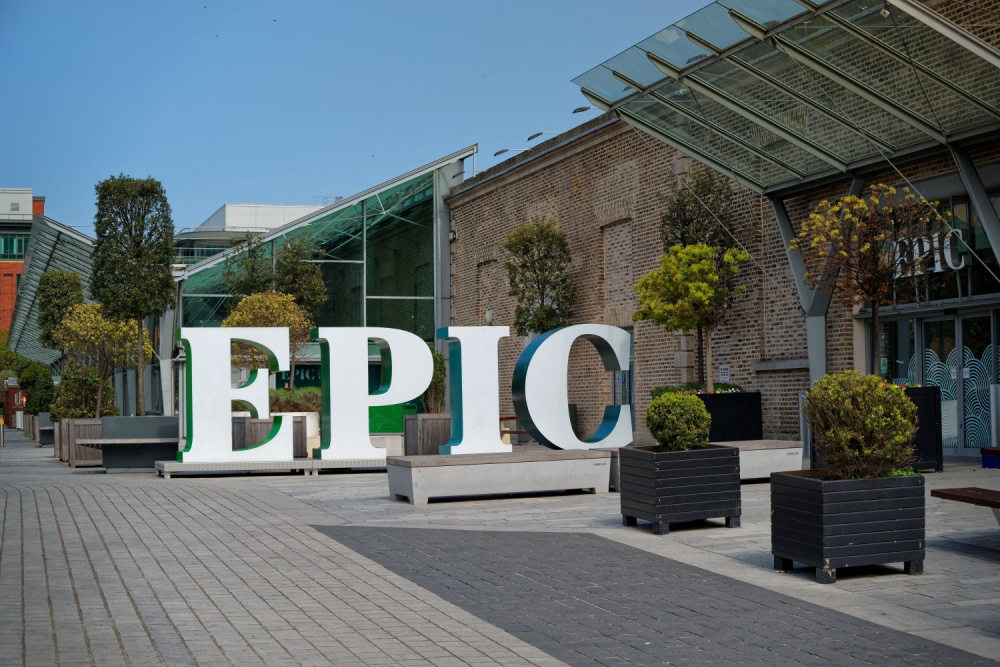 30. Cobh, Ireland
A thriving southern seaport, Cobh (pronounced more like 'Cove,' not 'Cobb') may also be one of the most poignant Ireland travel destinations.  This is where millions of Irish men, women and children embarked for North America durign the Great Irish Potato Famine of 1845-1852.


And they weren't the only people Cobh witnessed being uprooted:  the port was also a major departure point for prisoners being forcibly exiled to Australia, which at the time was a British penal colony.
While it was still called Queenstown, Cobh was the final port of call for a ship you may have heard of - R.M.S. Titanic.  And just three years later hundreds of victims (survivors and deceased) of the sinking of R.R.S Lusitania were brought to (you guessed it) Cobh.
When you add this history of sadness to the cheerfully-colored houses, welcoming people, magnificent hilltop cathedral and popular seaside promenade Cobh features today, you realize this is indeed a special place for Ireland visitors.
31.  Doolin, Ireland
This tiny west coast village is a popular stop on our virtual Ireland sightseeing tour, for two primary reasons.  First, many Ireland vacations include a trip to the Cliffs of Moher, which are both accessible and visible from Doolin.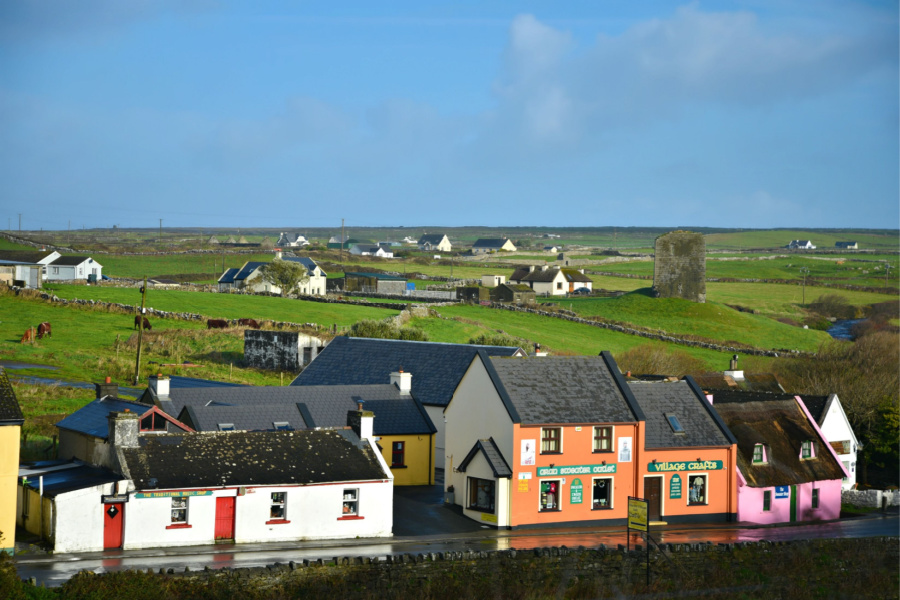 And second, Doolin is one of only three places offering ferry service to the popular Aran Islands (Galway and Rossaveal are the other two).
But Doolin has a third claim to fame that fewer travelers know about - its status as a center of traditional Irish music, which can be heard year-round in the village pubs every night.  Doolin is a must-see for all visitors to the Emerald Isle.
32.  Waterford, Ireland
Reputed to be Ireland's oldest city, few non-natives realize that Waterford was founded by Vikings in the early 900s.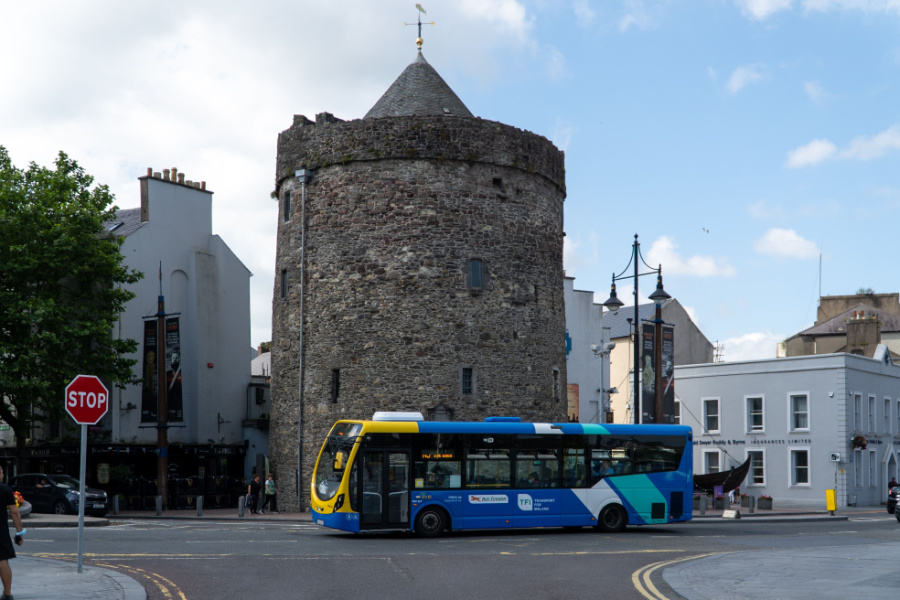 It is also believed to be the first Irish city to use mortar in the construction of its buildings, including an early structure called Reginald's Tower.
Once known primarily for its bustling seaport, Waterford is now best known for being the home of the Waterford Crystal Factory - a very popular target for Ireland sightseeing.
33. Shannon, Ireland
When considering a visit to Shannon, the first and most obvious thing to know is the town received its name from the River Shannon close by.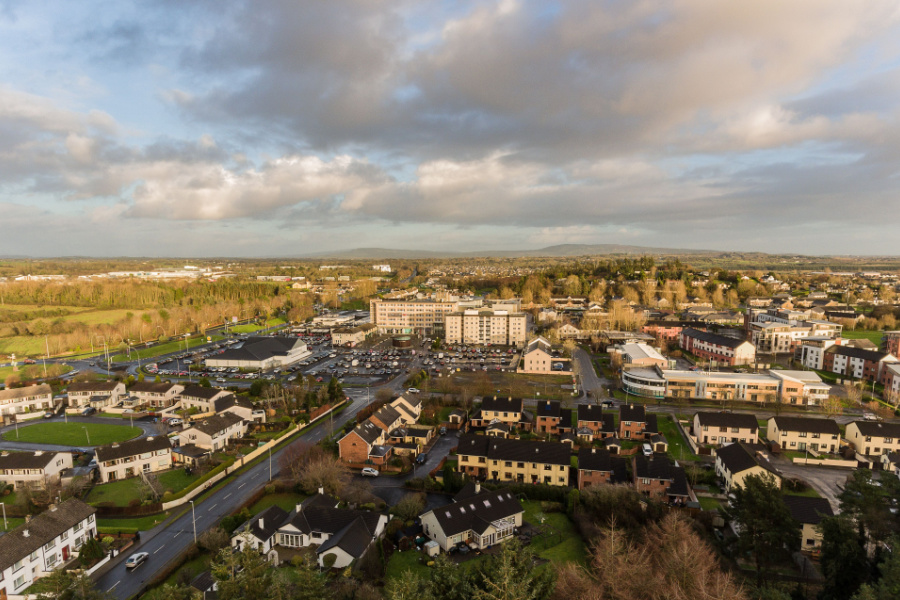 The second thing to know is, unlike many Irish towns with centuries-old histories, Shannon is a relatively modern place with a modern purpose.
The year 1938 introduced the Shannon Airport, developed by the Irish government into an International port and housing for World War II troups.
Find much more information on this important Ireland sightseeing destination here.
34.  Hill of Tara
Tara isn't jus the name of Scarlett O'Hara's plantation in Gone with the Wind - this is arguably Ireland's most sacred place.
Much of Ireland's history, folklore and legend revolve around Tara, its' prehistoric temples, tombs and burial mounds, its ancient Druids, its Stonehenge-like standing stones, and its pagan Irish kings.
The ancients believed the gods lived inside the Hill of Tara, which was also the gateway to the afterlife.  It was said that St. Patrick went to Tara to take issue with the Pagans' ancient religion.
Tara is a fascinating stop on any Ireland sightseeing tour.  But its numerous visible and still-buried structures are struggling for survival. In fact the Smithsonian Institution considers it to be one of the 15 most endangered cultural sites in the world.
35.  Ring of Beara
Much like its more famous cousin the Ring of Kerry, the Ring of Beara is a lengthy circular route that wends its way through picturesque landscapes including rugged mountains, pristine beaches, lush valleys and charming villages.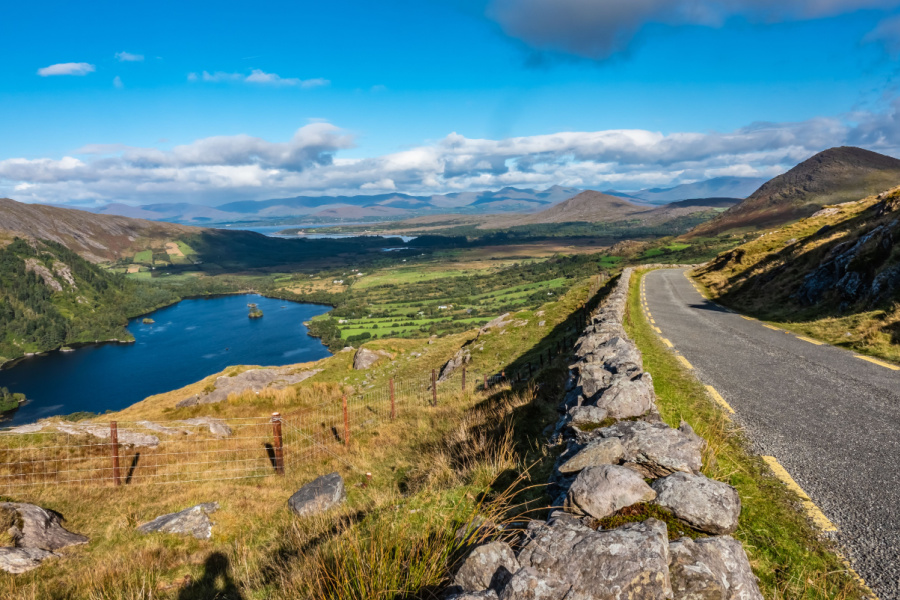 Because it's not as well known, the Ring of Bear is a less crowded Ireland sightseeing destination than the Ring of Kerry.  Walking part of the route can be fabulous, although some of the hilly passages are strenuous.
There is also a crotchety cable car that can transport you from the far end of Beara Peninsula to nearby Dursey Island.
36.  The Burren
The Burren is a large limestone plateau which features unusually rugged rock formations.  Beautiful it a bleak sort of way, photographs of the Burren provide a stark contrast to images of Ireland's lush, verdant valleys.
The rocky formations, caused by teh limestone's exposure to the elements for tens of thousands of years, resemble limestone paving blocks in some areas.  In other areas they look like they've been plowed by a drunken farmer!
This dramatic, unspoiled region makes for a very memorable stop on your Ireland sightseeing tour!
37.  Connemara
Many agree that Connemara is one of the most tranquil regions of the Emerald Isle and is one of the more popular Ireland sightseeing destinations
The areas deep blue mountain lakes, quaint stone bridges over gurgling brooks and verdant medows with swatches of purplish heather and numerous sheep are all fine subjects for photographs.
Connemara is a place apart from hectic modern life, and there is nowhere better in Ireland for photos that reflect life as it was in the past.
38.  Croagh Patrick
Croagh Patrick the mountain where St Patrick is said to have fasted and prayed many years ago, is one of Ireland's most sacred spots.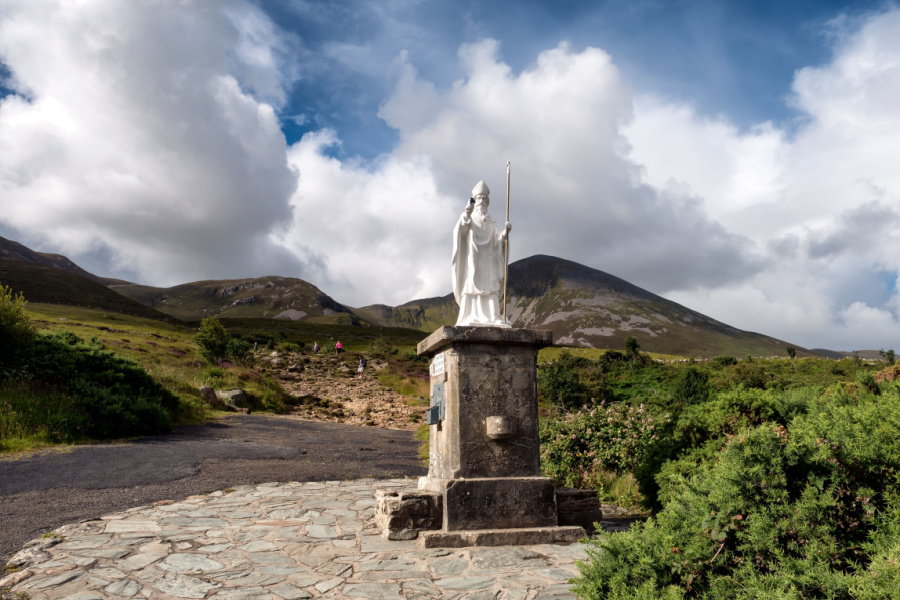 The mountain overlooks County Mayo's spectacular Clew Bay, which is studded by 365 islands - one for every day of the year.  
Pictures taken at any stage of the hike up Croagh Patrick can truly be magnificent.  For much more on this sacred stop in our Ireland sightseeing tour, visit our page on Hiking Croagh Patrick here.
39. Inistioge
One of the most photogenic destinations in Ireland, Inistioge is a quaint village nestled in the Nore Valley in between heavily wooded hills.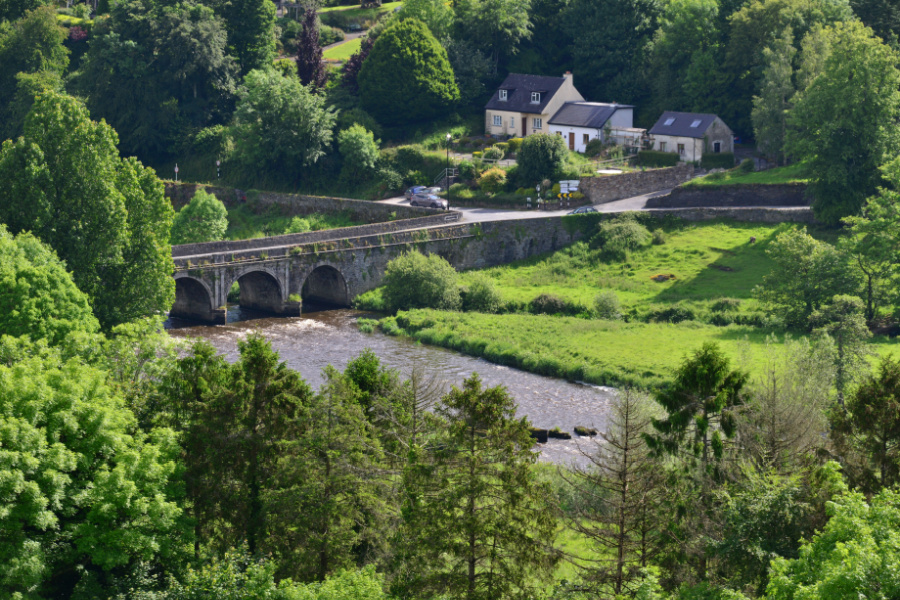 One of the village's attractions is a stone bridge consisting of nine arches.  The path across the bridge takes the traveler over the River Nore and through hills of green.  
Inistioge has made appearances in Hollywood movies such as Widows Peak.  This Ireland sightseeing destination is a must-see for any traveler to the Emerald Isle.
40.  Glendalough
Glendalough is a beautiful glacial valley punctuated by not one but two scenic lakes.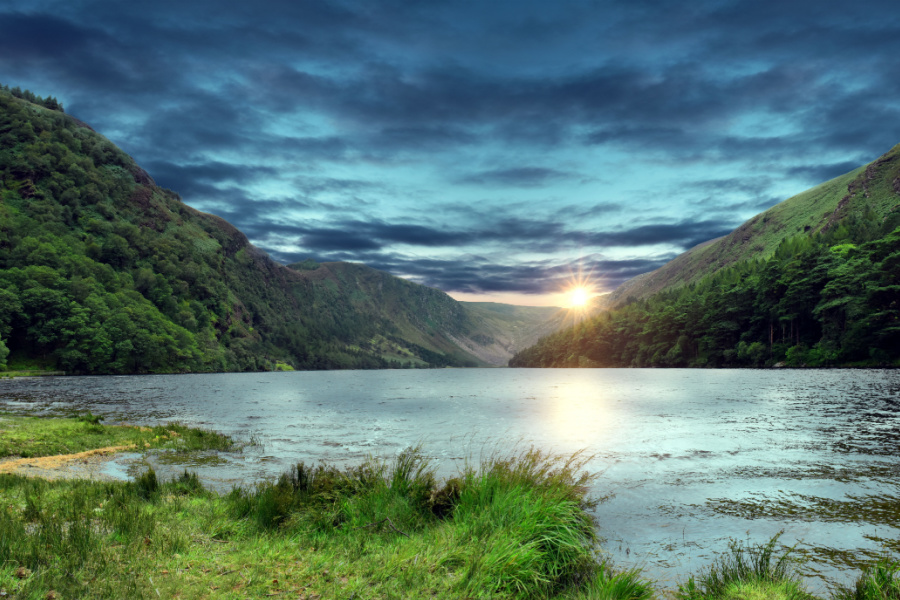 In addition to its natural beauty, the valley is also the home of the ruins of a 5th century monastic settlement known for being one of the most enlightened areas of Europe during the Dark Ages.
The area is also an old copper and gold mining center, with some people still panning the streams for gold.  
Numerous lovely pictures of Ireland are possible in Glendalough, making this a very popular spot on our Ireland sightseeing tour.
Top 43 Irish Castles and Abbeys
As you will be able to see, if you have not already – we love Irish castles.
Not just because many of them are amazing feats of architecture and construction (especially for their time).
That is true. But the biggest reason we love Irish castles is because including them in our Ireland sightseeing tour literally transports us to another time.
It gives us a fuller understanding of what I like to call our "Irish sides."
Click here to download our guide to 43 of the most famous Castles of Ireland.
Did you Know?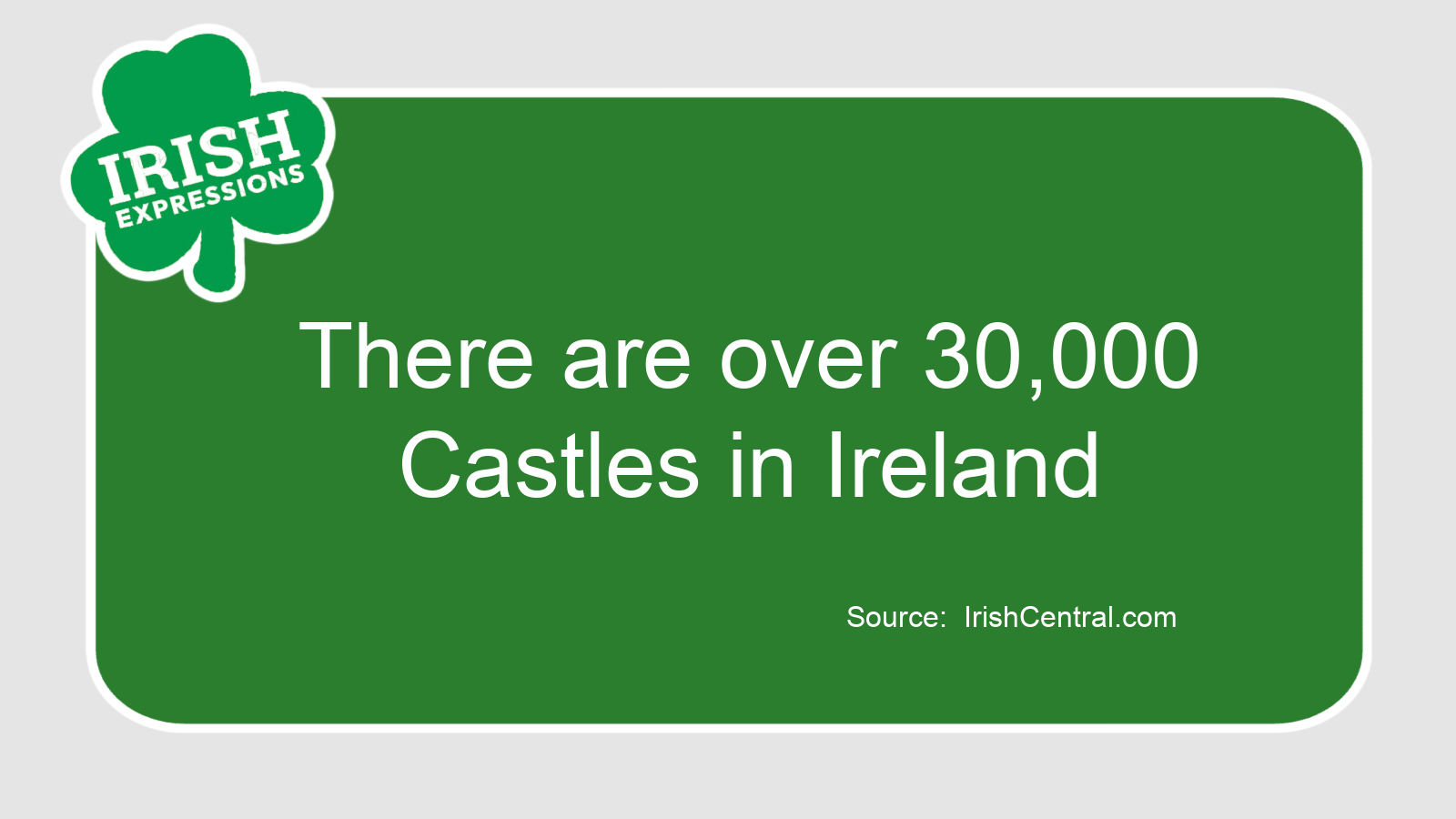 Want More?
You KNOW there is much more to see and do on any Ireland sightseeing tour. Majestic castles. Beautiful cities. Quaint villages.  The Game of Thrones Tour. :-)
If you would like to see stories of our visitors' travels to the Emerald Isle, or contribute one of your own, visit us on Facebook here or Pinterest here!
Express Your Irish Side With Real Irish Gifts
A note from Bruce:
My friend Stuart Marley and his wife Meredith are the founders of Real Irish Gifts and Travel, one of the finest Irish-themed businesses I have encountered. They have been operating since 1999. 
Members of the Irish Expressions community (that's you!) get 15% off anything in their online store, 365 days a year.  Simply click on the link below and receive your discount automatically at checkout.  Enjoy!

What's Next?
At Irish Expressions,our our goal is simple: to provide you with a unique Irish experience, on demand, wherever you are in the world.
Will that entice you to visit Ireland - or to return if you have already been?  We hope so!  

But even if that is not possible, you can still enjoy the magic of Ireland in these pages.  Check out the links at the top of the page for simple instructions on how to sing Irish songs, use Irish words, enjoy Irish food, explore Irish landmarks, and much more!
You can also visit us on Facebook or Pinterest to see amazing pictures and interact with amazing people who share a love of Ireland.
We would also love to hear from you directly - please send us a note here and let us know how we are doing. 
Want to Feel More Connected to Ireland?  Here's How!
At Irish Expressions we believe everybody – well almost everybody! - has an "Irish side."  So how nice would it be to have access to a fun, free Irish experience, on demand, wherever in the world you happen to be?
Over the years we have compiled many free, downloadable resources including lyrics, recipes, games, jokes, blessings and much, much more.  
Would you like to receive them ALL for FREE?  Simply share your email for instant access!
ENJOYING IRISH EXPRESSIONS?  PLEASE CLICK BELOW AND SHARE!