Irish Food:  These Irish Food Sayings Will Help You Get the Party Started!
We often use Irish food sayings to add fun and humor to Irish dinner parties and other Irish-themed occasions.
For example, we once added this quote to an Irish cocktail party invitation, to convince our guests that Irish Coffee is actually good for you!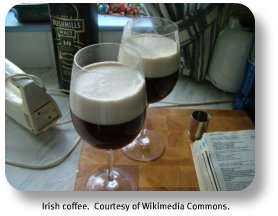 1.  "Only Irish Coffee provides in a single glass all four essential food groups:  alcohol, sugar, caffeine and fat."  - Alex Levine
And here are nine more Irish Food Sayings that we enjoy. 
Add them to party invitations, custom napkins and tableware, or simply share them with your guests to spice up your Irish dinner party!
2. "Laughter is brightest where food is best."  - Irish Proverb
3.  "I'm Irish so I'm used to odd stews.  I can take it.  Just throw a lot of onions and carrots in there, and I'll call it dinner!"  - Liam Neeson

4. "If you have to swallow a frog, try not to think about it.  If you have to swallow two frogs, don't swallow the small one first." (Think about it! :-) - Irish Proverb
5. "What does an Irishman get after eating Italian food?" "Gaelilc breath!"  (We're really sorry about that one :-).
6. "A cabin with plenty of food is better than a hungry castle!" - Irish Proverb
7. "Laughter is brightest where food is best." - Irish Proverb
8. "Ample food an sturdy drink, a pillow for your head.  And may you be 40 years in heaven before the Devil knows your're dead!" - Irish Blessing
9. "Bless us with good food, the gift of gab and hearty laughter.  May the love and joy we share, be with us ever after!" - Irish Kitchen Prayer
10.  "A trout in the pot is better than a salmon in the sea!" - Irish Proverb

Thank You for Enjoying These Irish Food Sayings...

Now, please choose another topic above to continue your exploration of Irish culture and traditions, and to share your Irish side with the growing community of friends at Irish Expressions.com!
PLEASE SHARE US WITH YOUR FRIENDS

YOU CAN FIND US ANYTIME ON ...