Funny Birthday Limericks: Get the Party Going with These Chuckle-Inducing Little Poems!

The person who made up the first funny birthday limericks may be a mystery, but the result is undeniable: hilarious, sometimes bawdy poetry that gets everybody laughing with the victim - er - person having the birthday.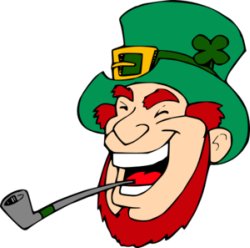 Limericks are great for parties, because they are short, simple and easy to make up on the spot. 
You can have limerick-writing contests or games, or you can use limericks to create custom invitations or party favors.
Here are some examples to get you started. 

Over the Hill
"I am sorry to hear, Smiling Jill (Bill, Phil, you get the idea)

That your birthday's no longer a thrill,
All your friends think you're great,
And should still celebrate –
You're not old, you're just over the hill."
"If your five hundred friends each could count,
As one-tenth of your life, the amount,
Is your age: fifty years!
Dump some friends now, poor dear,
Do the math — it's an old-age discount."
Grumpy
"There once was a lady named Donna
Who said to her friends, "I'm not gonna
Eat your candy and cake,
I refuse to partake.
Blow those candles yourself — I don't wanna!"
"Mom, I'm sure it will give you a lift
that I've shown such admirable thrift
in choosing a way
to remember your day
with this heart-warming message
I have no gift"
Taking Turns
"On your special day, we party each year!
And we come over to drink all your beer!
We will sing out of tune
Eat some cake and commune
When it's our turn, we all disappear!"
Aging Equals Ailing
Don't you hate it when all your joints ache?
When many candles are crushing your cake?
It just leads to depression.
Change your facial expression!
Put your dentures in and smile!"
"You're 50, better prepare for your wake.
Too many candles to put on a cake.
First, it's glaucoma,
Next melanoma,
then retirement home flank steak!"
"You've conquered the aging disease
that brings lesser men to their knees.
You're a vigorous man
and you've proved you still can
blow your candles with only one wheeze."
Because a Day Is Not Too Late
"This year I have something to boast:
I remembered your birthday (almost).
This card may be late
but it's close to the date.
Let's pretend it got lost in the post."
So What's Next?  Here are a Few Ideas...

One of the most entertaining ways to express your Irish side through limericks is to use them as content for party games.  In our section on How to Write a Limerick, we'll introduce you to a simple, fun group activity designed around limericks.  Have a look!
Another way to use Limericks for birthday fun is through downloadable, printable party games.  In Irish games, we'll introduce you to a few of these.
Still another approach is to use limericks to create custom invitations and greeting cards.  We love to use Smilebox (doesn't the name just say it all?) for our custom birthday invitations, as well as slideshows and collages... Have a look below!

And for much more information on Irish limericks and how to use them, visit us at Irish Limericks or select one of the links below.  Enjoy!
Back to Top: Funny Birthday Limericks
Back to Home: Irish Expressions
---
Are you enjoying Irish Expressions.com? Please share it with your friends!