Funny Irish Names: All You Need is an Irish-Themed Occasion and a Group of Friends!

Ok, so making up funny Irish names probably isn't really an "Irish" tradition.  But you know what?  It's fun!
Any Irish-themed occasion, whether a birthday, a dinner party, a wedding shower, a retirement gathering, a pub crawl - you name it - will get a jolt of energy from the game we are about to show you.
Have a look, and then tell us if you agree!
Creating Funny Irish Names:  Here's How You Do It

For the sake of this game, we're going to assume you already have a first name and a last name.  Or at least a name.  If you don't have a name ... well... that's a different article.
Let's move on.  The whole purpose of this game is to give each party person a hilarious Irish name for the duration of the event.
Upon entering the party place, each unsuspecting victim ... er ... guest is handed an instruction sheet.  They are given strict orders to read it and complete the assignment.
The instruction sheet looks something like this:
First: Match your first initial to the appropriate letter below, to find your new "Irish" first name.  Circle it.

My "Irish" First Name

A
B
C
D
E
F
G
H
I
J
K
L
M
N
O
P
Q
R
S
T
U
V
W
X
Y
Z

Muley
Boggy
Shorty
Singy
Fighty
Beery
Quayboy
Red
Freckles
Stewie
Castawands
Burrenhead
Rainbow
Pixie
Cloddy
Pony
Wolfhound
Shamrock
DannyBoy
Tatey
Pounder
Riding
Roarin'
Spuds
Ditty
Sweaters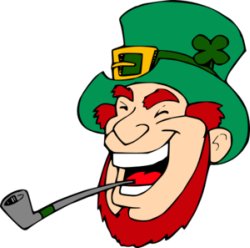 Next: Match your last initial to the appropriate letter below, to find your new "Irish" last name.  Circle that!
My "Irish" Last Name

A
B
C
D
E
F
G
H
I
J
K
L
M
N
O
P
Q
R
S
T
U
V
W
X
Y
Z

Footswoggle
O'Reiling
McBlasted
O'Wooley
Horsehoof
O'Potgold
Whiskeyglass
McSheepskin
McTwisty
O'Barstool
McClovers
McPubcrawl
Cowfield
O'Bottles
McFairyland
Peetbog
McGreeny
O'Freckles
McAles
O'Rivershoals
O'Liffy
McShaggy
Cliffsites
O'Pubtown
McBarstool
McWalkingstick

FUNNY!  Now What?

Well truly, the possibilities are limited only by your imagination.  Be creative! 
Here are a few ideas to get you started:
Have them write their new name on a name-tag, and wear it during the event.  Only use funny Irish names for the duration...
Raffle off a funny Irish item by submitting tickets with their "Irish" names written on them...
Have a contest to determine the funniest name in the group...
Can you think of other approaches!  Tell us about them!

So - What is Your Funny Irish Name?

We would love to see it!  Make a quick note in our comments section below, or visit us on Facebook and tell us what you think!
In the meantime, if you would like a free, printable copy of the instructions for this game, simply complete the form below, and it will be in your hands a few seconds later!
What's Next?

We hope you enjoyed Funny Irish Names!
We add free, downloadable items like this one on a regular basis. Visit our section on Irish Party Games to see them all!
And if you want to have a closer look at 'real' Irish names and their meanings, visit us here.
PLEASE SHARE US WITH YOUR FRIENDS

YOU CAN FIND US ANYTIME ON ...

Have an Irish-Themed Product to Sell? 
We are looking for great Irish Expressions to share with our members.