Connemara Travel: Visit this Region for Some of Ireland's Most Breathtaking Views!

We love Connemara travel for the breathtaking beauty of this incredible region.

The literal meaning of the name Connemara is 'Inlets of the Sea. Its best feature is its filigreed coastlines fronting the Atlantic Ocean on its western, southern and northern borders.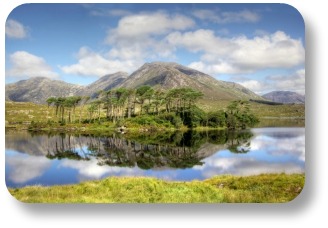 One visit to this lovely part of the Emerald Isle and you will understand why we are so taken with its spectacular landscapes, beautiful coastline and irresistible Irish food.
Connemara Travel:  Spectacular Landscapes

Step beyond the beautiful beaches of Connemara Ireland and into its interior to discover landscapes that only exist on the Emerald Isle.
Lovely valleys dotted with shimmering black lakes and rusty bogs beckon to locals and visitors alike.
The mountains here are equally impressive, with the Twelve Bens and the Maumturk Mountains being the must-see and must-climb attractions.
Take a hike, ride a bike or gaze at these mountains from a distance, it does not matter. Connemara travel will leave you breathless.
These mountains are the jewels of the region, both of which are best enjoyed at sunset when a rainbow of enchanted colors appear to explode over the landscape.
Must-See Connemara Attractions

Even a quick look at a map of the region reveals several must-see attractions in the Connemara Ireland area.  First-time Connemara travel buffs typically start with Clifden (An Clochán), the region's de-facto capital because of its strategic location.
The charming – many will also say, charmed - town is characterized by Victorian houses and church spires coupled with a rolling countryside, woods and beaches in the surrounding areas.
Tourists come during the summer season so expect heavy traffic flowing in and out of Clifden. Winter gives way to a more laidback feel when the locals can finally enjoy their town sans the maddening crowds.
Then there's the Connemara National Park, a 2,000 hectare area spanning a wide variety of landscapes. Heath, mountains and bog all combine to make it one of the most exciting places in Ireland for adventure, thrills and expeditions.
Think of hiking through the forest, enjoying picnics in the foothills, and just taking in the magnificence of Mother Nature.
Don't forget the small yet enchanting villages in the region. Seaside hamlets, fishing harbors and market towns all vie for the visitors' attention, and each has something unique to offer.
We suggest Roundstone for its gemlike fishing harbor, Lennane on Ireland's sole fjord, and Inishbofin on the hill.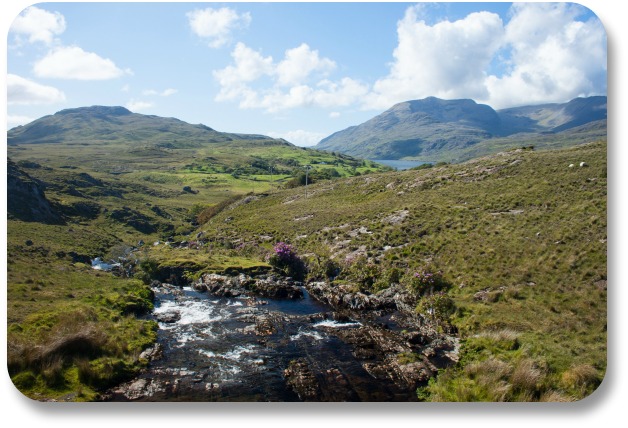 Connemara Food, Drink and More!

The Irish love their food and drink and it certainly shows in the cuisine of the Connemara.
Thanks to its proximity to the ocean and its numerous inland bodies of water, locals and visitors to enjoy a smorgasbord of seafood delights like fresh salmon, Galway Bay oysters, and even a mussel pie.
Meat lovers will also love dining in one of the numerous pubs, cafes and restaurants. Choose from meat dishes like lamb and lamb stew along with signature brown breads and freshly-baked scones.
Connemara travelers who want to enjoy local food as produced by locals should visit the region's food festivals. First stop is the Leenane Food Festival held at the Leenane Village during September each year.
Local producers offer everything you will need for an Irish feast including mutton, lamb and fish as well as seaweed, cakes, and breads coupled with fruits, vegetables, honey and jams.
Then come back for the Connemara Mussel Festival at Tully Cross. The festival obviously features mussels in all their glory from main dishes to pies. Come during the May Bank Holiday weekend to partake of the delicious seafood concoctions.
In between these food festivals, locals and visitors prepare their own food using only the freshest ingredients from the farmers' markets.
Go to Moycullen (every Friday 1PM-7PM), Roundstone Country Market (every Sunday 11AM-4PM) and The Village Market at Keoghs yard (every Tuesday 10AM-6PM).
While you are in the area, you should learn conversational Irish, too. Doing so is actually not compulsory as the locals can speak and understand English but of you want to savor the Gaeltacht spirit, speak the local language.
You will make fast friends in this way, too, and you can never have too many friends in Connemara.
For much more information on this lovely region in Ireland, pay a visit to the official Connemara website here.
Want More Irish Landmarks?
Taking a virtual tour of beautiful Irish landmarks is one of our favorite ways to enjoy an Irish experience, wherever in the world we happen to be!  
Simply enter your email address to get instant access!
Want Even More?

We hope you enjoyed our brief Connemara travel guide.  This area is truly one of our favorite places on earth! 
A visit to the Connemara is a sure way to strengthen your love for the Emerald Isle, and your ability to express your Irish side through stories and pictures!
If you would like more information and ideas, visit our main section on Ireland Sightseeing here!
Please scan the topics at the top of the page for your next stop on your journey through Irish culture and customs.  If you have any comments please contact us here.
We look forward to seeing you on another section of Irish-Expressions.com!

ENJOYING IRISH EXPRESSIONS?  PLEASE SHARE!