Riverdance Music: An Unforgettable Celebration of Irish Culture and Heritage!

If you go to see a performance of Riverdance music, don't expect to see anybody shaking their booty!
The core of the show is traditional Irish step-dancing, involving intricate footwork and leg movements, with a mostly still upper body.
The show got its name in 1994 when Moya Doherty created an act to fill time while judges tallied their votes for the Eurovision Song Contest.
She had Bill Whelan compose the music, which he called "Riverdance."
She also used traditional Irish dancers for the number.
It was such a hit that not only did Riverdance music rise to number one on the charts, the public clamored for more and the show went on the road in 1995.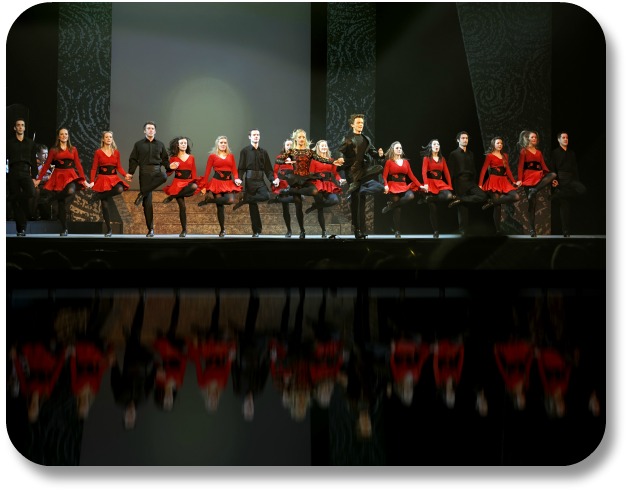 Riverdance Music:  Some Interesting Facts About the Show

The original male dancer was Michael Flatley who eventually left at the producer's request (we have no idea why).
Flatley landed on his feet (so to speak) with his own dance productions, "Lord of the Dance" and "Feet of Flames."
Jean Butler, Flatley's female dance partner, also left the show two years later and made her own show, "Dancing on Dangerous Ground."
However, there are plenty of troupes to perform Riverdance music on an international scale.
Three of these are the Liffey Company in Europe and Asia, the Lagan Company in North America and the Shannon Company, also in North America on Broadway.
What's it All About:  Act I

"Riverdance" music isn't just stick-straight bodies and dynamic footwork; it's a story about the Irish heritage.
The first act is about the settling of Ireland. The main number starts with a soft shoe dance called the "Dance of the Riverwoman."
The Riverwoman meets the land that's now awakening and beginning to grow. A hard tap solo represents the Earthrise that eventually throws itself into the sea.
From that point, the rest of the first act has to do with settling Ireland. It includes many of the Irish legends.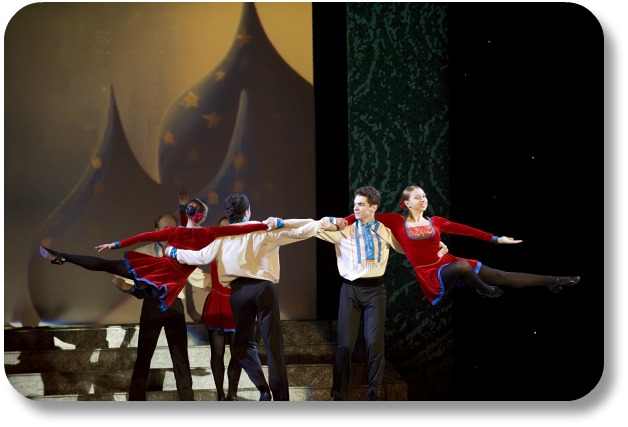 What's it All About: Act II

The second act takes the Irish to the New World where they intermingle with other cultures.
The numbers performed in the second act vary by the version you see. In Europe, there are five numbers not in the American version.
These numbers are "Harlem to Hollywood," which features three black tap dancers, "Andalucia," featuring flamenco dancing, "Macedonia Morning," a Russian dance, "Hope to the Suffering," a gospel song and "An Chuifhionn," a flute solo.
Many of the musical numbers are in Gaelic, which makes it even more intriguing.
In fact, one song, "Shivna," comes from an old Gaelic poem about an Irish chieftain that must roam forever in the woods with an old crone, due to the curse of a bishop. Many have tried to translate the poem but failed because of its difficulty.
Something To Try...

If you want to get a real feel for "Riverdance" music, put on some Irish sounds and wildly tap your feet in odd movements but keep your upper body perfectly still (make sure nobody that matters is watching you at this moment).
We guarantee you'll last five minutes at the most, or if you're like me, not longer than 39 seconds! Step-dancing is one of the most demanding of Irish expressions.
Or if you want to leave it to the professionals, you can see it in action here.
Lovely!  Where Can I Learn More!

Playing, watching, listening and participating in Irish music is one of the most entertaining ways to express our Irish sides!
You will find many more ideas and examples by visiting our section on Irish dance.  Step-dancing and other Irish dance forms play a central role in Irish music, and you can find much more on that topic here!
In the meantime, if you enjoyed Riverdance Music, please take a moment to share your feedback about it, or any other part of our site, using our contact form here. 
In the meantime, thank you so much for visiting! 
Now, choose another topic to continue your exploration of Irish culture and traditions, and to share your Irish side with your growing community of friends at Irish Expressions.com!
PLEASE SHARE US WITH YOUR FRIENDS

YOU CAN FIND US ANYTIME ON ...