Irish Good Luck: Do You Know Where This Expression Came From? Find Out Here!

Most people recognize the idea of Irish good luck, and the phrase 'the luck of the Irish,' is commonly used around the world.
But do you really know what it means? Is it being blessed by the chance to live in such a beautiful country? Does it have something to do with Irish pubs and wonderful food?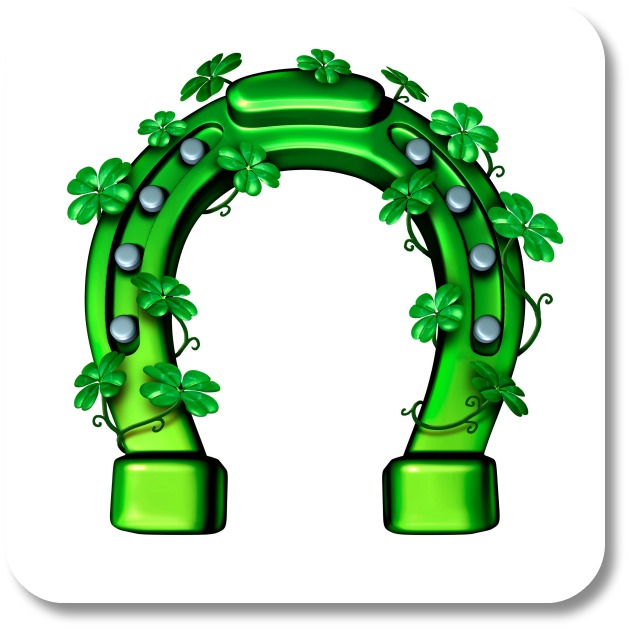 The truth is, the phrase has more than just one meaning and there are also multiple stories about where it comes from.  By the way...

For extra credit - who can tell me what is wrong with the image above? 
Hint: it's about "holding onto the luck you have."

Use the comment section below to tell me what you think!
Irish Good Luck:  Two Interpretations...
People will proclaim "The Luck o' the Irish" when they find something or get lucky somehow.  The phrase conjures up images of finding a four-leaf clover or a pot of gold at the end of the rainbow.
This is one interpretation, and it's our favorite.

On the other hand, there is a more cynical interpretation, tied to some of the darker times in Irish history.
Ireland has had its share of difficult times as a nation, so on occasion the term is used sarcastically to refer to bad luck.
Now Back to the Fun...

However most use it as a happy expression - and that's definitely the one we prefer! One possible source of the idea of Irish good luck was the silver and gold rush years in America.
At that time several of the most profitable miners were of Irish decent. Irishmen like John Mackay, James Flood, James Fair and William O'Brien were recognized as the "Silver Kings" when they hit the legendary Comstock Lode.
Eventually the connection of the Irish with the mining fortunes made by them led to the phrase "Luck of the Irish."

People even hold "LOTI" cook offs on St. Patrick's Day, cooking all their favorite dishes for the crowds of family and friends lucky enough to partake.
So What is Your Favorite Example of "Irish Luck?"
Please share your story!

It's easy! Just follow the instructions below.

If you want to include a picture, that's easy too!

That Was Fun!  Where Can I Find More Cool Irish Sayings?

I'm so glad you asked! 'Irish good luck' is one recognizable Irish phrase among many, such as 'kissing the Blarney stone,' or 'where's the craic,' that smack of expressing one's Irish side!
For more information of this kind, visit our Irish Sayings section here!

If you enjoyed this page in particular, please take a moment to share your feedback about it, or any other part of our site, using our comment section below.  Or send us an email using our contact form here. 
Make sure you register for our monthly newsletter (upper right corner of this page) to get regular updates and great ideas sent directly to you!  It's as simple as entering your email address - we'll do the rest!

And please continue to explore our beloved Irish culture and heritage, here at Irish expressions, and with a few more excellent websites and blogs about Ireland.
One of our favorites is:
We can't say enough good things about this beautiful website, designed by a husband / wife team in Ireland who are completely dedicated to helping you trace your Irish ancestry.  Along the way, they share wonderful history and facts about the Emerald Isle.

Please explore their lovely site... then come back!  Tell us what you learned and what you want to know more about. 
You will get a personal response, and - if you like - we will publish your comments and stories on this site, give you credit, and even link back to your own website or blog.

In the meantime, thank you so much for visiting!  We hope you will continue to explore Irish culture and traditions, and to share your Irish side with the growing community at Irish Expressions.com!
PLEASE SHARE US WITH YOUR FRIENDS

YOU CAN FIND US ANYTIME ON ...