Funny Irish Quotes:  Guaranteed to Make You the Life of the Party

Funny Irish quotes are everywhere! There are funny quotes by Irish people, funny quotes about Ireland, funny quotes about being Irish...
Any Irish themed party can be made even better by adding a few funny quotes to the invitation, to the program or menu, or to the party favors... the possibilities are endless! 
Here are some funny quotes from Ireland that might strike your fancy.
Funny Irish Quotes About Drinking...

You don't need to look very far for our first topic - the subject of drink and drinking is near to any true Irishman or woman's heart.  Here are a few funny Irish quotes that capture that spirit -
"Only Irish coffee provides in a single glass all four essential food groups: alcohol, caffeine, sugar and fat."
- Alex Levin
"That's right, there's free beer in Irish paradise. Everyone's jealous."
- Kevin Hearne, Hammered
"I only drink on two occasions -- when I'm thirsty and when I'm not."
- Brendan Behan
"When I die I want to decompose in a barrel of porter and have it served in all the pubs in Ireland."
- J. P. Dunleavy
"When we drink, we get drunk. When we get drunk, we fall asleep. When we fall asleep, we commit no sin. When we commit no sin, we go to Heaven. So, let's all get drunk and go to heaven."
- Anonymous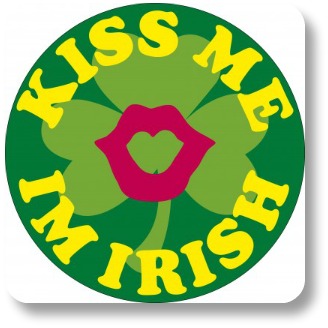 Funny Irish Quotes About Ireland

Everybody seems to have something funny to say about Ireland or being Irish.  Sometimes they are actually Irish people... sometimes not!  Here are a few examples:
"Ireland is where strange tales begin & happy endings are possible."
- Charles Haughey
"When I came back to Dublin I was court-martialed in my absence and sentenced to death in my absence, so I said they could shoot me in my absence."
- Brendan Behan
I hope... that I do not sound anti-British. It is impossible not to admire a people who gave up India and held on to Northern Ireland. That shows a truly Celtic sense of humor."
- John Dominic Crossan
"One wonders in this place, why anyone is left in Dublin, or London, or Paris where it would be better, one would think to live in a tent or hut, with this magnificent sea and sky, and to breathe this wonderful air which is like wine in one's teeth."
- J. M. Synge
Funny Irish Quotes by Irish People...

"Never wrestle with pigs. You both get dirty and the pig likes it."
- George Bernard Shaw
"I can resist everything but temptation."
- Oscar Wilde
"There are no strangers here, only friends that have not yet met."
- William Butler Yeats
So What is YOUR Favorite Irish Saying?
Where did you first hear it? What does it mean to you? How have you used it?

We invite you to impress your friends and raise your social media game by publishing your story on Irish-Expressions.com!

It's easy! Just follow the instructions below.
Thanks for Visiting!  What's Next?

Sharing funny quotes with Irish themes is a fun way to express your Irish side, during any Irish-themed occasion.
What you have seen so far are just the funny ones.  We have many, many more quotes to share in our Irish quotes section here.  And if you want to go really wild with your search, check out our even larger section on Irish Sayings!
In the meantime, if you enjoyed this page, and you would like to tell us so, please take a moment to share your feedback. Use the comment section below, or our contact form here. 
Make sure to register for our monthly newsletter (upper right corner of this page) to get regular updates and great ideas from Irish Expressions.  It's easy, enter your email address in the upper right corner - we'll do the rest!
Thanks again for visiting!  Continue to explore Irish culture and traditions, and to share your Irish side with the growing community at Irish Expressions.com!  We look forward to seeing you again soon!
PLEASE SHARE US WITH YOUR FRIENDS

YOU CAN FIND US ANYTIME ON ...