Irish Coffee Recipes: A Delicious Reminder of the Emerald Isle, Wherever You Are!

One of our favorite Irish expressions, Irish Coffee recipes have warmed us during many chilly visits to the Emerald Isle and other European countries.
And it's not bad right here at home, either (wherever home is for you!)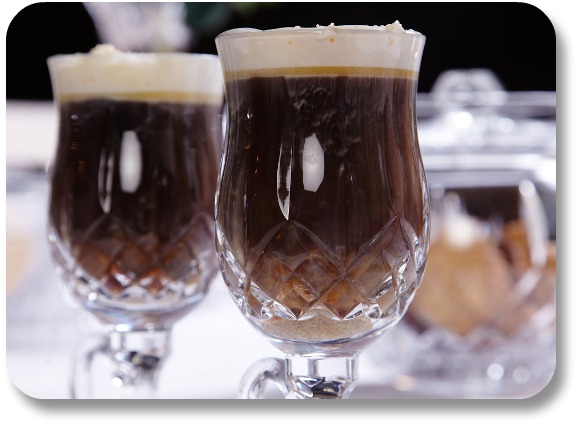 At its core, this wonderful hot beverage is just coffee, whiskey, sugar and cream – but to make it memorable, the details make all the difference!
There are as many variations of Irish coffee as there are drink makers... But we invite you to try the approach below, and if you like it, make it your own.
If you would like more information on Irish food and recipes, visit our main Irish food section here.
Meanwhile, please enjoy our favorite Irish coffee recipes!

Irish Coffee Recipes: First a Word About Ingredients

You WILL taste the difference, if you make the effort to use the best ingredients.
Choose your favorite coffee, and make sure it is hot. Don't skip the sugar, it is part of the overall experience of a good Irish coffee.
Believe it or not, the quality of the whiskey will make a difference.
Ask for your own favorite by name, or take a recommendation from your waiter or companion (we enjoy Redbreast 12).
And the cream … once again, it's part of the experience, don't skimp.
Go with double cream, and if you are preparing it yourself, take the time to treat the cream as described below.
One popular variation is to dip the rim of the glass into granulated sugar after the boiling water is removed and before the coffee is added.
Irish Coffee Recipes:  Ingredients

1/2 cup of your favorite coffee
1 ounce of your favorite Irish whiskey
2 teaspoons of granulated sugar
2 tablespoons whipped double cream
Preparation

Prepare the class by filling with boiling water and emptying it.
Add hot coffee, filling the glass to about 2/3 full.
Add sugar and mix until it dissolves.
Add the whiskey.
Pour the cream into the glass over the back of a spoon to make sure it floats on top when served. Serve piping hot.
Hungry for More Irish Recipes?

Sharing Irish food is one of our favorite ways to enjoy an Irish experience, wherever in the world we happen to be!  
The flavors of an Irish meal, and the stories that come along with many Irish recipes, gives us a sense of connection with the Emerald Isle.
If you would like to receive a free copy of our e-book on favorite Irish recipes, scroll down and enter your email address.  You can have recipes for our favorite Irish foods in your inbox in just minutes!
Want Even More?

At Irish Expressions, our our goal is simple: to provide you with a unique Irish experience, on demand, wherever you are in the world.
If you have enjoyed our section on Irish Food Recipes, you have probably been exposed to many of the most delicious flavors that Ireland has to offer!
Will that entice you to visit Ireland - or to return if you have already been? 
We hope so!  
But even if that is not possible, you can still enjoy the magic of Ireland in these pages.  Check out the links at the top of the page for simple instructions on how to explore Irish landmarks, enjoy Irish food, practice Irish customs, and much more!
You can also visit us on Facebook, Twitter or Pinterest to see amazing pictures and interact with amazing people who share a love of Ireland.
We would love to hear from you - please send us a note here and let us know how we are doing. 
Until then - thanks for visiting our Irish coffee recipes page!  Please continue exploring your Irish side at Irish-Expressions.com.
Want to Feel More Connected to Ireland?  Here's How!
At Irish Expressions we believe everybody – well almost everybody! - has an "Irish side."  So how nice would it be to have access to a fun, free Irish experience, on demand, wherever in the world you happen to be?
Over the years we have compiled many free, downloadable resources including lyrics, recipes, games, jokes, blessings and much, much more.  
Would you like to receive them ALL for FREE?  Simply share your email for instant access!
ENJOYING IRISH EXPRESSIONS?  PLEASE CLICK BELOW AND SHARE!