Irish Wedding Dresses: Traditional or Modern, the Perfect Way to Celebrate Your Irish Side!

Irish wedding dresses are typically inspired by the Celts and their art and traditions. They are a perfect way to express your Irish side!
The bodices of many Celtic-style gowns are embellished with lace, delicate eyelets, or intricately embroidered silver or gold patterns.
Wedding gowns from Ireland also often feature long fluted or flowing sleeves, demure necklines and graceful, elegant trains.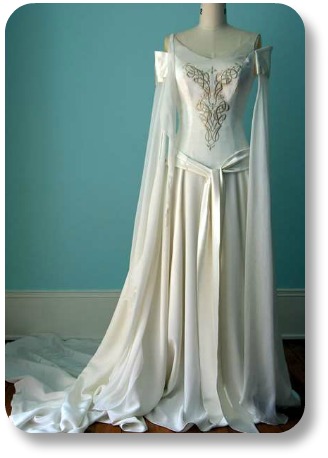 Celtic Influence on Irish Wedding Dresses

Some Celtic-style wedding gowns are solid white, but others have colored bodices that add a beautiful burst of color to their white skirts and sleeves.
For an even more Celtic look, consider topping your Irish gown with a beautifully draped, embroidered cape in white or a contrasting color.
The clasp for your cape could be a stunning gold, silver or colored cloisonné Celtic knot design.
Your other accessories could include a pair of Irish Claddagh earrings, and a necklace featuring a beautifully-wrought Celtic cross.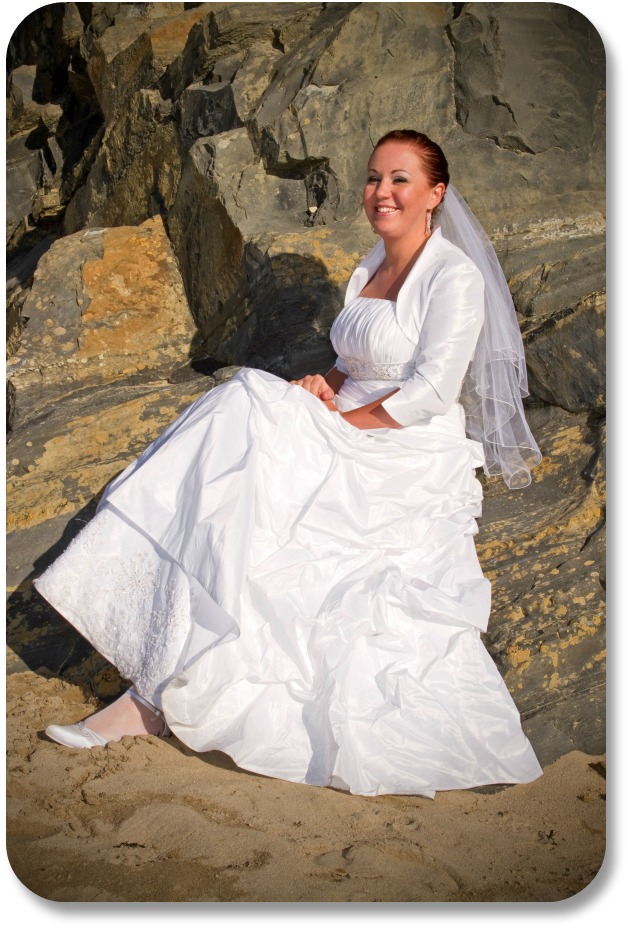 The Most Traditional Look for an Irish Wedding Gown

In old Ireland, women wore gowns and dresses that covered most of their bodies, as they wanted to show themselves only to the men they loved.
Veils covered their heads (also for modesty), and long fluted sleeves were a sign that a dress or gown was intended for a special purpose.
Lace, eyelets and embroidered embellishments added both beauty and distinction to their dresses.
Flattering empire waists were common, although symmetrical dropped waists with a "V" shape were also seen, usually worn with a long corded belt. Wedding dresses in Ireland incorporate many of these traditions.
If You Want to Be a Bit More Daring

Consider wearing an Irish wedding dress that is blue rather than white. In ancient times, blue was the traditional symbol of purity, much like the white of today.
White only acquired that status after Anne of Brittany wore Europe's first recorded white wedding dress in 1499.



So what is YOUR Greatest Irish Wedding Experience?
Do you have a favorite Irish Wedding memory to share?

Impress your friends and raise your social media game by publishing your story on Irish-Expressions.com.

It's easy! Just follow the instructions below. And please include a picture or two with your story!
For More Information and Ideas on Irish Weddings

There are so many ways to express your love of Ireland through your wedding plans.  You can find many of those in our section on Irish wedding traditions.
As with any country, wedding traditions are a key element of Ireland's beloved culture and customs.
Ideas on many more Irish customs, and hundreds of other ideas for expressing your Irish side, can be found here at Irish Expressions.
And for even more detail on this topic, visit the very informative website designed by our friends at
The link above will take you directly to their section on Irish wedding traditions.  Have a look and enjoy!
Then come back and tell us what you think.  Let us know your wedding plans and any questions you have.  Share your ideas with the Irish Expressions community through our comments section below.

If you would like to connect, please send us a note using our contact form, or sign up for our newsletter in the upper right corner of this page to continue your journey with Irish Expressions.com.

We look forward to hearing from you!

PLEASE SHARE US WITH YOUR FRIENDS

YOU CAN FIND US ANYTIME ON ...