Celtic Cross Meaning: Presenting one of the Most Famous Symbols of Irish Culture !

If you are looking to understand Celtic Cross meaning, you have come to the right place!  For a recognized Irish symbol, the Celtic cross is probably near the top of the list.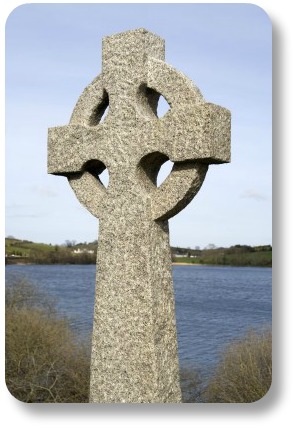 The ornate details and circle around the intersection of the cross are what sets it apart and makes it both recognizable and beautiful.
If you would like to learn more about this Irish symbol and many others, please pay a visit to our main section on Irish symbols here!
Meanwhile, let's have a closer look at the Celtic Cross!
Celtic Cross Meaning:  Where Did it Come From?
This Irish symbol is believed to have existed since at least the Dark Ages. Originally, Celtic crosses were carved on flat slabs of stone.
Later they became upright rather than laying flat on the ground.
These crosses also had traditional Celtic symbols on them like the knot work, spirals, and foliage.
Today, you'll find them in Celtic jewelry, tableware, clothing, and various other art forms. Irish cross pendants and tattoos are two of the more common expressions of this classic Irish and Celtic symbol.
We love exploring the various types of Celtic cross meanings.  That helps us to start conversations and tell stories about our Irish heritage, and gives us opportunities to express our Irish side!

What is the meaning of the Irish Cross (Celtic Cross)?

Some believe these crosses represent north, south, east, and west. While others think earth, water, wind, and fire.
One legend suggests Saint Patrick created the original Cross when he took a regular Latin cross and drew a circle over it.
It is assumed he did this to include the pagan symbol of the moon goddess the legend states.
Still others believe the circle that appears on the Cross stands for the never-ending love God has for man. According to the Irish Catholics, the Cross also stands for Christ's crucifixion and his resurrection.
How is the Cross used?

Irish monks erected a large number of the free-standing versions not only in Ireland but Great Britain as well. This practice started around the 7th century. Many of the crosses at that time had inscriptions in the runic alphabet.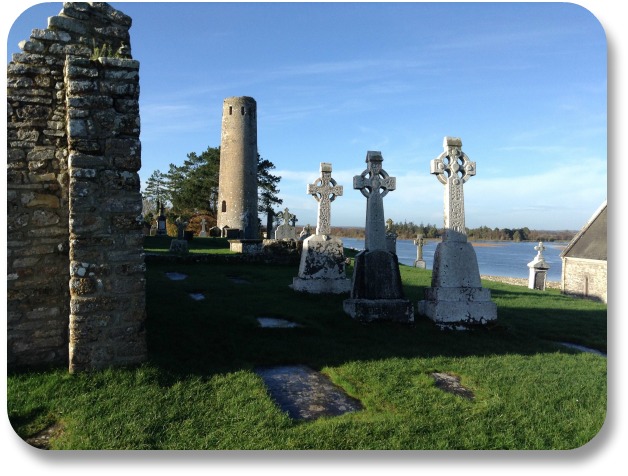 Many examples still stand today. At County Meath, there is the "Cross of Kells" for one example of the Celtic Cross (Irish Cross). Another example is in Clonmacnoise, Ireland with the "Cross of the Scriptures".
These crosses were made until around the 15th century when they almost ceased to exist almost, down to just a few examples.
Then in the 19th century, there was a renewed interest in the Celtic culture, which brought back the crosses. The new versions were used as upscale markers in cemeteries.
In the early days of this cross, it was only used for a monument so this was a new use for it. The cross during this time became a Celtic symbol with historic meaning.
Between 1899 - 1940, designers such as Euphemia and Alexander Ritchie were responsible for the Celtic Cross being worn as jewelry.
This continues even now. In fact, now you can find many souvenir items with the Cross on them, worn as religious symbols or good luck charms.
Want More Irish Symbols?
It is probably obvious - at Irish Expressions, we love Irish symbols!
Expressing ourselves through Irish symbolism gives us a deeper sense of connection with Ireland, wherever in the world we happen to be!
We have captured many of our favorite Irish symbols in an e-book called "10 Irish Symbols and Their Meanings."  In it you will find pictures and backstories for the Irish Cross, the Celtic Knot, the Tricolor Flag, and much more!
This fun, free guide is available to you to download.  Simply scroll to the bottom and share your email address for instant access!
Very Interesting!  What's Next?
Expressing yourself using Irish symbols is a fun way to share your Irish side, during any Irish-themed occasion.

For more information of this type, you may want to pay a visit to our main section on Irish Symbols here!
If you enjoyed this page in particular, please share your feedback, opinions and stories with your Irish Expressions community!  You can do that by visiting us on Facebook or Twitter.

Meanwhile, thanks for visiting Celtic Cross Meaning! Now let's click on another topic above and continue expressing your Irish side at Irish Expressions.com.
Want to Feel More Connected to Ireland?  Here's How!
At Irish Expressions we believe everybody – well almost everybody! - has an "Irish side."  So how nice would it be to have access to a fun, free Irish experience, on demand, wherever in the world you happen to be?
Over the years we have compiled many free, downloadable resources including lyrics, recipes, games, jokes, blessings and much, much more.  
Would you like to receive them ALL for FREE?  Simply share your email for instant access!
ENJOYING IRISH EXPRESSIONS?  PLEASE CLICK BELOW AND SHARE!