Skellig Michael:  10 Things to Know About This Storied Irish Landmark

Skellig Michael, also known as Great Skellig, is one of two Skellig Islands located off the coast of County Kerry in Ireland.
The island is known for its breathtaking green scenery, abundance of birdwatching opportunities and being home to an ancient Gaelic Christian monastery. It is now a popular day trip destination during the summer months.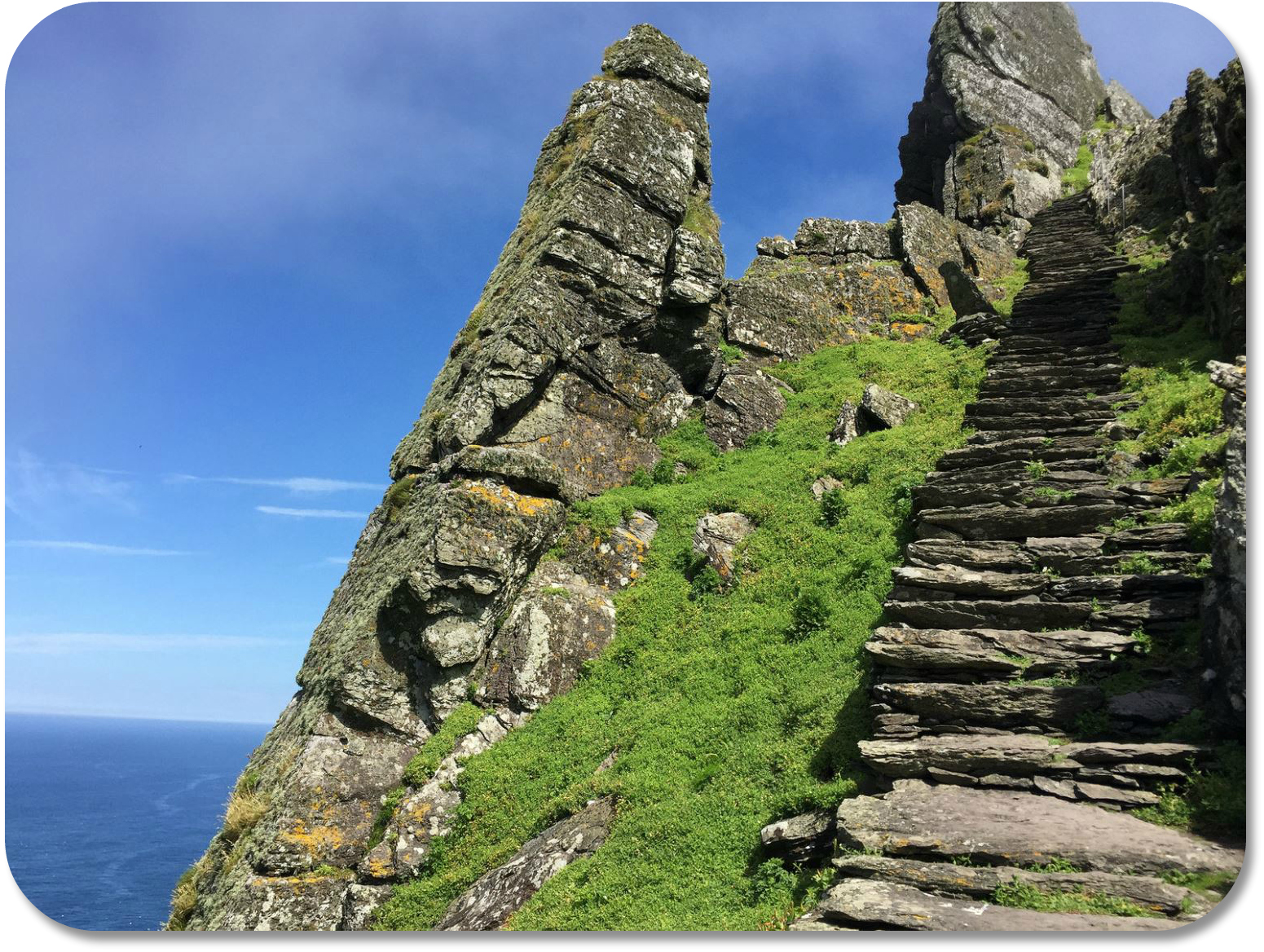 As an island, Skellig Michael is only accessible by boat. The number of visitors allowed to the island each day is restricted, and only a handful of tour operators can bring guests to the island.
If you're planning a trip, make sure you book your tour in advance to avoid disappointment. Most boat tours depart from either Portmagee, Valentia Island or Ballinskelligs.  From each of these points of departure, the boat journey will take just under an hour each way.
Things to Know About Skellig Michael

Here are some fun facts about this amazing Irish landmark.  Hopefully they will entice you to pay a visit in person!
But if that is not possible, you can always use them to impress your friends with your knowledge of one of the most-visited attractions in Ireland.
Even if you've never heard of Skellig Michael, there's a good chance you've seen footage of the island. It was used as a filming location in the films Star Wars: The Force Awakens and The Last Jedi. 
Star Wars wasn't the island's debut in the world of pop culture. The island was the location for the final scene in the film Heart of Glass, is featured in the song "Skellig" by Loreena McKennitt and was used in more than one BBC documentary.
At some point between the 6th and the 8th centuries, a Gaelic monastery was founded on the island. The monastic site is said to have been started by Saint Fionán.
Another early legend about the island claim that Ir, the son of Míl Espáine, was buried there. Another legend holds that Duagh, a King of West Munster, fled to the island after a battle with the Kings of Cashel Rock.
The monastery on the island was inhabited for centuries, although it was ultimately abandoned around the 13th century. The site was deserted because of severe storms as well as the changing structure of the church at the time.
Today, the monastic site is largely in ruin, but it is still open to the public. If you're planning a visit, keep in mind that the 600 steps leading to what remains of the monastery are crumbling and challenging to climb.
There is no accommodation on the island, so you'll want to stay on the Irish mainland for your visit. A typical day trip is just a few hours, giving you a taste of the lush greenery and beauty of the island.
Birdwatching is a popular pastime on Skellig Michael. Just some of the birds that you can expect to see on a visit to the island include gannet, razorbills and the always charming Atlantic puffins. 
The boat journey in and out of the island is an incredible experience in its own right. If you're lucky, you might spot dolphins or seals along the way.
To learn more about this beautiful island and its famous monastery, head back to the mainland and check out the Skellig Experience on Valentia Island. It's a great stop either before or after your day trip to Skellig Michael.
Find additional fascinating information about Skellig Michael here!
Want More Irish Landmarks?
Taking a virtual tour of beautiful Irish landmarks is one of our favorite ways to enjoy an Irish experience, wherever in the world we happen to be!   Simply scroll to the bottom and share your email address with us.  Your information will be in your inbox in a matter of minutes!
I Enjoyed That!  Where Can I Learn More?
Great question! As you can see, exploring Ireland's amazing landmarks (either in person or online) is a fun way to enjoy an Irish experience and express your personal Irish side!

For more information of this kind, check out our section on Ireland sightseeing here!
In the meantime, if you enjoyed this page in particular, please take a moment to share your feedback about it, or any other part of our site. Simply send us an email using our contact form here.
Want to Feel More Connected to Ireland?  Here's How!
At Irish Expressions we believe everybody – well almost everybody! - has an "Irish side."  So how nice would it be to have access to a fun, free Irish experience, on demand, wherever in the world you happen to be?
Over the years we have compiled many free, downloadable resources including lyrics, recipes, games, jokes, blessings and much, much more.  
Would you like to receive them ALL for FREE?  Simply share your email for instant access!
ENJOYING IRISH EXPRESSIONS?  PLEASE CLICK BELOW AND SHARE!