13 Irish Wedding Songs: A Memorable Way to Express your Irish Side!

Are you planning an Irish wedding and looking for perfect Irish wedding songs? If so, you have plenty of company.  More and more people are finding ways to infuse Irish traditions, including music, into different aspects of their weddings. 
Follow these links to jump quickly to our favorite Irish wedding songs for: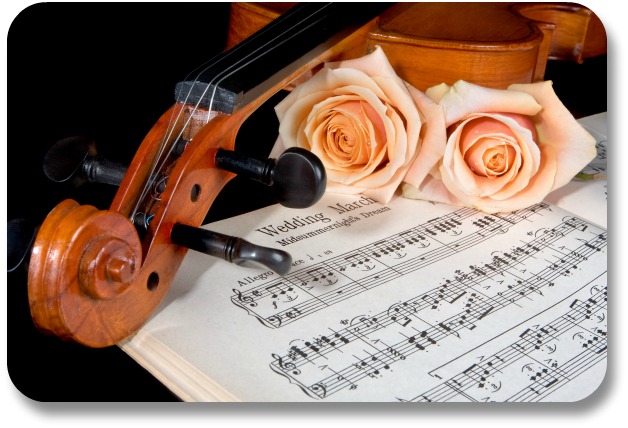 Irish Wedding Songs:  The Prelude

The prelude establishes the tone for your entire wedding. It is played in the background as your guests are being seated and while they're waiting for the ceremony to begin.
Many couples having Irish weddings choose 
Spancil Hill
Galway Bay
Only Our Rivers Run Free
Down by the Sally Gardens
Our favorite out of these is Only Our Rivers Run Free. It's beautiful and perfectly appropriate as an Irish wedding song. 
Have a listen to one of our favorite performances by the Wolftones:
Irish Wedding Songs: The Processional

A wedding processional plays as the bridesmaids and bride are entering the church and walking down the aisle. These are some of any wedding's most dramatic minutes, and choosing the right processional is an important decision.
Why go with music by Bach, Mendelssohn, Mozart, Handel, or one of the other traditional wedding processionals? Instead, choose an Irish song as your wedding processional.
Many Irish songs would be good processionals, but some of the more frequent choices include: 
The Bride's Return
Scenes of Antrim
Carrickfergus
The Meeting of the Waters
Scenes of Antrim is our favorite out of this bunch – it's uplifting without being overly jaunty for the solemnity and magnitude of this important moment.
Click here for an instrumental version by The O'Neil Brothers:
Irish Wedding Songs:  The Interlude

Many Irish weddings (although not all) are Roman Catholic, and they usually include a complete church service, including Mass.
You may want to choose a song or two as background music for the interludes in your ceremony if you're having a Roman Catholic Irish wedding.
Two of our favorite songs for this portion of a wedding are:
Women of Ireland
You Raise Me Up
A wonderful Irish song for interludes is the hauntingly beautiful Women of Ireland ("Mná na h-Éireann"), performed by Sinéad O'Connor.

But our all time favorite song for this portion of the wedding is You Raise me Up, with its music loosely based on Derry Air and its inspirational lyrics written by Irishman Brendan Graham.
Listen to this performance by the astounding Celtic Woman, to hear what we mean:
Some couples prefer to pass the interludes in their ceremony in silence. It's your choice, of course, but we'd go with You Raise Me Up if it was our wedding.
Irish Wedding Songs: The Recessional

Ah, now we've come to the fun part! The solemnity of the ceremony is over, and all that's left is to walk down the aisle as husband and wife.
Wedding recessionals are generally upbeat (and sometimes rollicking) melodies that reflect the joy of the occasion, and Irish wedding songs used for this purpose follow that same general theme.
Some of the more popular songs for Irish wedding rescensionals include:
Calliope House
Give Me Your Hand
MacAllistrum's March
Haste to the Wedding
Haste to the Wedding is one of our favorites. Have a listen to this performance by The Corrs.
What's Next?

At Irish Expressions, our our goal is simple: to provide you with a unique Irish experience, on demand, wherever you are in the world.
We can't think of a better way to express you Irish side than by involving Irish traditions in your wedding.  In addition to Irish music, you may want to consider Irish Wedding Blessings and Irish Wedding Gift Ideas.
Express Your Irish Side With Real Irish Gifts
A note from Bruce:
My friend Stuart Marley and his wife Meredith are the founders of Real Irish Gifts and Travel, one of the finest Irish-themed businesses I have encountered. They have been operating since 1999. 
Members of the Irish Expressions community (that's you!) get 15% off anything in their online store, 365 days a year.  Simply click on the link below and receive your discount automatically at checkout.  Enjoy!

Want to Feel More Connected to Ireland?  Here's How!
At Irish Expressions we believe everybody – well almost everybody! - has an "Irish side."  So how nice would it be to have access to a fun, free Irish experience, on demand, wherever in the world you happen to be?
Over the years we have compiled many free, downloadable resources including lyrics, recipes, games, jokes, blessings and much, much more.  
Would you like to receive them ALL for FREE?  Simply share your email for instant access!
ENJOYING IRISH EXPRESSIONS?  PLEASE CLICK BELOW AND SHARE!