Irish Slang Words: A Printable Word-Match Game For Any Irish-Themed Occasion!

Now you can put your knowledge of Irish slang words to the test, while entertaining family and friends on St Patricks Day, an Irish-Themed birthday or wedding, or any other day!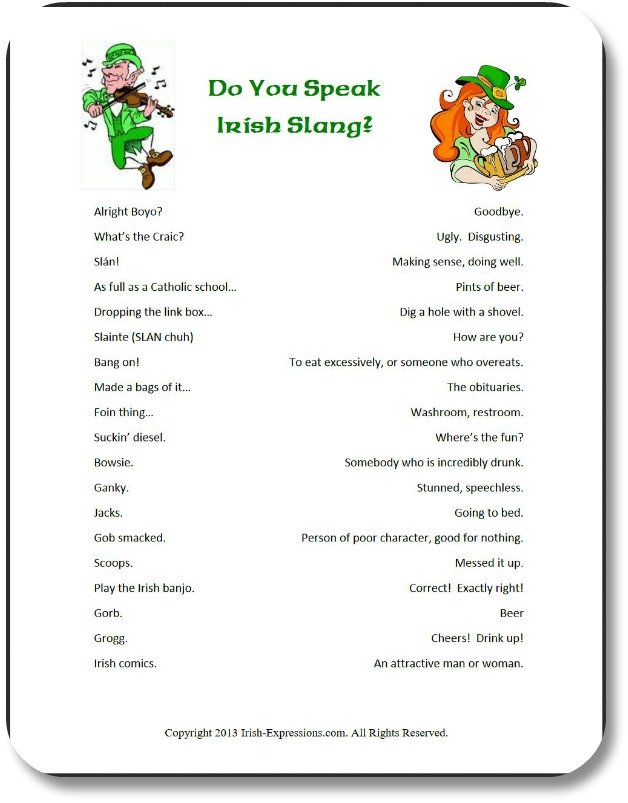 Our fun, printable word-match game can add Irish flavor to any fun occasion!  You can 'study up' in our sections on Irish Words and Irish Slang. 
Simply match the Irish words on the left with their meanings on the right.
You can download the game, and the answers, using the form below.  Create a simple contest with your party guests - the most correct matches wins an Irish prize!
It Was Fun Learning About Irish Slang Words!  What's Next?

Irish slang words are a window into Irish culture and heritage. Share them during special occasions, to celebrate Irish culture and express your personal Irish side!
For more information of this type, you may want to pay a visit to our main section on Irish Sayings here!
And you enjoyed this page in particular, please share your feedback, opinions and stories with your Irish Expressions community!  You can do that by visiting us on Facebook or Twitter.
Meanwhile, thanks for visiting! Now let's click on another topic above and continue expressing your Irish side at Irish Expressions.com.
Want to Feel More Connected to Ireland?  Here's How!
At Irish Expressions we believe everybody – well almost everybody! - has an "Irish side."  So - how nice would it be to have access to a fun Irish experience, on demand, wherever you happen to be?

If you have enjoyed your experience with Irish Expressions so far, here is a simple, free way to stay in touch.
Never miss a post.  Tell us where to send your updates, featuring the latest information from Irish Expressions - and we'll take it from there!
Meanwhile, thanks for visiting!  I hope that we will meet someday, in person or online, and you can tell me about your own connection to the Emerald Isle.
Until then, best wishes -
Bruce Grady

PLEASE SHARE US WITH YOUR FRIENDS

YOU CAN FIND US ANYTIME ON ...