King John Castle:  15 Must-Know Facts About This Lovely Irish Landmark

King John Castle rises proudly above Munster Province in the heart of Limerick City and its medieval quarter.  The Castle is located in County Limerick in Southwest Ireland, but it is still easily reached by car from the Dublin Airport.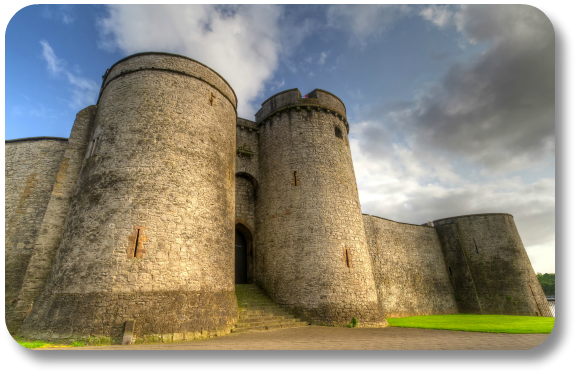 The journey of approximately two hours starts by getting on M7 for about 90 minutes and then veering onto R445 until you reach the city center of Limerick and spot the signs leading to the parking area for King John's Castle.
15 Fun Things to Know About King John Castle

Here are some fun facts about this amazing Irish landmark.  Hopefully they will entice you to pay a visit in person!  
But if that is not possible, you can always use them to impress your friends with your knowledge of one of the most-visited attractions in Ireland.
Although it was built in the year 1200, it is one of the best-preserved Norman castles in all of Europe and an iconic landmark with hundreds of years of dramatic local history.
Multiple stone watchtowers and an enormous wall with its corner towers strike an imposing figure and helped protect the castle and its inhabitants from enemy attacks throughout history.
Today, the castle grounds contain a museum, an extensive visitor's center, a spacious outdoor courtyard and even an onsite cafe with views over the banks of the River Shannon (where you can see the famous Treaty Stone commemorating the Treaty of Limerick).
Guided tours of the castle's interior are available, which gives you the chance to walk atop the castle's stone walls, overlooking its busy courtyard.
The history of the castle is long and rich.  As far back as the 10th century, Vikings lived on King's Island. By the beginning of the 13th century, King John of England himself ordered that a grand castle be built on the island.
The location of the castle, and the Viking settlement before it, were chosen for their proximity to water. From King's Island, residents could raid the length of the River Shannon and better protect itself from invasion.
King John Castle played a pivotal role in the growth of Limerick. With the castle keeping watch over the area, local residents could thrive and prosper without fear of war. 
The city of Limerick became incredibly wealthy. In fact, a mint was set up within the castle so that currency could be made right onsite. 
The Castle is designed to withstand sieges and there are many tales of siege battles at the Castle over its long years of history. The 1642 Siege of Limerick was so severe that it caused considerable damage to the castle walls. Invading forces couldn't penetrate the walls, so they dug through the foundation!
Today, the castle is open to the public. It is a major attraction in Limerick and a worthwhile emblem of medieval times, suitable for all ages.
A great place to start your visit to is by climbing up to the battlements. You'll be treated to a 360-degree view over the castle as well as the surrounding city.
The castle itself has been restored carefully. You can walk up and down the stairs, explore many of the rooms and get a feel for what life was life in centuries past. 
There are many interactive exhibitions at the Castle at its visitor centre.  Costumed staff stroll the halls of the castle as a living example of earlier times. They demonstrate exciting techniques, performing carpentry, helping visitors make their own coins at the castle mint, and giving a sense of the bustling activity that was once part of everyday life on King's Island.
Take time to speak to those in period costumes. They are happy to share historical facts about the castle, but they will also share stories about lively characters and the many scandals of castle life!
You can find further details about this lovely icon or Irish history here.
Want More Irish Castles?

It is probably obvious - at Irish Expressions, we love Irish castles!  The Emerald Isle is dotted with hundreds of these incredible structures.  
Sharing pictures and stories about them gives us a deeper sense of connection with Ireland, wherever in the world we happen to be!
We have captured the most amazing pictures and descriptions of Irish castles in an e-book we call "An Illustrated Guide to Irish Castles and Abbeys."
This fun, free guide is available to you to download.  Scroll to the bottom of this page to get instant access!
That Was Fun!  Where Can I See More?

Great question! As you can see, exploring the castles of Ireland offers many opportunities for enjoying an Irish experience and expressing your personal Irish side!

For more information of this kind, you might pay a visit to our section on Ireland Sightseeing here!
Want to Feel More Connected to Ireland?  Here's How!
At Irish Expressions we believe everybody – well almost everybody! - has an "Irish side."  So how nice would it be to have access to a fun, free Irish experience, on demand, wherever in the world you happen to be?
Over the years we have compiled many free, downloadable resources including lyrics, recipes, games, jokes, blessings and much, much more.  
Would you like to receive them ALL for FREE?  Simply share your email for instant access!
ENJOYING IRISH EXPRESSIONS?  PLEASE CLICK BELOW AND SHARE!