Share a St Patricks Day Poem: Be the Life of the Party with These Amusing Irish Verses!

Knowing a good St Patricks Day poem or two is a great way to make a memory on this special Irish occasion.
Whether funny, moving or thought-provoking, these poems cause us to relate to our Irish culture and heritage.
Use them in greeting cards, party invitations or as part of an impromptu toast - the possibilities are endless! Here are a few of our favorites, we invite you to enjoy them.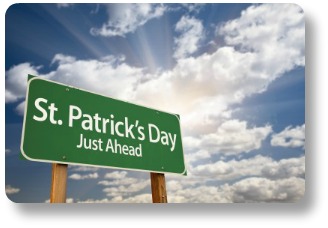 And if you have a favorite Saint Patricks Day poem of your own to share, please send it along via our comments box below or our contact form. We look forward to hearing from you!

St Patricks Day Poem:  At Least I'll Try

To us this first St Patricks Day poem offers laughter and fun as the theme, and in the end a little hope and courage with the phrase: "dance a jig—at least I'll try."
St. Patrick's Day is here you see. We'll pick some shamrocks, one, two, three.
We'll count the leaves and look them over, and maybe find a four –leafed clover.
I'll sew green buttons on my vest, green for St. Patrick is the best.
I'll wear a green hat, very high, and dance a jig—at least I'll try.
Ya All Look Irish to Me!

We love the core message of this St Patricks Day poem!
Today is the day fer wearin' o' the green.
Today is the day when the little people are seen.
Today is St. Patrick's Day, so if ye'r Irish me lad,
Join the celebratin' fer the grandest time ta' be had.
Ya' put yer hand up in the air, the other hand on your hip.
Ya' tap yer toe, ya' tap yer heel, ya' bounce yer knee a wee bit.
Ya' prance 'n dance around the room, n' circle one two
The saints be praised, I must admit, ya' all look Irish ta' me.
Just Don't Touch My Gold!

This limerick is slightly catchy in its descriptive imagery. For those with fun in their hearts it is easy to imagine five leprechauns all saying different things before disappearing in the night or day.
The first one said "I'd like to play!"
The second one stood beside a rainbow
The third one waved and said "Hello!"
The fourth one said "Good luck to the bold."
The fifth one said "just don't touch my gold!"
Plink, plink went the harp, they all danced around, then five leprechauns ran off with a bound.
Leprechaun Stew

We all know leprechauns cherish their gold, but for this little fella stew is even more important. Does it make a point about what is most important?
Leprechaun stew, leprechaun stew
if I don't get some, I don't know what I'll do.
Take my gold, take my shoe.
But don't you take my Leprechaun stew.
So What is YOUR Favorite Irish Saying?
Where did you first hear it? What does it mean to you? How have you used it?

We invite you to impress your friends and raise your social media game by publishing your story on Irish-Expressions.com!

It's easy! Just follow the instructions below.
Want More Irish Poetry?

Reciting poetry, writing limericks, sending homemade greeting cards - all are terrific ways to express your Irish side at any Irish-themed occasion.
For more examples and ideas on how to celebrate St Patricks day, visit our page on that wonderful Irish holiday here. 
You might also want to explore our page on Irish Sayings, containing examples of Irish toasts, blessings, jokes, limericks, and much, much more!
In the meantime, we hope you enjoyed this page, and have discovered your favorite St Patricks Day Poem!
We love Ireland, and we know you do too.  The purpose of this site is to build a community of people who love to share their Irish sides, and help others to do the same.  Visit us on Facebook or Pinterest to join the conversation!

And if you want these ideas to come to you automatically, simply give us your email address using the form in the upper right corner of this page. 
We will send you our free monthly newsletter containing the latest ideas, updates and stories from our frequent visitors.
We know that some of you want to know more about Irish culture in general, including general topics such as Irish food, music, clothing, history and so on.  You can find great information on these topics in our section on Irish culture and customs.
In the meantime, choose another topic above, and let's continue your journey with Irish-Expressions.com!

PLEASE SHARE US WITH YOUR FRIENDS

YOU CAN FIND US ANYTIME ON ...