Blackrock Castle:  Pirates?  No Problem For This 16th Century Irish Fortress...

Blackrock Castle and its observatory are found right in the very south of Ireland, overlooking the waters of Lough Mahon. The castle is part of County Cork in Munster Province.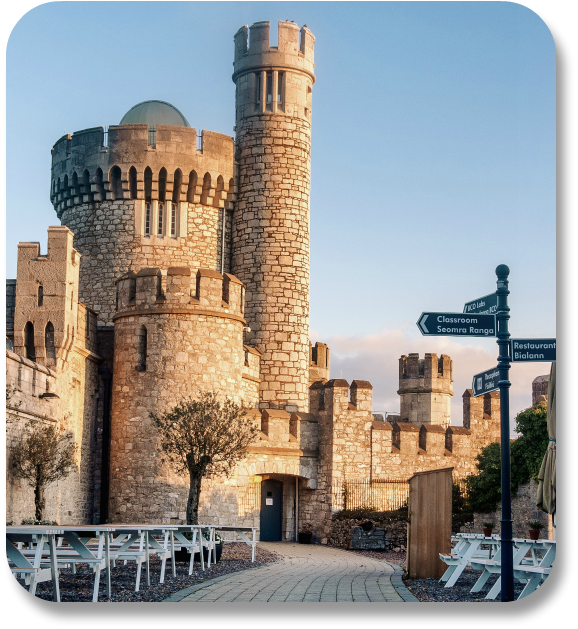 To get to Blackrock Castle from the Dublin Airport, expect a drive of around three hours. The journey winds along major roads like the N4, the M7 and the M8 before leading you onto Castle Road heading for Blackrock.    
Things to Know About Blackrock Castle

Just outside the Irish city of Cork is Blackrock Castle, an enormous fortress built in the 16th century in order to protect the city from invaders and pirates along the River Lee.
The castle is five stories high, making it easier to spot invaders from afar, which also helps give the castle its dramatic look.
Today, Blackrock Castle in County Cork is home to an observatory, where you can spot stars in the night sky from an undeniably unique destination.
Want More?

It is probably obvious - at Irish Expressions, we love Irish castles!  The Emerald Isle is dotted with hundreds of these incredible structures.  
Sharing pictures and stories about them gives us a deeper sense of connection with Ireland, wherever in the world we happen to be!
We have captured the most amazing pictures and descriptions of Irish castles in an e-book we call "An Illustrated Guide to Irish Castles and Abbeys."
This fun, free guide is available to you to download.  Answer two quick questions below to get instant access!
Then please send us a note or connect with us on Facebook, and let us know what you think!

Want Even More? :-)
For more information of this kind, you might pay a visit to our section on Ireland Castle Vacations here!
And for travel ideas in general, check out our section on Ireland Travel Destinations.

In the meantime, if you enjoyed this page in particular, please take a moment to share your feedback about it, or any other part of our site, using our contact form here. 
And once again - thanks for visiting!  We hope you will continue to explore Irish culture and traditions, and to share your Irish side with the growing community at Irish Expressions.com!
PLEASE SHARE US WITH YOUR FRIENDS

YOU CAN FIND US ANYTIME ON ...