Amazing Cahir Castle - A Virtually Impregnable Fortress in the South of Ireland

To visit the fortress of Cahir Castle, head to Southern Ireland and the Province of Munster. The castle is located in Tipperary County, and it is just two hours by car from Dublin's airport.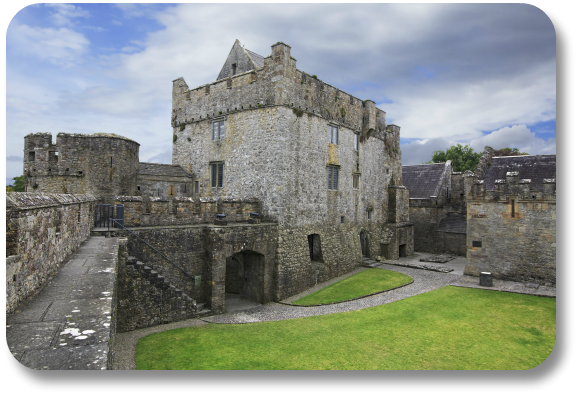 Follow signs leading to the M7 heading south, and continue following signs for Limerick. Once on the N24, look for the left exit onto Bridge Street, which leads you right to Cahir Castle.
Things to Know About Cahir Castle

Here are some fun facts about this amazing Irish landmark.  Hopefully they will entice you to pay a visit in person!
But if that is not possible, you can always use them to impress your friends with your knowledge of one of the most-visited attractions in Ireland.
In the heart of County Tipperary is Cahir Castle, a wonderfully preserved fortress built by the Prince of Thomond in 1142.
For nearly 400 years, the castle was said to be impregnable, but that ended with the siege in 1599.
Visiting the Castle today, you'll definitely want to participate in the guided tour a well as the audio-visual presentation that gives insight into the role of the castle in the region.
Be sure to stroll through the gatehouse and enter the innermost courtyard, which was the safest place in the castle.
The name Cahir is, like many traditional castles, derived from its description. The Irish word cathair translates as stone fort, which is exactly what the castle is.
The Castle passed through many hands between the 13th century and today. It was remodeled twice before the 17th century, and it was partially rebuilt in the 1840s.
The last Lord Cahir died in 1961. When he passed away, the castle became the property of the Irish State.
The Castle has been featured in films and television shows ever since. It was used as a battle scene location for the film Excalibur, and it was more recently used in the television show The Tudors.
If you visit, make sure you start with the short film. This is a great introduction to the castle and its many changes and influences through history.
As you near castle, you'll see cannon on wheels right outside. Take a closer look at the stone wall and you'll seen an iron cannonball, a reminder of the siege that this castle once endured. 
There is a small shop where visitors can buy souvenirs from the castle. Make sure you bring cash along, because that's the only accepted means of payment.
After visiting the Castle, you might want to take a stroll along the riverwalk. In under 20 minutes, you'll arrive at the picturesque Swiss Cottage. Built in 1810 for the 1st Earl of Glengall, the cottage is the perfect addition to a day exploring the area on foot.
You can find more information from Heritage Ireland here.
Want More Irish Castles?

It is probably obvious - at Irish Expressions, we love Irish castles!  The Emerald Isle is dotted with hundreds of these incredible structures.  
Sharing pictures and stories about them gives us a deeper sense of connection with Ireland, wherever in the world we happen to be!
We have captured the most amazing pictures and descriptions of Irish castles in an e-book we call "An Illustrated Guide to Irish Castles and Abbeys."
This fun, free guide is available to you to download.  Answer two quick questions below to get instant access!
Then please send us a note or connect with us on Facebook, and let us know what you think!

That Was Fun!  Where Can I Learn More?

Great question! As you can see, exploring the castles of Ireland offers many opportunities for enjoying an Irish experience and expressing your personal Irish side!

For more information of this kind, you might pay a visit to our section on Ireland Sightseeing here!
In the meantime, if you enjoyed this page in particular, please take a moment to share your feedback about it, or any other part of our site, using our contact form here. 

And once again - thanks for visiting!  We hope you will continue to share your Irish side with the growing community at Irish Expressions.com!
Want to Feel More Connected to Ireland?  Here's How!
At Irish Expressions we believe everybody – well almost everybody! - has an "Irish side."  So - how nice would it be to have access to a fun Irish experience, on demand, wherever you happen to be?

If you have enjoyed your experience with Irish Expressions so far, here is a simple, free way to stay in touch.
Never miss a post.  Tell us where to send your updates, featuring the latest information from Irish Expressions - and we'll take it from there!
Meanwhile, thanks for visiting!  I hope that we will meet someday, in person or online, and you can tell me about your own connection to the Emerald Isle.
Until then, best wishes -
Bruce Grady

PLEASE SHARE US WITH YOUR FRIENDS

YOU CAN FIND US ANYTIME ON ...