31 Best Irish Love Quotes: Impress that Special Someone with Adoring Irish Words!

We find our Irish ancestors to be extremely quotable!  Irish love quotes are some of the best examples. Most Irish sayings and quotations are witty, while at the same time deeply meaningful and – occasionally - side-splittingly funny!
Here are a few to get us started. 
Love is like stirabout (porridge) – it must be made fresh every day.
There is no cure for love other than marriage.
Would you like to be buried with my people? 
Love is an affliction that no herb can heal!
As the sun follows its course, may you follow me.
In a hurry?  Click here to go directly to the full list! 
If you you have a bit of time, let's give a little background behind some unique and memorable Irish love quotes!
How to Use Irish Love Quotes
Below you will find some of our favorites love sayings, suitable for Irish Valentine's day messages, Irish anniversary cards, Irish marriage proposals or any occasion calling for expressions of love and devotion.
And for more general information, you can visit our main section on Irish quotes here!
Meanwhile, please enjoy our top 13 Irish love quotes and sayings!
Our Top 13 Irish Love Quotes

Many of us would not automatically associate love and romance with Ireland.  Certain other European countries come to mind more often, don't they? 
But we Irish folk have our own way of expressing love, reflecting the many ups and downs of our cherished culture and history. 
Here are our top 13 love sayings attributed to Ireland (in no particular order), ranging from the witty, to the sarcastic, to the deeply sentimental.   
"Love is like stirabout (porridge) – it must be made fresh every day."
"There is no cure for love other than marriage."
"Would you like to be buried with my people? "(A rather unique way of proposing if you ask us!)
"Love is an affliction that no herb can heal!"
"As the sun follows its course, may you follow me."
"Love is like a violin.  The music may stop now and then, but the strings remain always."

"Marry an Island woman and you marry the whole Island."

"Love is never defeated... and history of Ireland proves it." - Pope John Paul II

"A man loves his sweetheart the most, his wife the best, but his mother the longest."
"A day lasts until it is chased away, but love lasts to the end of time."
"A heart that loves is forever young."
"May love and laugher light your days and bless your hearth and home."

"May you have love that never ends.  Lots of gold and lots of friends."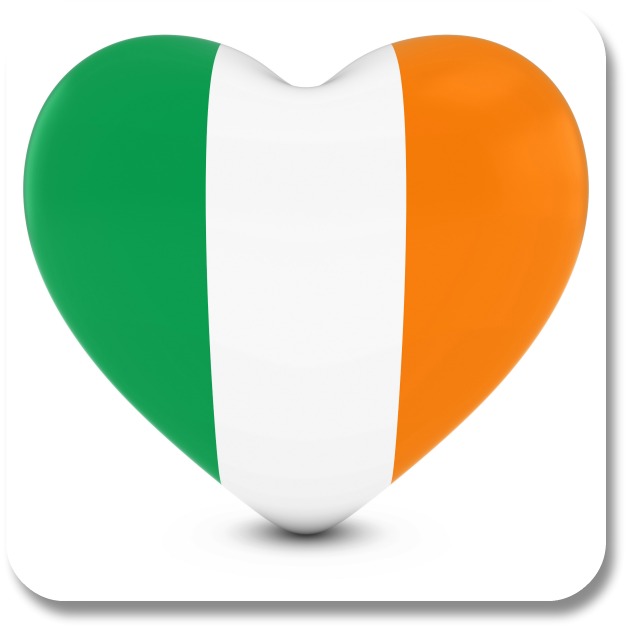 18 More Irish Quotes About Love
Here is a list of 18 more love quotes written or stated by Irish people!
"If you do not love me I shall not be loved.  If I do not love you, I shall not love." - Samuel Beckett
"My heart is a rose which your love has brought to bloom." - Oscar Wilde
"First we feel, then we fall." - James Joyce
"What the heart knows today, the head will understand tomorrow." - James Stephens
"Come live in my heart, and pay no rent." - Samuel Lover
"To love oneself is the beginning of a lifelong romance." - Oscar Wilde
"The most important things to do in the world are get something to eat, something to drink, and someone to love you." - Brendan Behan
"A successful marriage requires falling in love many times, always with the same person." - Mignon McLaughlin
"You don't love someone for their looks or clothes or their fancy car, but because they sing a song only you can hear." - Oscar Wilde
"There is no love sincerer than the love of food." - George Bernard Shaw
"Love is never wasted, for its value is not based on reciprocity." - CS Lewis
"The best thing to hold onto in life is each other." - Audrey Hepburn
"For it was not into my ear that you whispered, but into my heart.  It was not my lips you kissed but my soul." - Judy Garland
"The consciousness of loving and being loved brings a warmth and richness to life that nothing else can bring." - Oscar Wilde
"I have learned that whoever loves is in no condition old." - Ralph Waldo Emerson
"We were together.  I forget the rest." - Walt Whitman
"I love her and that's the beginning and the end of everything." - F. Scott Fitzgerald
"The thing about love is we come alive in bodies not our own." - Colum McCann
Want More Irish Sayings?
It is probably obvious - at Irish Expressions, we love Irish wit and wisdom!  Learning Irish sayings gives us a deeper sense of connection with Ireland, wherever in the world we happen to be!
We have captured many of our favorite Irish sayings in an e-book called "77 Favorite Irish Sayings."  In it you will find Irish proverbs, jokes, limericks, blessings and quotes on many, many topics!
This fun, free guide is available to you to download.  Simply scroll to the bottom of the page and share your email address for instant access!
More Irish Sayings, Blessings and Quotations

Words of wisdom are an essential part of Irish culture and heritage. Share them during special occasions, to celebrate Irish culture and express your personal Irish side!
For more information of this type, you may want to pay a visit to our main section on Irish Sayings here!
And you enjoyed this page in particular, please share your feedback, opinions and stories with your Irish Expressions community!  You can do that by visiting us on Facebook.
Meanwhile, thanks for visiting! Now let's click on another topic above and continue expressing your Irish side at Irish Expressions.com.
Want to Feel More Connected to Ireland?  Here's How!
At Irish Expressions we believe everybody – well almost everybody! - has an "Irish side."  So how nice would it be to have access to a fun, free Irish experience, on demand, wherever in the world you happen to be?
Over the years we have compiled many free, downloadable resources including lyrics, recipes, games, jokes, blessings and much, much more.  
Would you like to receive them ALL for FREE?  Simply share your email for instant access!
ENJOYING IRISH EXPRESSIONS?  PLEASE CLICK BELOW AND SHARE!