Irish Tattoo Designs: Express Your Irish Side Through Beautiful and Symbolic Body Art!

Irish tattoo designs are a very personal experience. For many people, it is the ultimate Irish expression - an unmistakable sign of your connection with Irish / Celtic culture and heritage.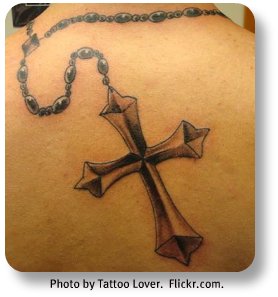 Irish tattoos, and their typically Celtic designs are popular for several reasons. The most common reason is to show pride in your Celtic heritage.
Another reason is - these designs are just very cool to look at, and tells stories about.

There are many places to get examples of great tattoo designs.  What we want to do here is introduce you to the basics, then point you in the right direction to find your ultimate design.
If this should inspire you to know more about Irish customs, please visit our main section on Irish trivia and traditions here...
Meanwhile, please enjoy some of our favorite Irish Tattoo Designs!
How to Choose an Irish Tattoo Design

When my son turned 17, he informed me that on his 18th birthday he would be getting a tattoo.
I am not a tattoo guy.  So my response was - "Oh yeah?  Who's going to pay for it?"
"Mom."
Oh.  End of story. Mic drop.

Well, not quite.  Over the coming year, he gradually convinced me that his chosen design - a tree of life image over his heart - was actually a very personal and meaningful way for him to express his love of Ireland.
Ok, I surrender!  Here's what finally happened...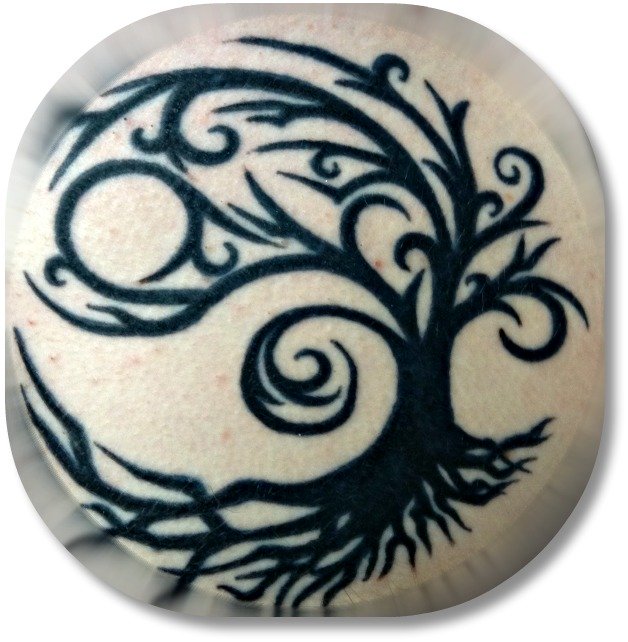 Pretty great, I have to admit.
The most common Irish tattoo designs generally fall into one of four categories:  crosses, knots, shamrocks and tree of life designs.
The best way to choose a tattoo design is to ask yourself - what do I care about?  What do I like to talk to other people about?  What part of who I am, am I the most proud of?
Then, find a design you really like that represents those things.
There are lots of guidelines to keep in mind as far as colors, design complexity, location on the body, how to find a tattoo artist, etc.
We'll leave those things to the experts.
What we want to do is tell you about four cool types of Irish tattoo designs.
Irish Tattoo Design #1:  The Celtic Cross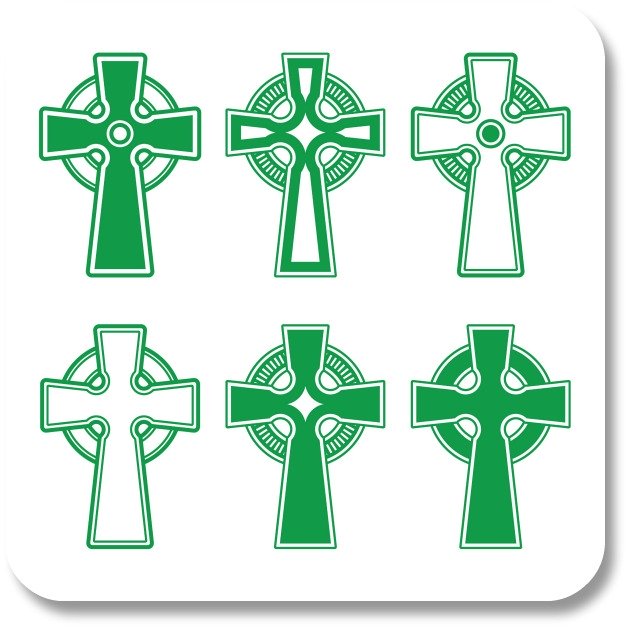 This classic symbol of Ireland is shaped like a traditional Christian crucifix, with the addition of a circle around the intersection, symbolizing eternity.
It is typically decorated with symbols or scenes of various biblical events, and it is found in a variety of Irish expressions today, including art, tattoos and jewelry.
Visit our section on the Irish Cross for much more information about this symbol that is such an important part of Irish culture and tradition.

Irish Tattoo Design #2:  The Celtic Knot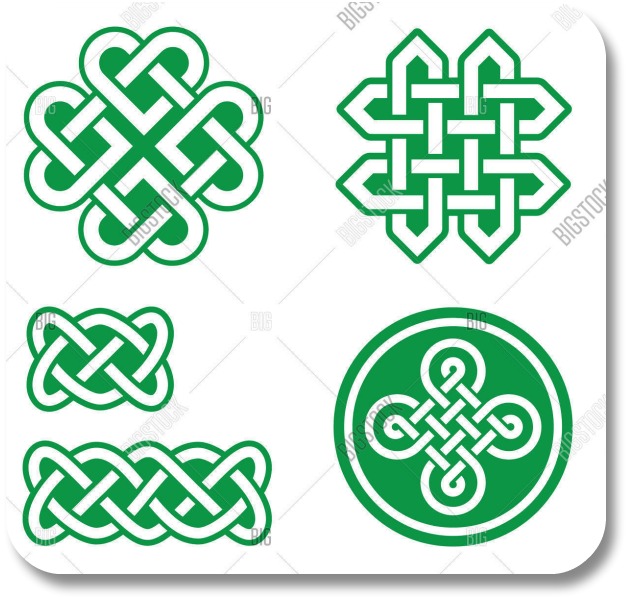 Sometimes called "Irish knots" or "Mystic knots," Celtic knots are patterns of lines with no visible beginning and no apparent ending.
Aside from being lovely, they are said to have important meanings, which you can learn more about in other articles.

As with many symbols of Ireland they appear on everything from clothing to tableware to jewelry to body art.
For more information on this beautiful Irish symbol, visit our page on the Celtic Knot.

Irish Tattoo Design #3:  The Shamrock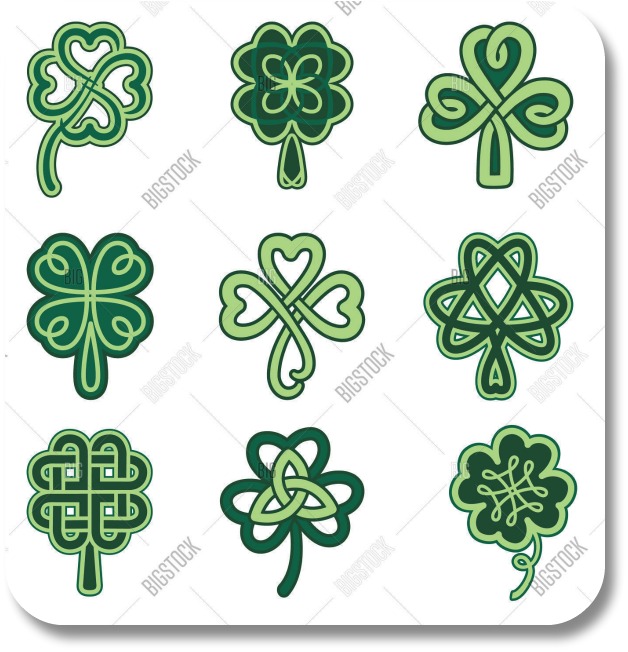 Finally, a few words about the world-famous Irish Shamrock.
Rumored to have the power to ward off evil spirits, scare away snakes and heal diseases, this little symbol packs a mighty punch.
So much so that at one time it was banned from public display by the Queen of England. I know, crazy right?
If that simple little description leaves you wanting more, please check out our section on the Shamrock symbol here!

Irish Tattoo Design #4:  The Tree of Life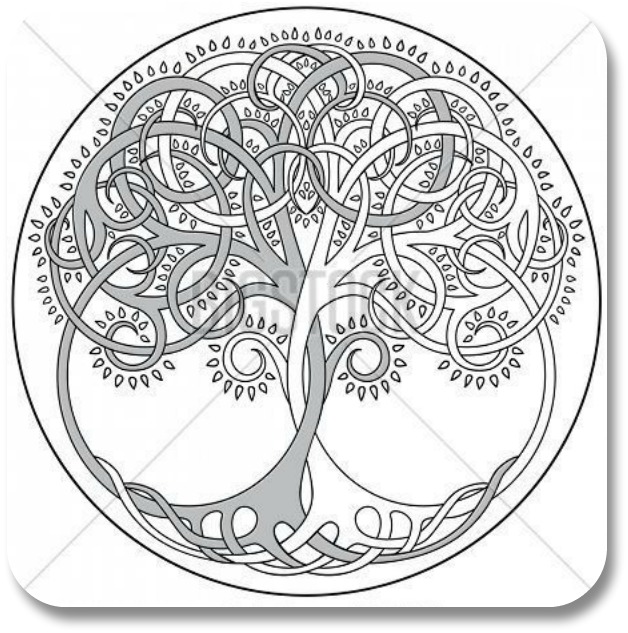 The Tree of Life represents a number of Irish values with Celtic roots.
Among these are strength, longevity and connection with the earth.
As with many Irish symbols the Celtic Tree of Life appears in many legends and myths.
It also adorns Irish jewerly, clothing, and other Irish works of art.
Find much more information in our section on the Tree of Life here!

Want More Irish Fun?
It is probably obvious - at Irish Expressions, we love Irish traditions!
Expressing ourselves through Irish-themed activities gives us a deeper sense of connection with Ireland, wherever in the world we happen to be!
Over the years, we have created many free, downloadable Irish games, puzzles, recipes, songbooks, travel guides, party plans, and much, much more.
These are immediately available to you - completely free of charge.
Just answer two quick questions below to get instant access!

What's Next?

At Irish Expressions, our our goal is simple: to provide you with a unique Irish experience, on demand, wherever you are in the world.
If you have enjoyed our section on fun Irish trivia and customs, you have probably been exposed to many of the most exciting traditions that Ireland has to offer!
Will that entice you to visit Ireland - or to return if you have already been? 
We hope so!  
But even if that is not possible, you can still enjoy the magic of Ireland in these pages.  Check out the links at the top of the page for simple instructions on how to explore Irish landmarks, sing Irish songs, enjoy Irish food, and much more!
You can also visit us on Facebook, Twitter or Pinterest to see amazing pictures and interact with amazing people who share a love of Ireland.
We would love to hear from you - please send us a note here and let us know how we are doing. 
Until then - thanks for visiting!  Please continue exploring your Irish side at Irish-Expressions.com.
REMEMBER - YOU CAN FIND US ANYTIME ON ...