Irish Wedding Dresses: Share Your Individual Irish Side!

Irish wedding dresses are typically inspired by Celtic  art and traditions. They are a perfect way to express your individual Irish side!


The bodices of many Celtic-style gowns are embellished with lace, delicate eyelets, or intricately embroidered silver or gold patterns.
Wedding gowns from Ireland also often feature long fluted or flowing sleeves, demure necklines and graceful, elegant trains.
Celtic Influence on Irish Wedding Dresses

Some Celtic-style wedding gowns are solid white, but others have colored bodices that add a beautiful burst of color to their white skirts and sleeves.  For an even more Celtic look, consider topping your Irish gown with a beautifully draped, embroidered cape in white or a contrasting color.
The clasp for your cape could be a stunning gold, silver or colored cloisonné Celtic knot design.  Your other accessories could include a pair of Irish Claddagh earrings, and a necklace featuring a beautifully-wrought Celtic cross.


The Most Traditional Look for an Irish Wedding Gown

In old Ireland, women wore gowns and dresses that covered most of their bodies, as they wanted to show themselves only to the men they loved.  Veils covered their heads (also for modesty), and long fluted sleeves were a sign that a dress or gown was intended for a special purpose.  Lace, eyelets and embroidered embellishments added both beauty and distinction to their dresses.
Flattering empire waists were common, although symmetrical dropped waists with a "V" shape were also seen, usually worn with a long corded belt. Wedding dresses in Ireland incorporate many of these traditions.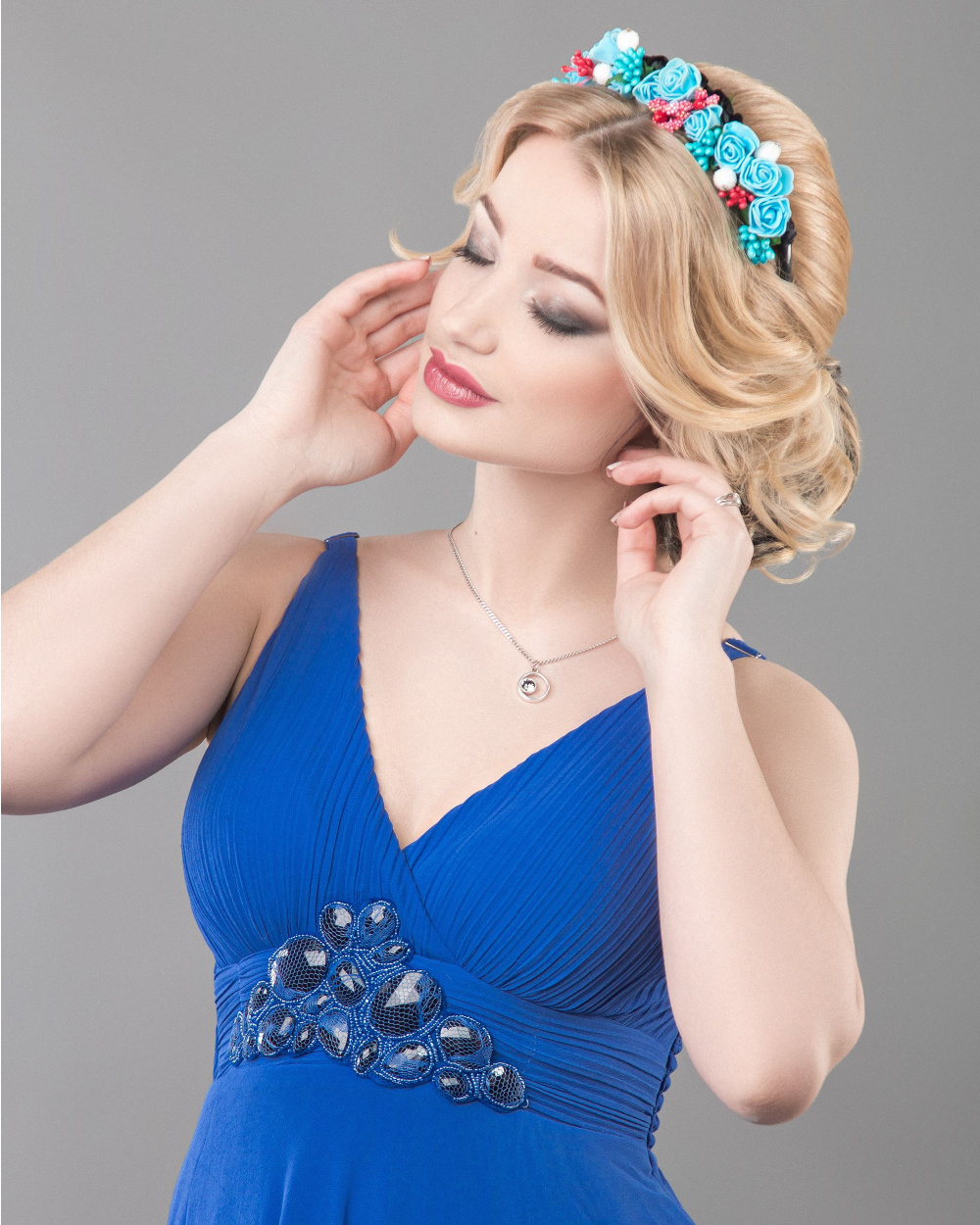 If You Want to Be a Bit More Daring

Consider wearing an Irish wedding dress that is blue rather than white. In ancient times, blue was the traditional symbol of purity, much like the white of today.  White only acquired that status after Anne of Brittany wore Europe's first recorded white wedding dress in 1499.
For More Information and Ideas on Irish Weddings

At Irish Expressions, our our goal is simple: to provide you with a unique Irish experience, on demand, wherever you are in the world.
If you have enjoyed our section on Irish Wedding Dresses, you probably have an interest in Irish wedding traditions in general.
Our section on Irish wedding traditions includes tips on music, gifts, cakes, vows and much more.  Won't you pay us a visit?
Express Your Irish Side With Real Irish Gifts
A note from Bruce:
My friend Stuart Marley and his wife Meredith are the founders of Real Irish Gifts and Travel, one of the finest Irish-themed businesses I have encountered. They have been operating since 1999. 
Members of the Irish Expressions community (that's you!) get 15% off anything in their online store, 365 days a year.  Simply click on the link below and receive your discount automatically at checkout.  Enjoy!

Want to Feel More Connected to Ireland?  Here's How!
At Irish Expressions we believe everybody – well almost everybody! - has an "Irish side."  So how nice would it be to have access to a fun, free Irish experience, on demand, wherever in the world you happen to be?
Over the years we have compiled many free, downloadable resources including lyrics, recipes, games, jokes, blessings and much, much more.  
Would you like to receive them ALL for FREE?  Simply share your email for instant access!
ENJOYING IRISH EXPRESSIONS?  PLEASE CLICK BELOW AND SHARE!