Irish Wedding Gift Ideas: Give Wedding Memories that Unmistakable Irish Feel!

The main challenge when considering Irish wedding gift ideas is - there are so many possibilities to choose from!   Here are a few suggestions for wedding gifts that would thrill almost any couple, but especially those with a love of Irish culture and customs.
Irish Wedding Gift Idea #1:  Irish Linen

Fine Irish linens top our list of suggestions for Irish wedding gifts. The reason is the craftsmanship. Dedicated cottage crafters apply their skills to handspun flax to create a wide range of stunning Irish linens, each handmade, each different from the other.
One option is table decor. Gracing their table with an Irish linen tablecloth and matching linen napkins for get-togethers with family and friends could become a new family tradition for the happy couple.  Another is bed linen. A set of soft, lustrous Irish linen bed sheets and pillowcases could give their bed a touch of much-appreciated luxury.
And, because Irish linens are durable, they can be passed down from generation to generation – the creation of another new family tradition!
Irish Wedding Gift Idea #2:  Irish Breakfast Basket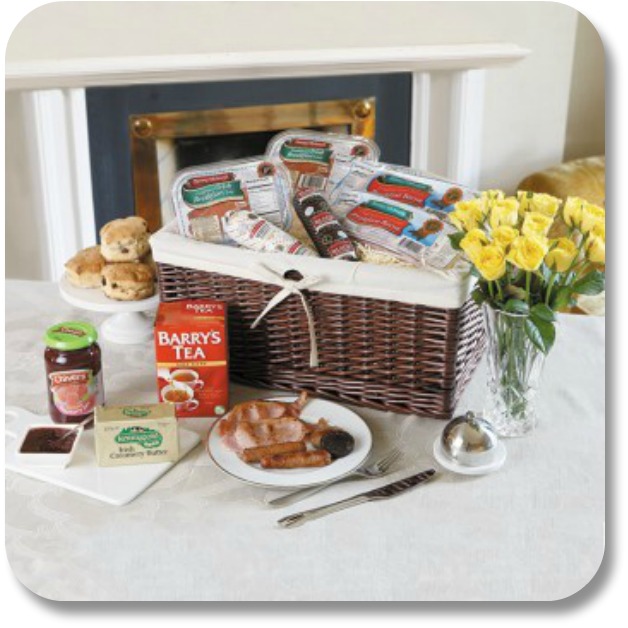 The decorations are down, the honeymoon is over, and it is time for the newly married couple to get back to the reality of real life.
Sweeten up their first morning back home with an Irish breakfast basket that can transport them to their favorite pub in Ireland.
They will love brewing a cup of tea, digging into Irish sausages and bacon, spreading butter and jam into traditional scones and reminiscing about their big day or their honeymoon.
Click on the image above (image owned by The Irish Store) to view the details.
Irish Wedding Gift Idea #3: Crystal Whiskey Decanter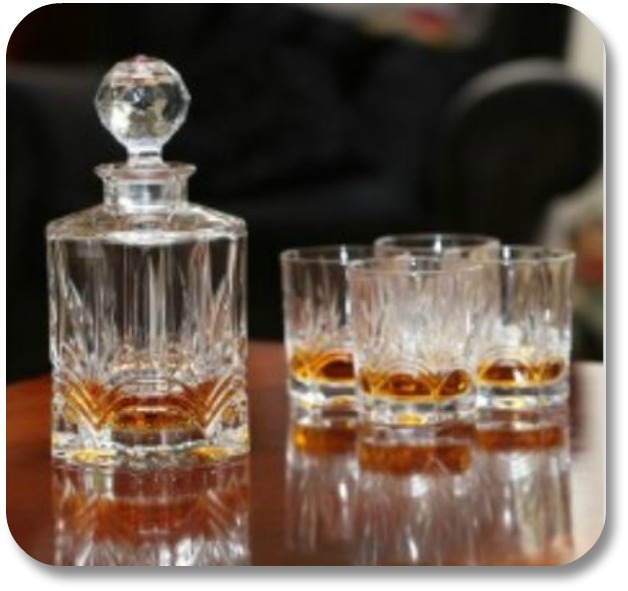 There's nothing more Irish than sipping a glass of whiskey at the end of a long day, so toast to a successful marriage by gifting newlyweds a classic Irish token of love.
A Galway crystal whiskey decanter and glasses set will quickly become the focal point of the bar or living room area, and it just might encourage a love of Irish whiskey that lasts for decades.
Best of all, Galway crystal is stunning and upscale, making the gift both a decorative and practical choice for the home.
Click on the image above (image owned by The Irish Store) to view the details.
Irish Wedding Gift Idea #4:  Matching Aran Sweaters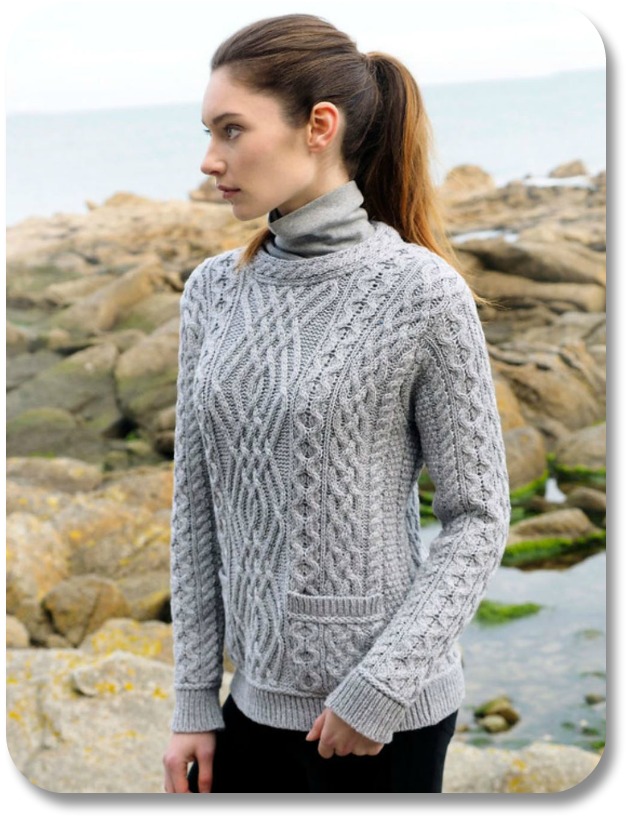 There is perhaps no one item that sums up Irish culture and history as well as an Aran sweater.
With unique stitching and water-resistant wool perfect for those misty days on the Emerald Isle, an Aran sweater transports you to Ireland even if you're just bundled up in an air-conditioned office.
For the bride and groom, gift a matching set of Aran sweaters.
Choose a cable-knit variety with pockets for the stylish bride, and snag an Irish fisherman's ribbed sweater for the groom.
Click on the image to the left (image owned by The Irish Store) to view the details on this lovely product.

Irish Wedding Gift Idea #5:  Ogham Ancient Irish Print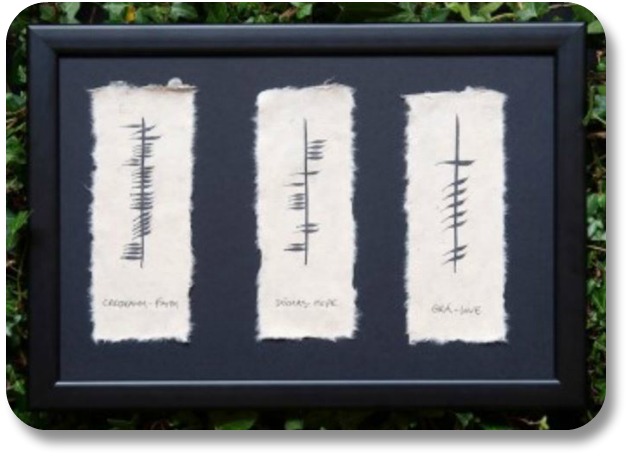 Couples who want to express their Irish side right in their home can do so with an elegant Ogham ancient Irish print.
The triptych design is painted by hand and displays the words for faith, hope and love: Creideamh, Dochas and Gra.
Giving this print as a wedding gift is a way to offer their home the warmth and comfort the deserve.
The sleek black frame gives the whole print an upscale, luxury appearance, showcasing their love for all things beautiful.
Click on the image above (image owned by The Irish Store) for more details.
Express Your Irish Side With Real Irish Gifts
A note from Bruce:
My friend Stuart Marley and his wife Meredith are the founders of Real Irish Gifts and Travel, one of the finest Irish-themed businesses I have encountered. They have been operating since 1999. 
Members of the Irish Expressions community (that's you!) get 15% off anything in their online store, 365 days a year.  Simply click on the link below and receive your discount automatically at checkout.  Enjoy!

Want to Feel More Connected to Ireland?  Here's How!
At Irish Expressions we believe everybody – well almost everybody! - has an "Irish side."  So how nice would it be to have access to a fun, free Irish experience, on demand, wherever in the world you happen to be?
Over the years we have compiled many free, downloadable resources including lyrics, recipes, games, jokes, blessings and much, much more.  
Would you like to receive them ALL for FREE?  Simply share your email for instant access!
ENJOYING IRISH EXPRESSIONS?  PLEASE CLICK BELOW AND SHARE!