Shannon Ireland Travel: Visit A Relatively Modern Town with a Modern Purpose!

When considering Shannon Ireland travel, the first thing to know is the town received its name from the River Shannon close by. 
The second thing to know is, unlike many Irish towns with centuries-old histories, Shannon Ireland is a relatively modern place with a modern purpose.
The year 1938 introduced the Shannon Airport which was developed by the Irish government into an international port and a place to house World War II troups.
By the time the Irish government had reclaimed the swampland in the area, the war had ended. Today a planned town now sits on the reclaimed area.
The population of 12,000 is mostly people who work at the airport and Shannon Free Zone industrial area.
A Few Key Facts About Shannon Ireland Travel

Shannon is a satellite town of nearby Limerick City.
American troops frequently use the Shannon Airport as a stopping point before going further to Iraq or Afghanistan. 
As a result you'll often find many types of American foods and products either at the airport or in Shannon proper.
However, even though Shannon itself is a relatively new town and influenced by U.S. military visitors, it is also a perfect place to stay if you want to see many of the ancient attractions of the surrounding area.
It offers beautiful scenery and breathtaking views of the river Shannon as well as the lush green countryside with quaint narrow roads surrounding the area.
Things to See During Shannon Ireland Travel

Part of the draw of Shannon Ireland travel is the abundance of things to see and do nearby to the Shannon airport.
Bunratty Castle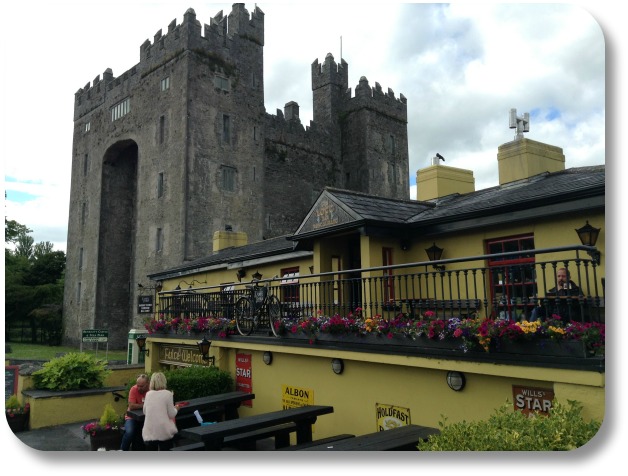 The original builders of the castle completed it in 1425. However, a complete restoration of the castle took place  in the 1950s.
You'll need more time than a short layover to enjoy this attraction. The castle takes a while to walk through and see all the artifacts from the 15th and 16th Century.
With over 450 artifacts including furniture from the times and some amazing tapestries, you'll want to arrive early so you don't miss a single item.
The castle closes at 4 P.M. so the staff has time to prepare the Medieval Banquet served nightly. There's also plenty of music in the evening from the Irish Cornbarn in the Folk Park.
Folk Park Surrounding Bunratty Castle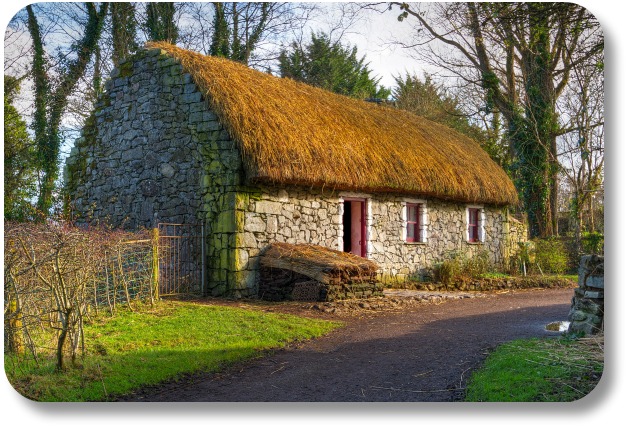 You might want to book an overnight at one of the nearby hotels within walking distance to the castle grounds, so you can enjoy everything the Folk Park has to offer.
The park is a reenactment village with cottages and shops showing Irish life in the 19th century. You'll find a typical Main Street in the center of the village and homes complete with peat fires in the fireplaces.
From the aristocratic class to the humble working class, the park gives you a peek into their lives.
You can enjoy some hardy ale at the local pub, mail off that postcard at the post office, stop, and visit shops in the village with everyone keeping in their 1800s character.
Take along good walking shoes for this part of your Shannon Ireland travel itinerary. A good plan is to start with the castle, enjoy the banquet at night, spend the night and then spend a whole day at the folk park.
Craggaunowen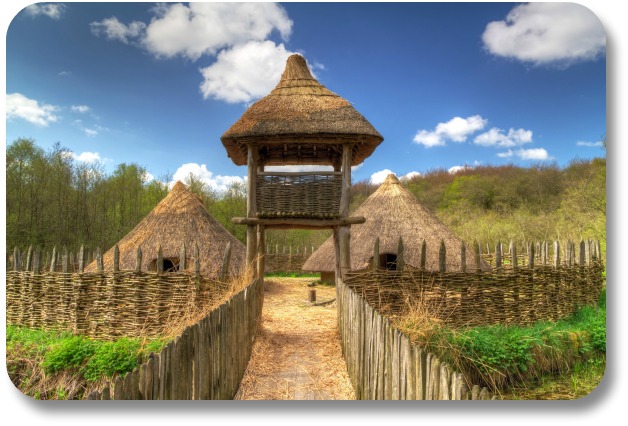 If you like would your understanding of the history of Ireland to date back even further, consider going to Craggaunowen near Quin Village.

This area is isolated but gives you a true picture of Ireland's history dating back as far as prehistoric times, through the Iron Age and into Early Christianity in Ireland.

You'll learn about the Celts when you spend time at the 50 acres contained at Craggaunowen. You'll also see artifacts, homesteads and animals that lived in Ireland at about 1000 AD.
Things to see at Craggaunowen include the Crannog, a circular lake dwelling, the Brendan Boat and a medieval castle.
Tim Severin constructed the Brendan Boat as a replica of the leather boat used by the Christian Monks to sail across the ocean to America.
Severin repeated their feat in order to prove that Irish monks may have discovered America long before Christopher Columbus arrived.
The Burren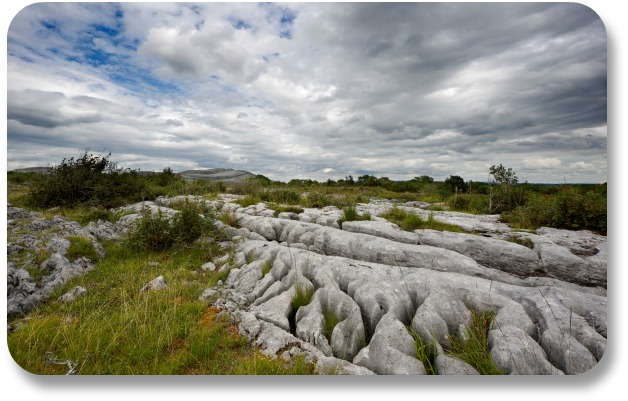 This limestone landscape is the home of over 700 different varieties of flowering plants, some of which even bloom during the winter months.
You'll find quaint cottages and farms still inhabited and active, remnants of tombs—some as old as 5,000 years, ring forts and monasteries.
Remember, as you consider Shannon Ireland travel, this land is protected if you visit, so it's illegal to take any part of it home with you, even something as innocent as a pebble or flower.
So what is YOUR Favorite Ireland Travel Story?
Have you ever visited the Emerald Isle? Are you planning a trip and looking to exchange some great ideas?

Please share your story with your friends at Irish Expressions!

It's easy! Just follow the instructions below.

And if you care to include a picture or two, it's easy to do that as well!
Interesting!  Where Can I Find More?

Telling travel stories and sharing pictures is a great way to express your Irish side.  One of our favorite pastimes is to share stories of our own Shannon-area adventures.
For many, many more examples of Irish travel ideas, visit our main section on Ireland travel destinations here!
In the meantime, if you enjoyed Shannon Ireland Travel, please take a moment to share your feedback about it, or any other part of our site, using our comment section below.  Or send us an email using our contact form here. 
Then be sure you register for our monthly newsletter (upper right corner of this page) to get regular updates and great ideas sent directly to you!  It's as simple as entering your email address - we'll do the rest!

And please continue to explore our beloved Irish culture and heritage, here at Irish expressions, and with a few more excellent websites and blogs about Ireland.
One of our favorites is:
We can't say enough good things about this beautiful website, designed by a husband / wife team in Ireland who are completely dedicated to helping you trace your Irish ancestry.  Along the way, they share wonderful history and facts about the Emerald Isle.

Please explore their lovely site... then come back!  Tell us what you learned and what you want to know more about. 
You will get a personal response, and - if you like - we will publish your comments and stories on this site, give you credit, and even link back to your own website or blog.

In the meantime, thank you so much for visiting!  We hope you will continue to explore Irish culture and traditions, and to share your Irish side with the growing community at Irish Expressions.com!
PLEASE SHARE US WITH YOUR FRIENDS

YOU CAN FIND US ANYTIME ON ...