Irish Birthday Sayings: The Perfect Expression for an Irish-Themed Birthday Party!

Making use of Irish birthday sayings can add a nice touch to your birthday celebrations. There are many different sayings to choose from.
You can select some of the more solemn blessings, or take the humorous approach by using limericks or jokes with an Irish twist.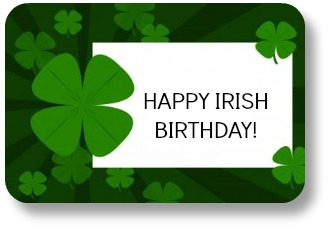 One of the best ways to add a distinctly Irish flavor is to offer a toast to the person whose birthday it is, using a traditional Irish birthday blessing.
Since birthday parties are meant to be fun occasions, the host could possibly recite a few limericks first to get the party-goers laughing. And good jokes are always welcome at parties. 
Irish Birthday Sayings:  Limericks

Limericks are easy to compose, and it can be a great source of fun at birthday parties to get people to write and recite their own limericks.
Another good party game is to have a person create a first line, then another person adds the second line, and so on.
The host should explain the basic structure by giving an example or two, and should encourage the composers to come up with something relevant to the occasion. Here is an example:
Said Murphy's mother after his birth
Delivering 10lbs really hurt
He went on to eat well
His body it did swell
And every birthday he adds to his girth
For many more examples, see our article on Funny Birthday Limericks!

Irish Birthday Sayings:  Blessings

Another fun birthday tradition you might try is sharing an Irish birthday blessing. A typical example is the one shown below.
May you always find
Blue skies above your head
Shamrocks beneath your feet
Laughter and joy aplenty
Kindness from all you meet
Good friends and kin to miss you
If ever you choose to roam
And a path that's been cleared
By angels themselves
To carry you safely home
Blessings like these can be used to create homemade greeting cards, add color to birthday toasts, be turned into gifts (think posters / plaques) and so on.  The possibilities are limited only by the imagination!
Irish Birthday Sayings:  Jokes

One of the aspects of Irish culture that plays well at birthday parties is the Irish sense of humor.
At times it can be a bit racy (that's part of the fun!) so be selective when celebrating somebody's favorite day!  The right joke can add just the right mood to the party.

Here's an example that plays on the myth that many Dubliners end their sentences  with the word "right."
Mick O'Donnell came from Kerry to Dublin to attend his cousin's birthday party. Unfortunately, Mick got lost, so he stopped two locals and asked for directions. 
One of the men said, "No problem, just go right here, right, and at the end of the road turn left, right. Then go right, right."
Mick was getting increasingly confused with these directions.
The man continued, "At the end of the long street turn left again, right. Then turn left again immediately, right. After that take two more rights and you're there, right."
Noticing Mick's total bewilderment, the man's companion piped up, "If I were you, I wouldn't start from here at all!"
So What is YOUR Favorite Irish Saying?
Where did you first hear it? What does it mean to you? How have you used it?

We invite you to impress your friends and raise your social media game by publishing your story on Irish-Expressions.com!

It's easy! Just follow the instructions below.
That Was Fun!  What's Next?

Irish birthday sayings can add an Irish spark to an ordinary birthday party.
For more ideas on throwing an birthday party Ireland-style, visit our Irish birthdays section here.  And for even more Irish wit and wisdom, check out Irish Sayings.

Meanwhile you enjoyed this page, please take a moment to share your feedback about it, or any other part of our site. Use the comment section below, or our contact form here. 
Also, make sure you register for our monthly newsletter (upper right corner of this page) to get regular updates and great ideas sent directly, automatically, anonymously ... straight to your inbox!
It's as simple as entering your email address - we'll do the rest!

Then continue to explore our beloved Irish culture and heritage, here at Irish expressions, and with a few more excellent websites and blogs about Ireland.
One of our favorites is:
Designed and maintained by a native and resident of Ireland, this site takes you deeper into the magic and mysteries of the Emerald Isle.

Please explore this lovely website... then come back!  Tell us what you learned and what you want to know more about. 
You will get a personal response, and - if you like - we will publish your comments and stories on this site, give you credit, and link back to your own website or blog.

In the meantime, thank you so much for visiting!  We hope you will continue to explore Irish culture and traditions, and to share your Irish side with the growing community at Irish Expressions.com!
PLEASE SHARE US WITH YOUR FRIENDS

YOU CAN FIND US ANYTIME ON ...