Irish Christmas Songs: Add These Beautiful Melodies to Your Holiday Irish Expressions!

We love Irish Christmas songs for their beauty and history. 
Christmas is so important among the people of Ireland that it is often a month-long celebration starting from 8 December of the current year until 6 January of the following year!
Here are some of the most important Christmas songs from Ireland.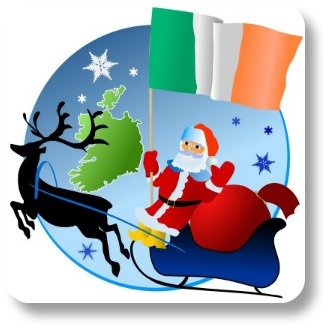 The Wexford Carol

Known among the Irish as Carúl Loch Garman or CarúlInis Córthaidh, is one of the oldest-known existing Christmas carols still sung today.
Its name comes from the place where it originally started - Enniscorthy, County Wexford - with its origins dating back to the 12th century.
It is also sometimes known by its first line, "Good people all this Christmas time."
The Wexford Carol has been sung only by males in past centuries.
Since the 1990s, however, females were allowed to sing the song, with the most notable examples being the Celtic Woman and Loreena McKennitt.
This Christmas carol has a universal theme - the nativity of Christ. This is one of the reasons why the Wexford Carol remains as popular as ever among the Irish.
Christmas in Killarney

This Christmas carol was a work of collaboration between James Cavanaugh, John Redmond and Frank Weldon.
It is of fairly recent origin - 1950 - but it is already considered a classic carol among the Irish.
But it is not just the Irish who are enamored of the song. Many foreign artists have recorded it including the likes of Bing Crosby in his Merry Christmas album, Ruby Murray, and Dennis Day as well as Bobby Vinton, Anne Murray, Barra MacNeills.
Christmas in Killarney has even been featured in the classic Christmas special, The Leprechaun's Christmas Gold. What is an Irish Christmas carol, after all, without a leprechaun?
Once in Royal David's City

A favorite Irish Christmas song, Once in Royal David's City was first written as a poem by Cecil Frances Alexander.
Its first publication was in "Miss Cecil Humphrey's Hymnbook for Little Children" in 1848. Its verses were then set to music by Henry John Gauntlett, an English organist, in 1849.
Since 1919, the carol has been used as the processional hymn during the Christmas Eve service at the Festival of Nine Lessons and Carols conducted at the King's College Chapel Cambridge.
The arrangement used was made by Dr. Arthur Henry Mann wherein the first verse is a solo, the second verse is sung by the choir and the third verse is sung by the entire congregation.
I Saw Three Ships

This Christmas carol originated from England but it has gradually become a favorite Irish Christmas song. It is an old carol originating from the 17th century from Derbyshire.
According to one tradition, the three ships referenced in the carol represent the three ships that brought the relics of the biblical Magi to the Cologne Cathedral back in the 12th century.
Another theory about the song is that it refers to Wenceslaus II, the King of Bohemia, whose coat of arms was emblazoned "Azure three galleys argent".
Whilst Shepherds Watched Their Flocks By Night

Yet another favorite Irish Christmas song is the carol written by Nahum Tate, an Irishman who later became England's poet laureate - just another example of the great talent for words among the Irish.
It tells the story of the annunciation of the birth of Jesus to the shepherds tending to their flocks of sheep in the field, thus, the title.
The carol first appeared in New Version of the Psalms of David of 1696 and its words still remain to this day.
In fact, it is the only Christmas carol allowed by the Anglican Church to be sung during its services aside from the Psalms of David.
Its lyrics are based on the Gospel of Luke particularly Chapter 2, Verses 8 to 14. It can be sung in two ways, namely, Winchester Old in the UK and Handel area in the US.
Want More Irish Song Lyrics?
It is probably obvious - at Irish Expressions, we love Irish songs!  The music of the Emerald Isle brings people together, telling stories that touch every human emotion.
Learning the lyrics and singing these songs gives us a deeper sense of connection with Ireland, wherever in the world we happen to be!
We have captured 10 of our favorite Irish songs - like Danny Boy, Wild Rover and Red is the Rose in an e-book we call "An Illustrated Irish Songbook."
This fun, free guide is available to you to download.  Simply scroll to the bottom of the page and enter your email address to get instant access!
Loved Irish Christmas Songs!  What's Next?

At Irish Expressions,our our goal is simple: to provide you with a unique Irish experience, on demand, wherever you are in the world.
If you have already enjoyed our section on Irish trivia and traditions, you have probably been exposed to many of the most entertaining ways to express your personal Irish side!
Will that entice you to visit Ireland - or to return if you have already been?  We hope so!  
But even if that is not possible, you can still enjoy the magic of Ireland in these pages.  Check out the links at the top of this website for simple instructions on how to sing Irish songs, use Irish words, enjoy Irish food, and much more!
You can also visit us on Facebook, Twitter or Pinterest to see amazing pictures and interact with amazing people who share a love of Ireland.
We would love to hear from you - please send us a note here and let us know how we are doing. 
Until then - thanks for visiting Irish Christmas Songs!  Please continue exploring your Irish side at Irish-Expressions.com.
Express Your Irish Side With Real Irish Gifts
My friend Stuart Marley and his wife Meredith are the founders of Real Irish Gifts and Travel, one of the finest Irish-themed businesses I have encountered. They have been operating since 1999. 
Members of the Irish Expressions community (that's you!) get 15% off anything in their online store, 365 days a year.  Simply click on the link below and receive your discount automatically at checkout.  Enjoy!

ENJOYING IRISH EXPRESSIONS?  PLEASE SHARE!