Irish Wedding Bands:  An Enduring Expression of Your Shared Love for Irish Traditions

Irish wedding bands are the perfect expression of your love for Ireland (and for each other!) on one of life's most important occasions.
The fine craftsmanship and beautiful celtic designs of Irish jewelry means these wedding bands hold a timeless, classic appeal.
Wedding rings from Ireland traditionally use one of two main design themes: Celtic knot designs or the Claddagh design.
If this inspires you to know more about Irish customs, please visit our section on Irish trivia and traditions here!
Meanwhile, please enjoy our favorite Irish wedding bands!
Irish Wedding Bands: The Celtic Knot Design

These designs typically feature interlaced, interwoven or "knotted" stylized patterns.
Because the patterns have no end and instead circle back on each other, Irish rings with Celtic knot designs perfectly represent the enduring nature of marriage.
Most Irish rings with a Celtic knot motif are made from yellow or white gold.  They can be even more beautiful when they're made in a cloisonné style, with colored gems or crystals embedded inside and surrounded by the intricacies of the knot-work.
The Claddagh Design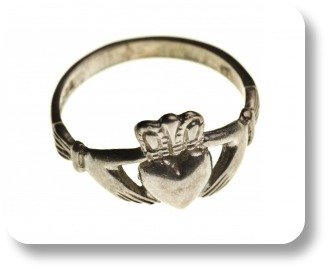 Many wedding bands feature the Claddagh design – a heart being held by two hands, with a crown atop the heart.
The heart symbolizes love, while the hands signify abiding friendship. The crown represents faithfulness, fidelity, loyalty and trust.
A Claddagh ring is generally made of sterling silver or white or yellow gold. If you want to personalize your Claddagh wedding rings, you can have them made with your birthstones set inside the rings' hearts.
For much more information on the Claddagh design, check out our article on the Claddagh Ring Story here!.

Want More Irish Traditions?
It is probably obvious - at Irish Expressions, we love Irish traditions!
Expressing ourselves through Irish-themed activities gives us a deeper sense of connection with Ireland, wherever in the world we happen to be!
Over the years, we have created many free, downloadable Irish games, puzzles, recipes, songbooks, travel guides, party plans, and much, much more.
These are immediately available to you - completely free of charge.
Just scroll to the bottom of the page and share your email address to get instant access!
What's Next?

At Irish Expressions,our our goal is simple: to provide you with a unique Irish experience, on demand, wherever you are in the world.
If you have enjoyed our section on Irish trivia and traditions, you have probably been exposed to many of the most entertaining ways to express your personal Irish side!
Will that entice you to visit Ireland - or to return if you have already been?  We hope so!  
But even if that is not possible, you can still enjoy the magic of Ireland in these pages.  Check out the links at the top of this website for simple instructions on how to sing Irish songs, use Irish words, enjoy Irish food, and much more!
You can also visit us on Facebook, Twitter or Pinterest to see amazing pictures and interact with amazing people who share a love of Ireland.
We would love to hear from you - please send us a note here and let us know how we are doing. 
Until then - thanks for visiting Irish wedding bands!  Please continue exploring your Irish side at Irish-Expressions.com.
ENJOYING IRISH EXPRESSIONS?  PLEASE CLICK BELOW AND SHARE!