Adare Castle: A Source of Pride in Ireland and a Treasure Trove of Irish Expressions

Adare Castle is found in Southwest Ireland in a small town called - you guessed it - Adare. The castle is a major attraction in County Limerick and a source of pride for all those who live in Munster Province.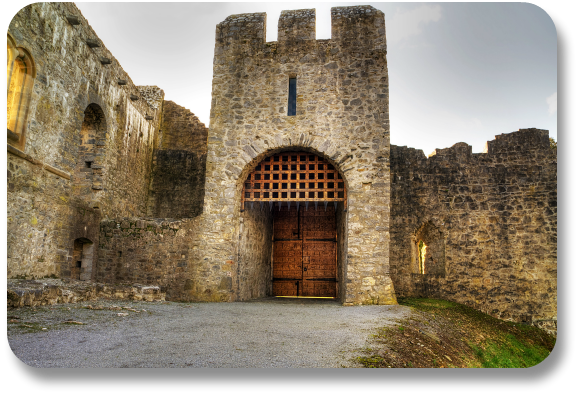 If you want to reach the Castle from Dublin Airport, expect the journey to take just over two hours. The drive is a breeze and stays almost entirely on the M7 until you switch to the M21 after passing Limerick.
Things to Know About Adare Castle

Here are some fun facts about this amazing Irish landmark.  Hopefully they will entice you to pay a visit in person!
But if that is not possible, you can always use them to impress your friends with your knowledge of one of the most-visited attractions in Ireland.
On the banks of the Maigue River is the Adare Castle, an incredible manor house that dates back to the 18th century.
Located in the town of Adare in County Limerick, the Castle is a sprawling estate that takes up over 800 acres.
The castle boasts nearly 400 stained glass windows, and there are gargoyles scattered throughout the estate.
Perhaps best of all, the Castle is now a golf resort, which means that you can live out your fantasy and spend a night in an Irish castle.
Fun fact: the word Adare derives from the Irish Áth Dara, meaning "ford of [the] oak" (source: Wikipedia).
There has been a castle or ancient fort ring on the site of the current property since the 12th century. The existing structure underwent a serious renovation in 1996, restoring it completely.
There are no self-guided tours of the property. However, the intimate guided tours are a wonderful way to explore the site.
Standard tours are currently only available during the busier summer months. If you want to book a tour of the castle before June or after September, you'll need to get a sizable group together and book in advance.
Tours of the Castle start at the Adare Heritage Centre. Shuttles head from the centre to the castle, limiting car damage to the ancient site.
Most locals don't ever use the phrase, "Adare Castle." Instead, they call it Desmond Castle or simply the castle.
Adare Castle is located right on the banks of the River Maigue. In ancient times, this was important for water access, transport and military defense. 
Today, the waterfront views over the river just add to the charm. That river is also partially responsible for the castle's current popularity as a scenic golf destination.
The origin of the castle is something out of a fairy tale. The Norman Prince who first built the castle was told that if he could unseat an Gaelic Prince, he would be given a castle and a princess. He succeeded, and the rest is history.
Many historic features of the castle are still evident when you visit. You can see inside the castle's small dungeon, and you can see the roasting pits that took the place of traditional fireplaces.
Of special note is the great hall, which has stunning views out over the river. This is where feasts, banquets and celebrations were held for residents. 
You can find more information at the official website here.
Want More Irish Castles?

It is probably obvious - at Irish Expressions, we love Irish castles!  The Emerald Isle is dotted with hundreds of these incredible structures.  
Sharing pictures and stories about them gives us a deeper sense of connection with Ireland, wherever in the world we happen to be!
We have captured the most amazing pictures and descriptions of Irish castles in an e-book we call "An Illustrated Guide to Irish Castles and Abbeys."
This fun, free guide is available to you to download.  Answer two quick questions below to get instant access!
Then please send us a note or connect with us on Facebook, and let us know what you think!

That Was Fun!  Where Can I Learn More?

Great question! As you can see, exploring the castles of Ireland offers many opportunities for enjoying an Irish experience and expressing your personal Irish side!

For more information of this kind, you might pay a visit to our section on Ireland Sightseeing here!
In the meantime, if you enjoyed this page in particular, please take a moment to share your feedback about it, or any other part of our site, using our contact form here. 

And once again - thanks for visiting!  We hope you will continue to share your Irish side with the growing community at Irish Expressions.com!
PLEASE SHARE US WITH YOUR FRIENDS

YOU CAN FIND US ANYTIME ON ...