Dunguaire Castle:  A Striking Reminder of the Magic and Mystery of Ireland!

Dunguaire Castle is another structure overlooking the water on the western coast of the Emerald Isle. Part of County Galway's charm and the history of Connacht Province, Dunguaire is just over two hours, by car, from the Dublin Airport.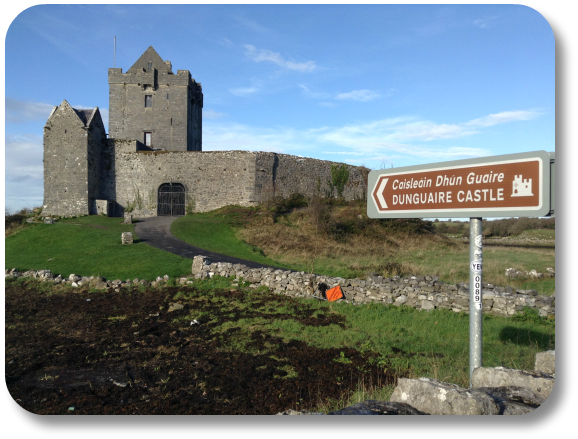 Since it is due west until you hit the Atlantic, the drive is a simple one, taking you west along M6 until the R438 route that leads you south to Kinvarra and one of its biggest attractions, Dunguaire Castle.   
Things to Know About Dunguaire Castle

Here are some fun facts about this amazing Irish landmark.  Hopefully they will entice you to pay a visit in person!
But if that is not possible, you can always use them to impress your friends with your knowledge of one of the most-visited attractions in Ireland.
This stunning 16th century tower house sits in a position overlooking the waters of the bay in County Galway.
Surrounded by thick stone walls, it is the castle's 75-foot tower that is its main architectural focal point.
Once lived in by the mayor of Galway, the Castle became a hub for Irish literary icons in the 20th century.
Today, visitors can tour the castle ground for most of the year, and it is also used as an event space.
Like many traditional Irish castle, the name Dunguaire comes from a very literal description of the castle. The castle was the Dun of King Guaire, or the fort of the ancient king. The words have combined over time to be Dunguaire. 
Legend has it that the original settlement of Dunguaire was built by the Ó hEidhin clan, the chiefs of the Coill Ua bhFiachrach. This was detailed in the Irish 19th century Ordnance Survey Letters for County Galway.
The castle that stands today was built in 1520. The O'Hynes built the castle and chose to perch it on a rocky outcropping as a means of defense and protection.
The Martyn Family lived in the castle from the 17th century all the way until the 20th century. The most famous of this family was likely Richard Martyn, who served as the Mayor of Galway in the 17th century while living in the castle.
In 1924, Oliver St. John Gogarty purchased Dunguaire Castle and restored it. Oliver St. John Gogarty was a surgeon and a literary figure, and he brought many other literary figures to the castle in subsequent years.
In the three decades following Oliver St. John Gogarty's purchase, many literary giants spent time at the castle. Just some of these authors include W.B. Yeats and George Bernard Shaw.
The Castle was featured in several films over the years. In 1969, Dunguaire was the setting for Guns in the Heather, a Disney film featuring Kurt Russell. In 1979, it featured in the film North Sea Hijack.
Today, the home is privately owned by available for tours. Guided tours and visits to Dunguaire are only available during the summer months.
If you're interested in something unique, you can also plan a banquet at Dunguaire. Business events and even weddings can take place in this incredible venue for a truly once in a lifetime medieval experience.
You can find more information about this amazing Irish landmark from Galway Tourism here!
Want More Irish Castles?

It is probably obvious - at Irish Expressions, we love Irish castles!  The Emerald Isle is dotted with hundreds of these incredible structures.  
Sharing pictures and stories about them gives us a deeper sense of connection with Ireland, wherever in the world we happen to be!
We have captured the most amazing pictures and descriptions of Irish castles in an e-book we call "An Illustrated Guide to Irish Castles and Abbeys."
This fun, free guide is available to you to download.  Scroll to the bottom of this page to get instant access!
That Was Fun!  Where Can I See More?

Great question! As you can see, exploring the castles of Ireland offers many opportunities for enjoying an Irish experience and expressing your personal Irish side!

For more information of this kind, you might pay a visit to our section on Ireland Sightseeing here!
Want to Feel More Connected to Ireland?  Here's How!
At Irish Expressions we believe everybody – well almost everybody! - has an "Irish side."  So how nice would it be to have access to a fun, free Irish experience, on demand, wherever in the world you happen to be?
Over the years we have compiled many free, downloadable resources including lyrics, recipes, games, jokes, blessings and much, much more.  
Would you like to receive them ALL for FREE?  Simply share your email for instant access!
ENJOYING IRISH EXPRESSIONS?  PLEASE CLICK BELOW AND SHARE!