Dunguaire Castle:  A Striking Reminder of the Magic and Mystery of Ireland!

Dunguaire Castle is another structure overlooking the water on the western coast of the Emerald Isle. Part of County Galway's charm and the history of Connacht Province, Dunguaire Castle is just over two hours, by car, from the Dublin Airport.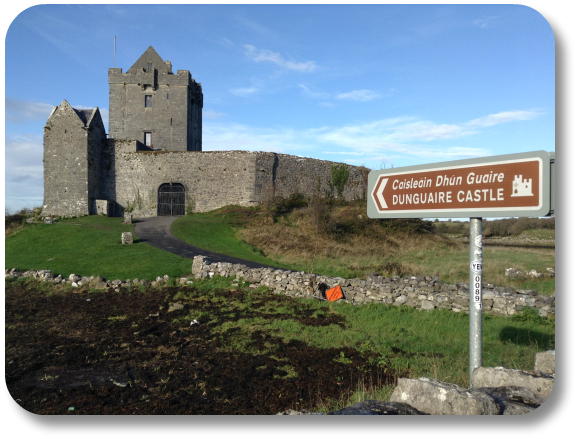 Since it is due west until you hit the Atlantic, the drive is a simple one, taking you west along M6 until the R438 route that leads you south to Kinvarra and one of its biggest attractions, Dunguaire Castle.   
Things to Know About Dunguaire Castle

This stunning 16th century tower house sits in a position overlooking the waters of the bay in County Galway.
Surrounded by thick stone walls, it is the castle's 75-foot tower that is its main architectural focal point.
Once lived in by the mayor of Galway, Dunguaire Castle became a hub for Irish literary icons in the 20th century.
Today, visitors can tour the castle ground for most of the year, and it is also used as an event space.
Want More?

It is probably obvious - at Irish Expressions, we love Irish castles!  The Emerald Isle is dotted with hundreds of these incredible structures.  
Sharing pictures and stories about them gives us a deeper sense of connection with Ireland, wherever in the world we happen to be!
We have captured the most amazing pictures and descriptions of Irish castles in an e-book we call "An Illustrated Guide to Irish Castles and Abbeys."
This fun, free guide is available to you to download.  Answer two quick questions below to get instant access!
Then please send us a note or connect with us on Facebook, and let us know what you think!

Want Even More? :-)
For more information of this kind, you might pay a visit to our section on Ireland Castle Vacations here!
And for travel ideas in general, check out our section on Ireland Travel Destinations.

In the meantime, if you enjoyed this page in particular, please take a moment to share your feedback about it, or any other part of our site, using our contact form here.
And once again - thanks for visiting!  We hope you will continue to explore Irish culture and traditions, and to share your Irish side with the growing community at Irish Expressions.com!
PLEASE SHARE US WITH YOUR FRIENDS

YOU CAN FIND US ANYTIME ON ...