February Ideas for Sharing Your Irish Side!
"I'd like to give a lake of beer to God. 
I'd love the heavenly Host to be tippling there for all eternity."
– 10th Century prayer attributed to St Brigid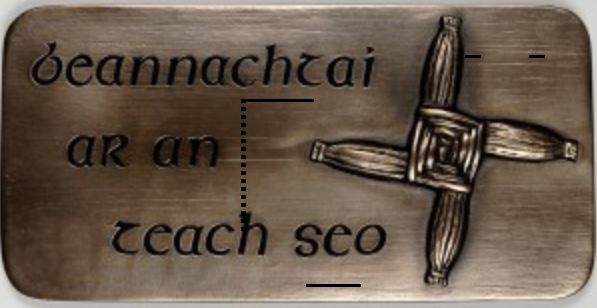 The Imolc Season and St Brigid's Day
As nature reawakens after her winter slumber, the month of February brings with it the first signs of spring and the start of the Imbolc season.
 
Traditionally the first day of February is celebrated as the start of the spring season in Ireland, or Imbolc in the Celtic calendar. February 1st is also St Brigid's day, the Irish saint who is closely associated with this Celtic festival.

In pre-Christian times Imbolc symbolized the time of new birth and regrowth after the winter darkness, and Brigid – celebrated both as a Celtic goddess and a Christian saint – has long been the symbol of this time,

In addition to being Ireland's female patron saint, Brigid has a long association with beer and brewing and was considered a skilled brewer herself.  In fact, one of her more famous miracles was turning bathwater into beer! 

Irish schoolchildren have grown up learning of the greatness of Brigid, her many achievements in the male dominated world she inhabited, and the proud symbol of Irish womanhood she represented.

St Brigid's cross is one of the most recognizable symbols of Ireland, traditionally weaved from rushes but often now taking on many guises and made from all types of materials and represented in artworks, crafts, jewelry and many other design forms.

So, as we welcome the spring with its longer, brighter days and celebrate new beginnings, consider raising a glass to Brigid and all she represents, while hanging her cross to bring protection to your home.
Ireland in February
February is a wonderful time to visit Ireland, particularly during the Imbolc festival where the traditions of St Brigid's Day take center stage.

But as a member of our Irish Expressions community, you know it is possible to express your 'Irish side,' any time of year, wherever you are in the world!

One way to share your love of Ireland, particularly this time of year, is through Irish gifts with the theme of Spring.  Our friends at Real Irish have many options to choose from. As always, Irish Expressions members receive a 10% discount throughout the store. 

Click the image below for more information:

ENJOYING IRISH EXPRESSIONS?  PLEASE SHARE!