Irish Dancing:  Beautiful, Athletic, Captivating, and Unmistakably Irish!

Ireland is magical, there is no better way to describe it. And Irish dancing, with its captivating beat and social energy, is sure to enchant you.
Dancing in Ireland has a long, rich history. Traditionally it was a way in which Irish friends and neighbors would meet at the crossroads of their village to spend a day and evening socializing.

it is a wonder to experience this form of dance, either by trying it yourself or by experiencing a Irish show such as the spectacular Riverdance, guaranteed to inspire you to explore your own Irish side.
If you find yourself inspired to know more about Irish customs like these, please pay a visit to our main section on Irish trivia and traditions here...
Meanwhile, please enjoy our favorite Irish dancing traditions!
Irish Dancing Overview:  The Step Dance

The most recognizable type of Irish dance is called the step dance.
There are several theories about the iconic posture used during a traditional step dance.

One legend holds that young people held their bodies stiff, and danced behind bars or hedges so British soldiers could not tell they were dancing!
The Irish Jig

The Irish jig is a form of step dance, typically performed in 6/8 time, characterized by rapid steps and hops. 
It is truly joyful dance form, traditionally accompanied by Celtic fiddle music, and performed during happy occasions such as festivals and weddings.

 The Riverdance Phenomenon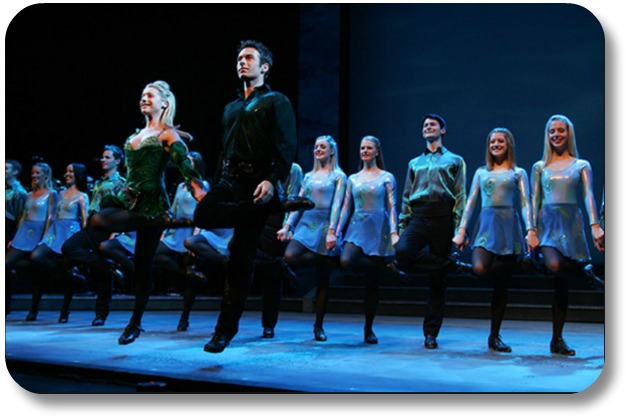 The show Riverdance really brought the international spotlight to the traditional Irish step dance.
It originated in 1994 after a performance at the Eurovision Song Contest.
A story told through Irish dance, it teaches us about the Irish people and culture.
Irish Social Dancing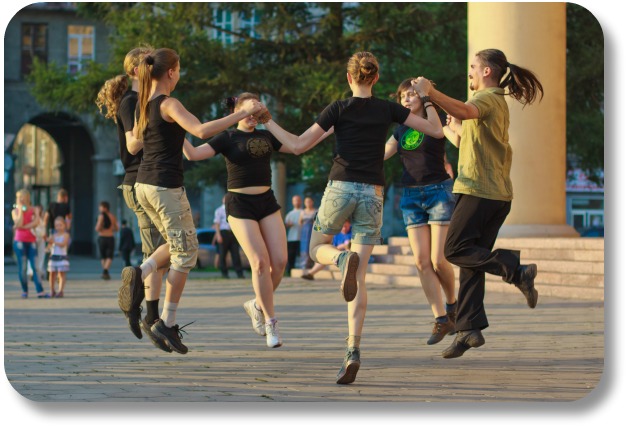 Another popular form is called Social Dancing and involves multiple couples, performing a set of dance steps together or in a group.
The music sometimes has a singer calling out the next step in order to make it more enjoyable for newcomers.
If you have the opportunity to partake in this type of dance we recommend it!
Where Can I Find More ?

Great question!
We regularly scan the internet for fun, interesting performances and blog posts.  We share what we find on Facebook, Twitter, Pinterest - and right here!
We love this performance from Innova Irish Dance Company!

Want More Irish Fun?
It is probably obvious - at Irish Expressions, we love Irish traditions!
Expressing ourselves through Irish-themed activities gives us a deeper sense of connection with Ireland, wherever in the world we happen to be!
Over the years, we have created many free, downloadable Irish games, puzzles, recipes, songbooks, travel guides, party plans, and much, much more.
These are immediately available to you - completely free of charge.
Just answer two quick questions below to get instant access!

What's Next?

At Irish Expressions, our our goal is simple: to provide you with a unique Irish experience, on demand, wherever you are in the world.
If you have enjoyed our section on fun Irish trivia and customs, you have probably been exposed to many of the most exciting traditions that Ireland has to offer!
Will that entice you to visit Ireland - or to return if you have already been? 
We hope so!  
But even if that is not possible, you can still enjoy the magic of Ireland in these pages.  Check out the links at the top of the page for simple instructions on how to explore Irish landmarks, sing Irish songs, enjoy Irish food, and much more!
You can also visit us on Facebook, Twitter or Pinterest to see amazing pictures and interact with amazing people who share a love of Ireland.
We would love to hear from you - please send us a note here and let us know how we are doing. 
Until then - thanks for visiting!  Please continue exploring your Irish side at Irish-Expressions.com.
ENJOYING IRISH EXPRESSIONS?  PLEASE SHARE!