St Patrick Day Recipes:  Perfect for the Holiday, but Terrific Any Day of the Year!

Let's get right to it - certain foods are perfect St Patrick Day recipes.
But why stop there? We would like to share a few delicious favorites that can be served on any Irish occasion - or for no reason at all!
And if you find yourself wanting more Irish food ideas and recipes, pay us a visit at our main Irish recipes page here...
Meanwhile, let's have a closer look at a few delicious St Patrick Day recipes!
St Patrick Day Recipe #1:  Fried Cabbage with Bacon

Cabbage has always been a prominent vegetable for the Irish. In fact, historians believe that it became a staple around 600-400 B.C.
The Celts brought it to Ireland where the cool climate allowed it to thrive.
Even though the potato became quite popular, during the great potato famine in Ireland cabbage surged back to popularity.
Today, Fried Irish Cabbage, Cabbage Soup and Corned Beef and Cabbage are very popular St Patrick Day recipes.

The quickest to prepare is fried Irish cabbage with Bacon.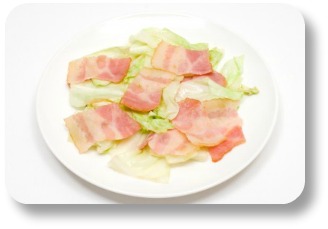 Fried Cabbage with Bacon:  Ingredients

1-12 to16 ounce package of bacon
¼ cup bacon drippings
1-small cabbage head finely cored and shredded
Freshly ground black pepper to taste
Fried Cabbage with Bacon:  Preparation

Use a large skillet to cook the bacon until crisp. If you're in a hurry, you can clip the bacon in smaller pieces with kitchen scissors before cooking. It allows you to fit more in the frying pan.
Remove bacon from the pan and allow it to drain on a paper plate covered with a paper towel or two.
Remove grease from the pan, reserving ¼ cup to return to the skillet.
Put the chopped cabbage in the frying pan and turn the burner to medium, stirring frequently. It takes approximately 5 to 7minutes for the cabbage to cook to a wilted state.
Crumble the pieces of bacon over the cabbage and mix. Set the heat on simmer and stir the mixture as it cooks for the next two to three minutes to mix and warm the bacon.
Season the mixture to taste with freshly ground black pepper.
Serve as a side dish alone or piled over mashed potatoes.
Recipe #2:  Brotchan Roy Leek and Oatmeal Soup

If you're looking for a historical Irish soup, this one's for you.
Many believe it dates as far back as Druid times, because it icontains easily attained ingredients from that time.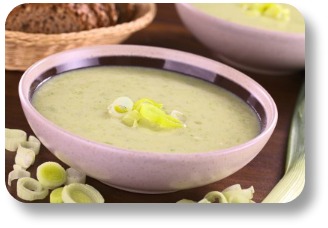 Leek and Oatmeal Soup:  Ingredients

Adapted from the book, "A Taste of Ireland" by Biddy White Lennon and Georgina Campbell, this is one of our more popular St Patrick Day recipes.
2-cups of beef or chicken broth
2-cups milk
2-Tbs of butter
2-Tbs. of pinhead oats
4- Large leeks with the ends removed. Use only the light green and white parts
¼ cup heavy cream or heavy whipping cream
5-scallions-finely sliced
White pepper
Salt
Fresh chopped chives or minced parsley
Leek and Oatmeal Soup:  Preparation

Mix the broth with the milk in a large saucepan and heat over medium heat. Gradually sprinkle in the oatmeal, stirring as you do. Do not boil; just simmer.
Simmer for 15 minutes.
Slice the leeks in half, lengthwise, rinse them well. Cut each length into 1-inch sections and rinse thoroughly.
In a medium size skillet, melt butter on low. Add the leeks and cook them until soft, but not browned, stirring frequently.
Add the cooked leaks and sliced scallions to the milk/broth/oatmeal mixture that is simmering. Stir well. Allow the mixture to simmer for 20 minutes, stirring frequently.
Remove mixture from heat. Season the soup with salt and white pepper, then stir in the heavy cream. Use parsley or chives to garnish before serving.
Recipe #3:  Irish Cheddar Ale Pub Spread

If you're having a few guests over for drinks or want an appetizer you can prepare ahead for your Irish feast, Irish Cheddar Ale Pub Spread is one of our most popular St Patrick Day recipes.
Serve it with crackers or if you want to be authentic serve it with soda bread. It's also good with celery or apples.
Cheddar Ale Pub Spread:  Ingredients

8-oz bar of sharp cheddar cheese, shredded or prepackaged shredded cheddar
8-oz bar of softened cream cheese
1-tsp of dry mustard
1-bottle of strong ale or beer—reserve 1/3 tablespoon for the recipe and enjoy the rest
¼ tsp of cayenne pepper
½ cup fresh parsley-chopped fine
½ cup chopped toasted pecans
Cheddar Ale Pub Spread:  Preparation

Place cream cheese and cheddar in blender or food processor and run until smooth.
Scrape mixture into a bowl and add the mustard, pepper and ale gradually.
Put bowl in refrigerator for about an hour or until it firms up and can hold shape.
Mold into the shape of your choice on a serving plate. Some people use a disc shape, others a ball and those truly creative ones create a shamrock.
Combine the parsley with the pecans and pat them onto your cheese mixture. If you used a ball shape, simply roll the ball in the pecan/parsley mix.
Hungry for More Irish Recipes?

Sharing Irish food is one of our favorite ways to enjoy an Irish experience, wherever in the world we happen to be!  
The flavors of an Irish meal, and the stories that come along with many Irish recipes, gives us a sense of connection with the Emerald Isle.
If you would like to receive a free copy of our e-book on favorite Irish recipes, scroll down and enter your email address.  You can have recipes for our favorite Irish foods in your inbox in just minutes!
Delicious!  Where Can I Find More?

At Irish Expressions, our our goal is simple: to provide you with a unique Irish experience, on demand, wherever you are in the world.
If you have enjoyed our section on Irish Food Recipes, you have probably been exposed to many of the most delicious flavors that Ireland has to offer!
Will that entice you to visit Ireland - or to return if you have already been? 
We hope so!  
But even if that is not possible, you can still enjoy the magic of Ireland in these pages.  Check out the links at the top of the page for simple instructions on how to explore Irish landmarks, enjoy Irish food, practice Irish customs, and much more!
You can also visit us on Facebook, Twitter or Pinterest to see amazing pictures and interact with amazing people who share a love of Ireland.
We would love to hear from you - please send us a note here and let us know how we are doing. 
Until then - thanks for visiting St Patrick Day recipes!  Please continue exploring your Irish side at Irish-Expressions.com.
Express Your Irish Side With Real Irish Gifts
A note from Bruce:
My friend Stuart Marley and his wife Meredith are the founders of Real Irish Gifts and Travel, one of the finest Irish-themed businesses I have encountered. They have been operating since 1999. 
Members of the Irish Expressions community (that's you!) get 15% off anything in their online store, 365 days a year.  Simply click on the link below and receive your discount automatically at checkout.  Enjoy!

Want to Feel More Connected to Ireland?  Here's How!
At Irish Expressions we believe everybody – well almost everybody! - has an "Irish side."  So how nice would it be to have access to a fun, free Irish experience, on demand, wherever in the world you happen to be?
Over the years we have compiled many free, downloadable resources including lyrics, recipes, games, jokes, blessings and much, much more.  
Would you like to receive them ALL for FREE?  Simply share your email for instant access!
ENJOYING IRISH EXPRESSIONS?  PLEASE CLICK BELOW AND SHARE!