December Ideas for Sharing Your Irish Side!
Creeping along the floor of the passage grave
To backstone and capstone, to hold its candle
Inside the cosmic hill. 
                                                            – Seamus Heaney, A Dream of Solstice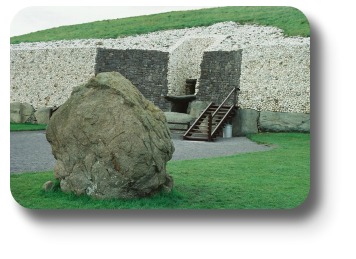 A celebration of light, fire and feasting with family and friends. That's Christmas, right? Well, yes, but it's also a description of the ancient festival of Yule, from where so many of our Christmas traditions evolved.

Yule was a celebration of mid-winter and took place at the time of the solstice, December 21st, when the Holly King (representing darkness) and the Oak King (representing light) battled for dominance, with the Oak King emerging victorious to enable the return of light. 
From this day forward the days grow longer and nights shorter, ushering in new life and hope which would be celebrated with feasts, bonfires and merriment. 
The Magic of Newgrange
The winter solstice is a day of hope and joy, the day the sun begins to return, and there is no better place to celebrate this than at the ancient underground grave at Newgrange. This 5,000 year old structure, which pre-dates the Celts, is a powerful symbol of new life and hope and the perfect opening act to our winter festivities.

As the sun rises on the solstice a neolithic light show begins that continues for seventeen minutes as the sun enters the cairn, spreading light along the 62ft passage and into the chamber.

The ancient carvings at Newgrange have inspired many artists and craftspeople, particularly the distinctive decorative spirals which are said to symbolize birth, life and death.
Ireland in December
December is a wonderful time to visit Ireland, to experience Newgrange and Winder Solstice in person. But as a member of our Irish Expressions community, you know it is possible to express your 'Irish side' wherever you are in the world!

One way to share your love of Ireland, particularly this time of year, is through Irish-themed holiday gifts.  Our friends at Real Irish have many options to choose from.  As always, Irish Expressions members receive a 10% discount throughout the store.
Click the image below for more information:

ENJOYING IRISH EXPRESSIONS?  PLEASE CLICK BELOW AND SHARE!